Our Transforming Cities programme includes ambitious plans to roll out a network of Travel Hubs in and around Southampton. These are strategically placed locations which provide access to a range of alternative onwards travel options, allowing people to travel as seamlessly and sustainably as possible. Options include:
Car and bike sharing
Electric vehicle charging points and access to electric vehicles (including cars, vans, bikes and scooters)
Connections to nearby public transport services
'Click & collect' services to support zero emission deliveries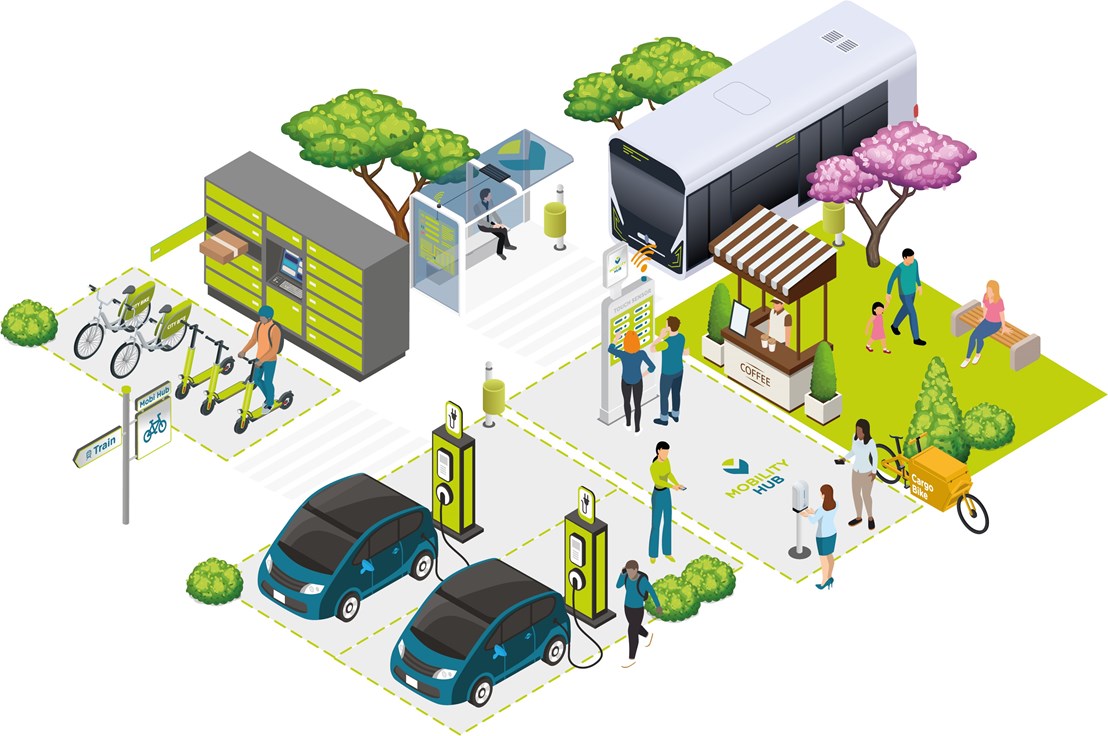 (Image credit: CoMoUK. Image is indicative only and does not reflect the final scheme to be delivered in Woolston.)
We are now considering options to create a Travel Hub in Woolston that would provide a range of sustainable transport options for travel between Woolston and Southampton city centre, as well as between nearby green spaces at Weston Shore and Royal Victoria Country Park. 
To help us shape our plans, we recently ran a survey asking people who live, work and travel in the area for information on how they travel and what they might like to see from a Travel Hub in Woolston. 
This received a total of 1,202 responses, with 76% of respondents from the SO19 area. The key findings from this survey are as follows:
2 in 5 people

drive <30 miles a week

People travel into the city centre less often than before COVID-19, but 49% still visit at least once a week
The biggest blocker to using a Travel Hub would be an inconvenient location
59% of people believe a Travel Hub will enhance the local environment (16% disagree)
Location preferences are split, but only 11% of people prefer none of the proposed options
Of the proposed mobility options, people are most likely to use hire bicycles and least likely to use cargo bike parking
Green space and public seating would encourage the most people to use a Travel Hub
Of those who would use a Travel Hub, almost ¾ would prefer to pay hourly
More than ¾ of people want to see more EV charging points on the network
What's next?
We have conducted parking and pedestrian surveys in the area, along with a feasibility study to help inform decisions on the location for, and design of, the Woolston Travel Hub. We are currently developing the detailed designs and will publish an update in Summer 2023, with construction taking place in 2023/24.