Summary
Where: Woolston and Itchen area
When: Summer 2021-2023
What: An Active Travel Zone
Why: To create a better environment for everyone by identifying and making some small changes to the streets and roads that will improve walking and cycling for short journeys.
How: Funded as part of

a Transforming Cities Fund

awarded in March 2020
Active Travel Zones are neighbourhoods that encourage active travel through a range of measures which calm or discourage traffic and instead prioritise people walking and cycling. Local businesses, schools and people living and working in the area are instrumental to the process of developing an Active Travel Zone. With this in mind, we have been  working closely with the community in Woolston, Itchen and surrounding neighbourhoods to develop a range of schemes to shape the area so it is easier to walk and cycle, particularly for local journeys. 
Along with the Woolston & Itchen Active Travel Zone, there are two further complementary schemes in the Woolston, Itchen and surrounding area. These are Woolston Travel Hub and a Quietway in Sholing. To find out further information on these schemes please click on the title to navigate to their scheme page.
Latest News
December 2022
The Traffic Regulation Order (TRO) consultation for Woolston & Itchen ATZ is now open until 23 December 2022. The proposals are available to view and comment on our TRO consultations page. Please note that further TRO consultations will take place for the remaining schemes, notably Swift Road, Bishops Road/Knighton Road, Sea Road and Bridge Road, and the area-wide 20mph limit in early 2023.
Due to unforeseen issues at Victoria & Vosper Road, it is not feasible to deliver the previously proposed modal filter and parallel pedestrian/cycle crossing at this junction within the Transforming Cities Fund (TCF) timescales. Therefore, we will not be progressing this element into the detailed design phase, but it could be implemented at a future date if funding is secured.
It is proposed to use the spare TCF funding for additional pedestrian crossing points on Swift Road (east) at the Archery Road junction, on Knighton Road at the Bishops Road junction and, where possible, greening, benches, artwork and improved signage.
The maps below show a summary of the schemes now planned for Woolston & Itchen ATZ.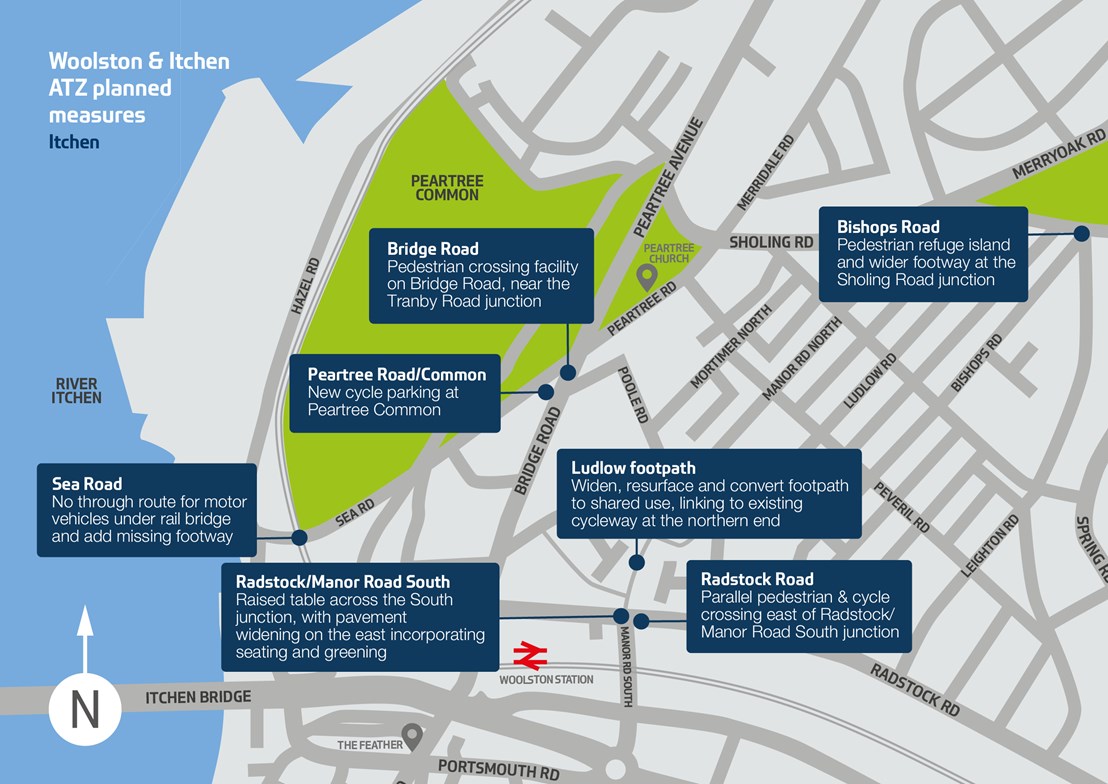 October 2022
Our Woolston & Itchen ATZ consultation questionnaire was open from August to September 2022. 
All of the measures featured in the consultation are now being progressed to detailed design stage. Feedback from the consultation will be incorporated into the designs, and schemes will be further assessed for viability based on various factors including cost, utilities investigations and legal Traffic Regulation Order consultations.
Further details on the outcomes of this consultation, and previous consultations, can be found here.