What is Transforming Cities?
In 2018, the Southampton City Region was selected as one of 12 areas invited to bid for a share of the £1.2bn Transforming Cities Fund (TCF) from the Department for Transport (DfT). We are now developing our detailed proposals. This page explains what improvements we are seeking funding for and the progress we've made so far on projects that have already received early TCF support.
Southampton City Council is working closely with Hampshire County Council to finalise an ambitious package of transport improvements. The TCF will fund improvements that connect people from where they live to the city centre, places of work, education and leisure by bike and public transport.
Our TCF proposal
Our proposal focuses on how people can get around the Southampton City Region easily, quickly and reliably. It also aims to reduce congestion, improve air quality and boost productivity. TCF will support the Southampton Green City Charter and Climate Emergency in Hampshire.
We are focusing on five transport corridors from Southampton to Totton & the Waterside, Romsey, Chandler's Ford and Winchester, Eastleigh and Hedge End and Hamble. We want to transform people's journeys by bike and public transport, and make changes to the city centre as a hub for transport.
Click the map to open it in a new tab and zoom in.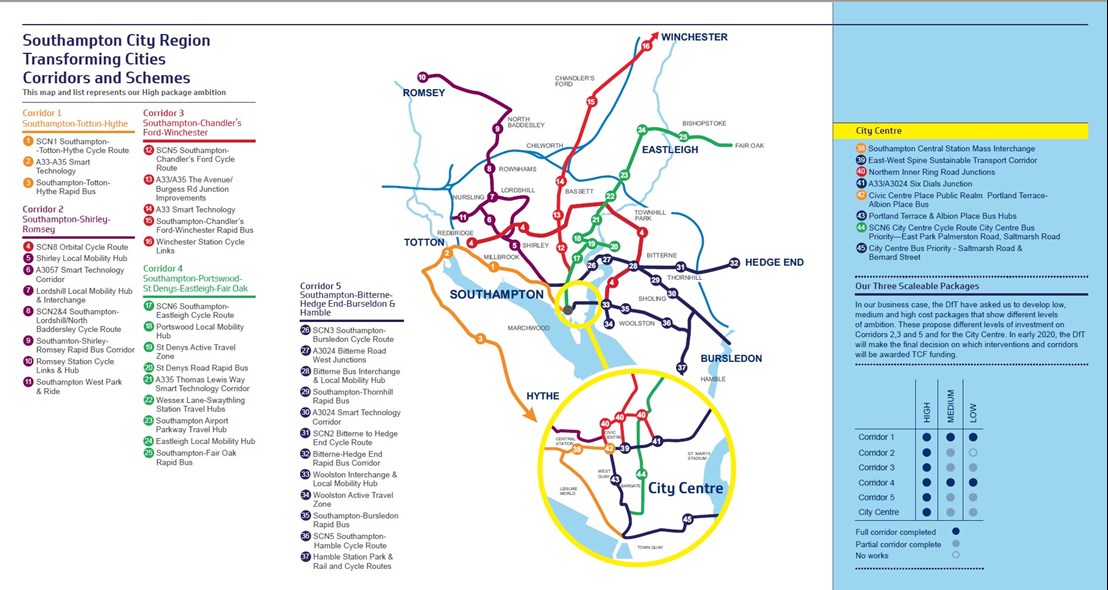 How will it benefit Southampton and Hampshire?
This funding will allow us to support the economic growth of Southampton by making big changes in how communities are connected together by public transport, walking and cycling, so people can get around easily, safely and quickly.
Local mobility hubs
TCF will help us to widen the variety of travel options for people in Southampton. We are looking to develop locations in local areas, such as at shops, where people hire different types of electric vehicles (cars, vans or bikes). These locations will also be points where people can pick up deliveries, a coffee or use public transport.
Smart technology
To help buses get through traffic congestion and make journeys more reliable, TCF will help us implement new, innovative technology and sensors. Known as Connected Intelligent Transport Systems (C-ITS) we can use these to provide information to people on traffic, incidents, parking and journey times, and assist buses through busy sections of road.
Rapid Bus
TCF will enable us to continue in partnership with the bus operators to make travelling by bus an easy, quick and more attractive option for all. Our Rapid Bus proposals include bus priority lanes, priority at traffic signals, enhanced bus stops, developing Park & Ride, innovative technology and low-emission, modern buses. Together this will make bus journeys faster and more reliable so people can choose them to get to work or school.
Southampton Cycle Network
TCF will allow us to deliver the Southampton Cycle Network (SCN), an emerging network of safe and accessible cycle routes into and around Southampton that makes cycling a realistic option for people.
Active Travel Zones
TCF will allow us to work with local communities to roll out a network of Active Travel Zones (ATZs) in neighbourhoods so people can walk and cycle easily and safely.
Schools and people living and working within these neighbourhoods will play an important role in developing the ATZs so they deliver changes to the streets that the local community wants to see.
City centre transformation
By creating attractive streets, public spaces and easier interchanges, the city centre will be transformed over time into a place where people from across the entire bid area want to spend time and money. It will also contribute to creative attractive public spaces that people want to visit and improve wellbeing.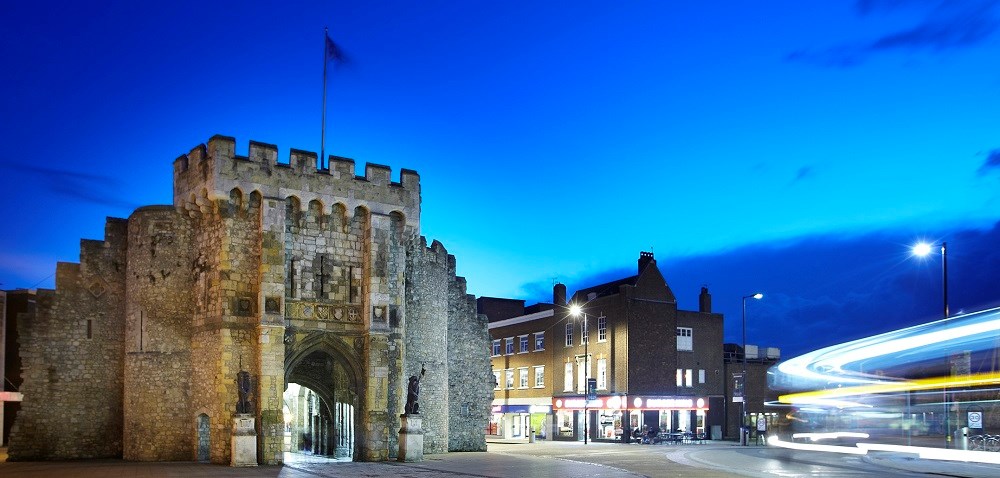 What's next for TCF?
Since 2018 we have been developing our proposal and early in 2019 we were awarded an initial £5.7m to start the transformation of cycle routes. We have started to deliver many of these projects on the ground. These include:
In November 2019 we will submit our final joint bid to DfT for up to £145m of funding towards delivering our proposal. It outlines 45 projects to transform travel on those corridors into the city and in the city centre.
Our past TCF bid documents in full: