Latest news
This scheme is now complete.
We have produced this short video, in partnership with Balfour Beatty Living Places, and with support from Go! Southampton and Caroline French of French & Sons, to showcase what the completed scheme looks like and how it is already being enjoyed and appreciated. 
Following the works earlier this year, there are now level surfaces to increase accessibility, trees and vines to make the area greener, traffic calming measures, more space for walking and wheeling and a generally more welcoming environment for shopping and outdoor hospitality alike.
May 2023
We are delighted to announce the completion of the Bedford Place and Carlton Place scheme.
Originating from the temporary closure of Carlton Place and Bedford Place to mitigate the effects of the COVID pandemic on the local area, the vision and design for the scheme were developed through co-design work with the local community. Representatives of residents, retailers and hospitality venues provided feedback which has helped to create a  greener, more pedestrian-friendly and accessible area with increased opportunity for outdoor dining.
The scheme includes:
A brighter, level surface for Carlton Place making it safer for people walking and wheeling in the pedestrianised area, as well as improving the options for hospitality providers to offer outdoor dining.
The creation of an open public space at the junction of Upper Bannister Street for pop up markets and entertainment.
The creation of a curved buildout at the junction of Carlton Place with Bedford Place to provide additional safety for pedestrians, slowing traffic to support the 20mph speed limit. This is in addition to the new zebra crossing between Henstead Road and Carlton Place.
The planting of trees and vines to bring greenery to the area.
The smaller buildout in front of Beards and Boards and Retro Café on Bedford Place has been made into a permanent feature to allow for outside hospitality.
The addition of a loading bay and additional disabled parking bay on Bedford Place.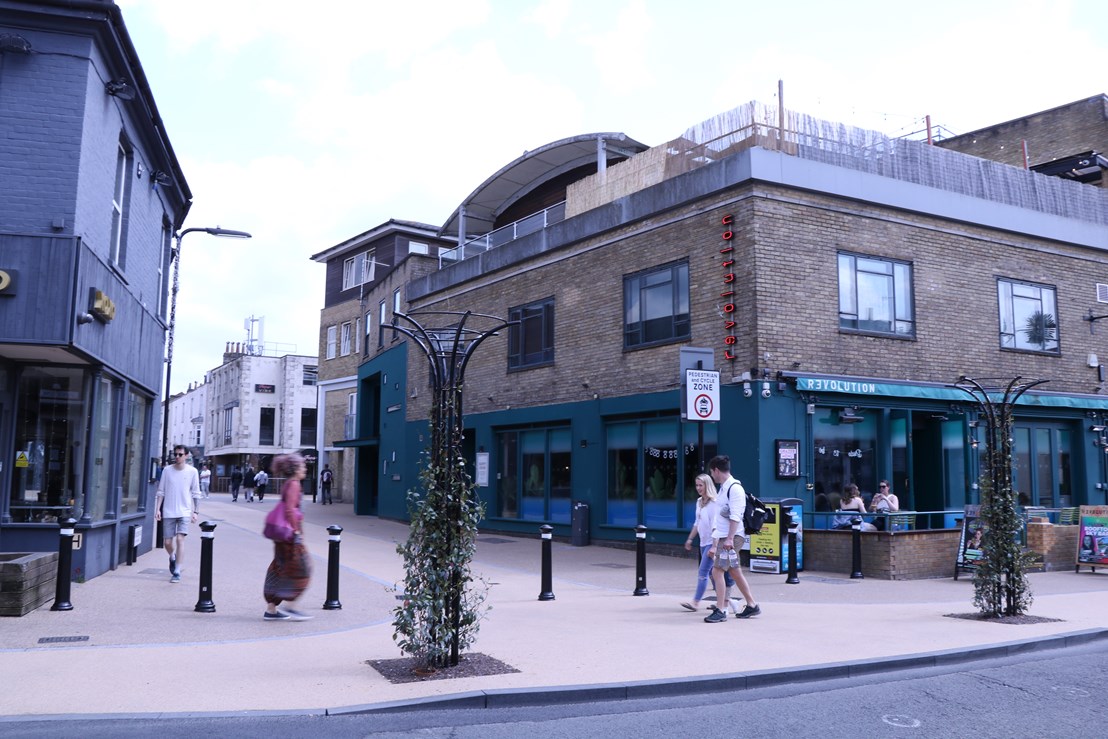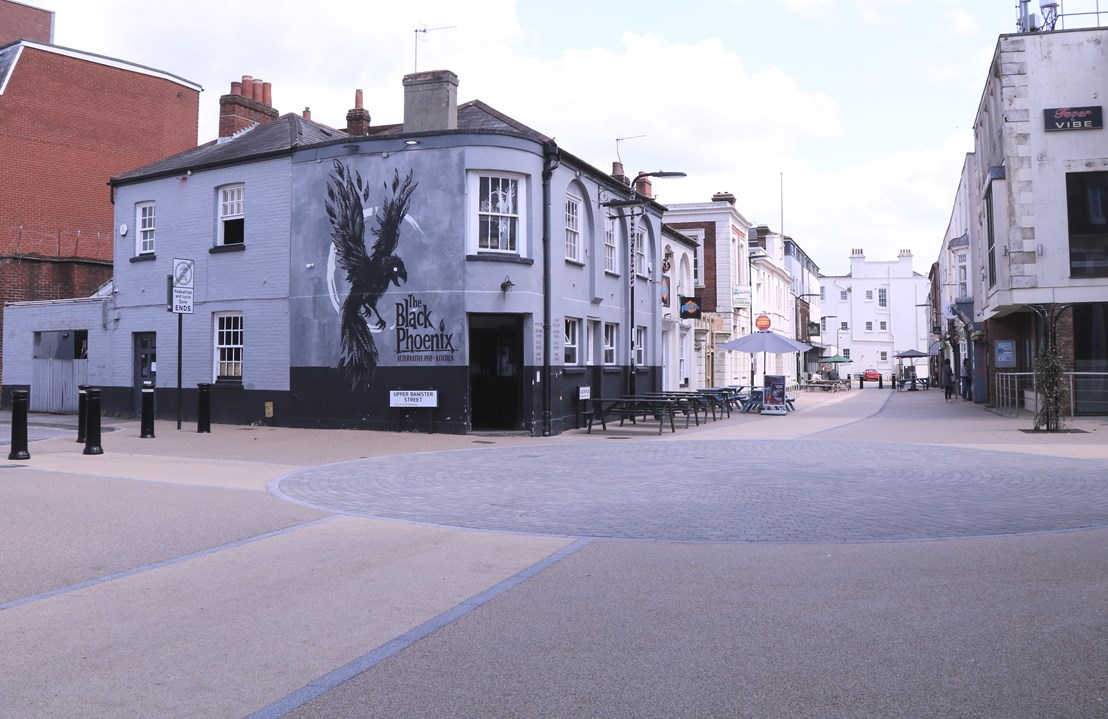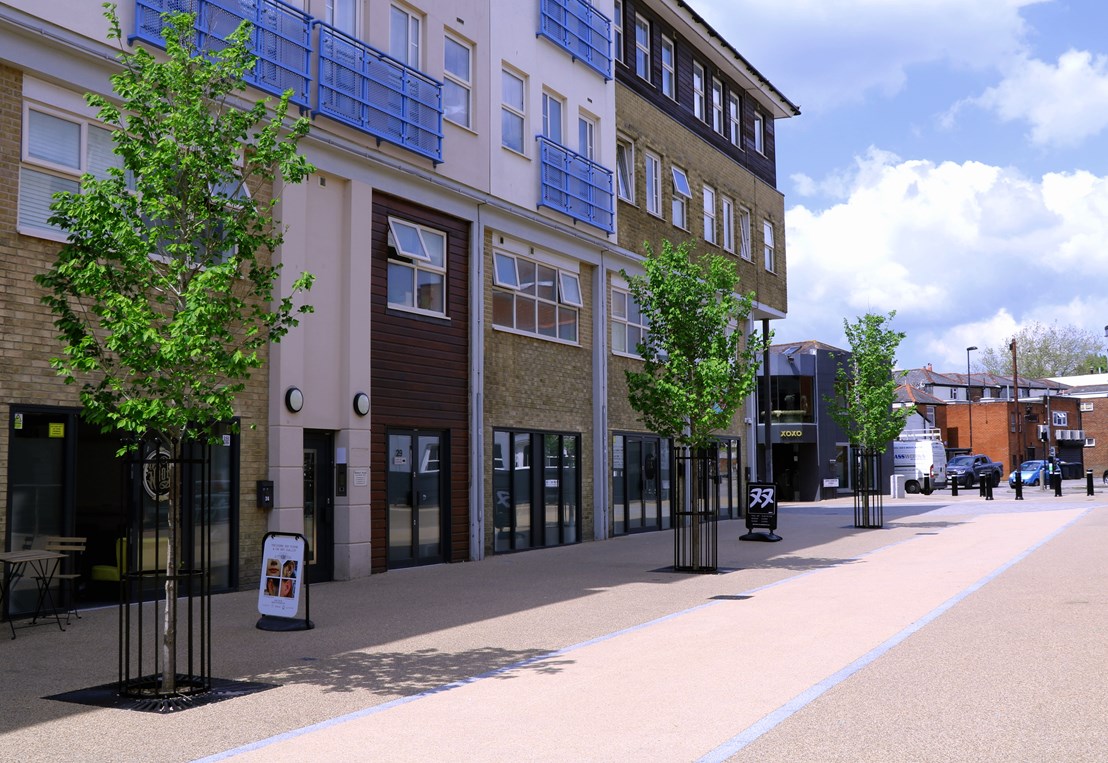 January 2023
These highway and pedestrianised works will start on Monday 9 January 2023 for approximately 12 weeks. Our working hours will be Monday – Friday 8am – 5pm and when necessary, our team will also work on Saturdays.
During the first half of our works, we will need to close Bedford Place for approximately 6 weeks, between Henstead Road and Amoy Street, please see map overleaf. This closure is required for the safety of the public and team while they construct the buildouts on Bedford Place.
Access for residents and businesses in Canton Street, Bedford Place and Carlton Place will be maintained throughout our works, there will be times when access to properties will not be viable from specific directions, this will be appropriately signed with the diversion route. Please note, it will not be possible to gain through access of Bedford Place from adjoinging roads during this time.
At the same time, our team will be working in the pedestrianised Carlton Place. The works here will include the creation of an open public space at the junction of Upper Bannister Street and Carlton Place.  This will include the levelling of the area to make it an accessible public area for outside eating and entertainment areas. Temporary two-way traffic lights will be in operation from Wednesday 11 January at the junction of Southampton Street and Carlton Place for 4 weeks.
To undertake these works safely and efficiently, our team will start by taking the current pavement and road surface off. This work will take place for one day on Monday 9 January and will take one day to complete, during this time there will a great deal of construction activity in the area, and it is likely that this will be noisy. Access to all shops and businesses will be maintained throughout these works.
Our team will set up a small site compound in the car park on Upper Bannister Street, parking will be reduced but still available during this time.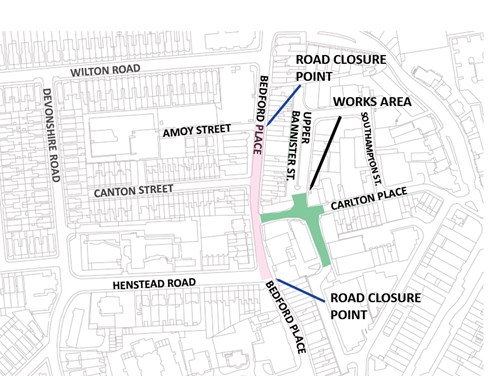 December 2022
The works on Carlton Place and Bedford Place will start on Monday 9 January 2023 and last for approximately 12 weeks. Work will take place Monday – Friday, 8am – 5pm and when necessary on Saturdays, with the aim of completing by 14 April.
We understand that these works are likely to cause disruption, we would like to apologise in advance for this and thank you for your understanding during this time. 
All local residents and businesses will receive a letter detailing the timeline for the works and this information can also be found on the FAQs page for the scheme. 
Should you wish to receive updates/letters via email for this scheme, please email Southampton.Highways@bblivingplaces.com stating your name and postal address.
November 2022
The results of the Bedford Place and Carlton Place Consultation Questionnaire are now available to view on the survey results page.
The questionnaire was completed by 593 respondents, 38% of whom live or work in the Bedford Place and Carlton Place area. The results showed that over 89% of respondents feel the measures proposed for both Bedford Place and Carlton Place will make the area feel safer, benefit the local environment and make the area more accessible for disabled people and people with mobility issues
We'll be able to share an update on scheme construction dates in December. Residents and businesses will of course be informed by letter.
October 2022
The Public Consultation Questionnaire is now closed. We are reviewing the results and will be sharing them shortly.
23 September 2022
On Wednesday 21 September the designs were shared with members of the Bedford Place Co-Design Working Group and subsequently made available for consultation with the wider community.
Residents, businesses and visitors to the area were invited to have their say at:
https://yourcityyoursay.southampton.gov.uk/bedfordplace 
The Public Consultation Questionnaire is now closed.
Design Features
Bedford Place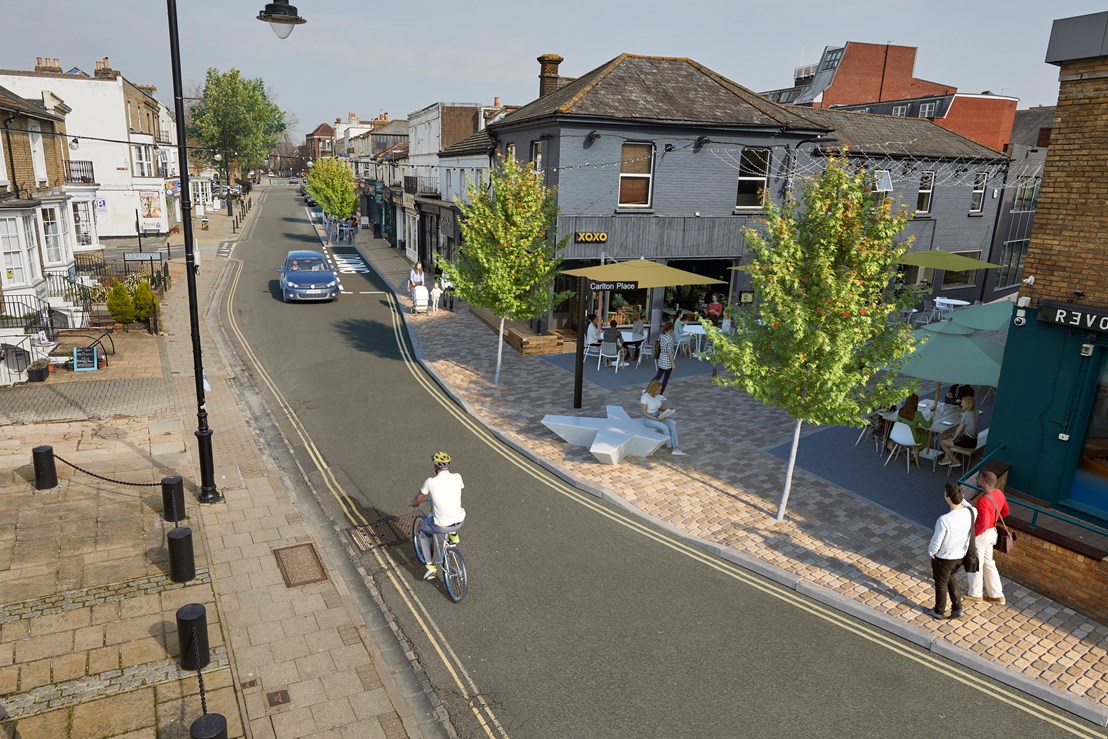 The proposed measures on Bedford Place itself aim to reduce traffic speeds and increase safety. To do this the design incorporates a curved 'buildout' on Bedford Place, at its junction with Carlton Place. The buildout, or widened pavement area, will have a level surface and provide an accessible public area with greening and seating. Traffic will be slowed as the buildout will narrow the carriageway and provide an informal 'give way'. It will also reinforce the wider 20mph speed limit planned for the Polygon area.
Carlton Place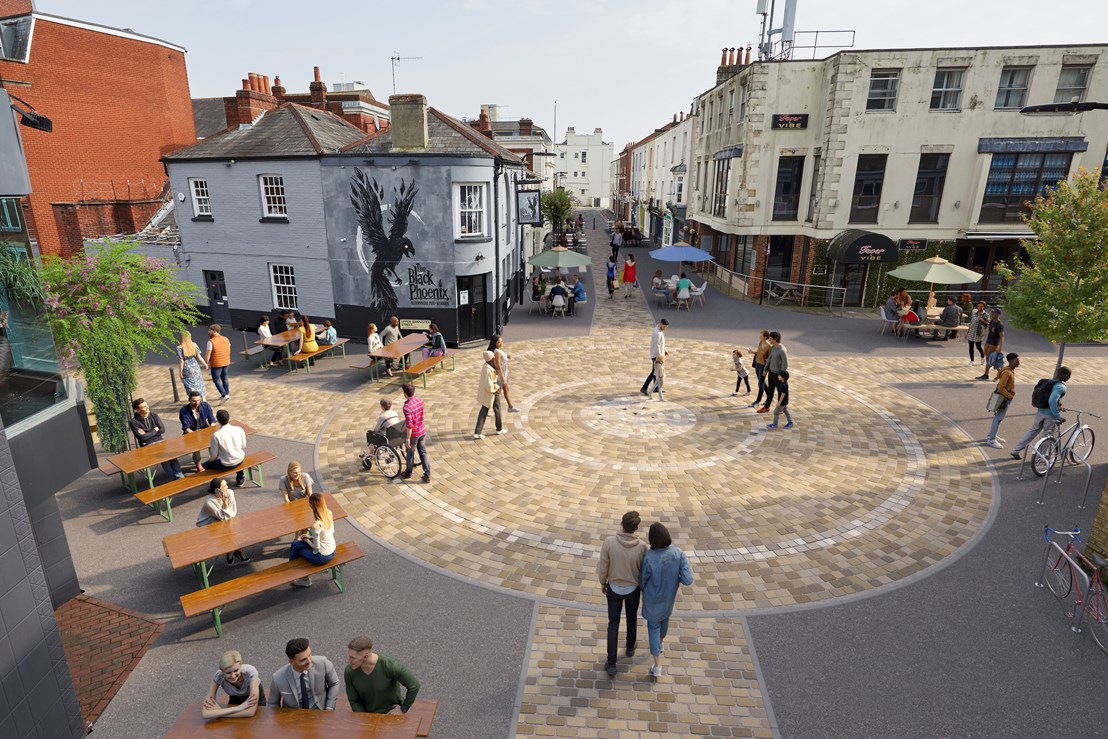 A key feature of the scheme is the design for Carlton Place, now a permanently pedestrianised area. The design includes defined areas for hospitality providers to use for outdoor tables and seating and will be enhanced with an open space in the centre of the junction of Carlton Place and Lower Bannister Street. The open space will be suitable for pop up events or markets, with a level surface throughout to make the area more accessible for everyone, along with upgraded CCTV and lighting to improve night-time visibility.  
Please note, the above CGIs are a representation of how the scheme may look. The final design is subject to change.
25 April 2022
We have been collaborating with local businesses and residents in the Bedford Place area to formulate a package of transport and public realm improvements that will make the area safer for everyone, enhance its unique character and enable it to thrive in the future.  
The Bedford Place Co-Design Working Group included both residents and local businesses as well as other key stakeholder groups. They have met monthly since October 2021 and have made recommendations on a preferred scheme for Bedford Place, Carlton Place and Winchester Street which will showcase the area as one of Southampton's boutique leisure destinations.   
Following the successful trial and support from the Bedford Place Co-Design Group the pedestrianised area in Carlton Place was made permanent in February 2022. The permanent design for Carlton Place will be enhanced with a square at the junction with Upper and Lower Bannister Street to provide a space that is suitable for use as an event space, or for weekend markets, and will provide an outdoor dining area that is more accessible to everyone. The temporary barriers currently in use on Carlton Place will be replaced with high quality permanent alternatives.
A separate scheme in the area is to provide a part time weekend closure on Winchester Street. The proposal is for a closure of Winchester Street between 10pm to 5am (Friday & Saturday night) using swing gates installed on the highway. This will primarily protect the area around Vincent Walk assisting with crowd management and preventing car crawling along Winchester Street which will make the area feel safer at night.
Proposed measures to reduce traffic speed on Bedford Place include positioning of wider pedestrian areas at specific points along the street, with enhanced lighting, greenery and seating. The effect of these 'buildouts' will not only provide a more pleasant environment for pedestrians and easier access for disabled users but will reinforce a wider 20mph speed limit planned for the Polygon area.  Gateway features will be placed at the top and bottom of Bedford Place and the entrance to Carlton Place to clearly define the area's arrival points.  These will be unique and will complement the look and heritage of Bedford Place.
Designs for the new and improved Bedford Place will be shared with the public over the summer.