Summary
Where: Bursledon Road, between Botley Road and Bitterne Road East junctions
When: COMPLETE
What: Major one year project to improve journey times
Why: Provide more reliable travel times and safer, healthier journeys along the A3024 Bursledon Road
How: This £5.8m scheme is funded by central Government through the National Productivity Investment Fund and Transforming Cities Fund Tranche 1, with additional funding from Southampton City Council's Local Transport Plan
Latest news
We have completed the work on Bursledon Road. The final junction reopened and all traffic management and diversions associated with the work were removed by Monday 23 December. Thank you for your patience during the construction.
Bursledon Road improvements in numbers
111 traffic signals upgraded
2.6km of cycleway created
8,606 tonnes of material recycled
40 trees replanted - twice as many as were removed
1,130m of future proofing ducting laid
Progress and benefits of the scheme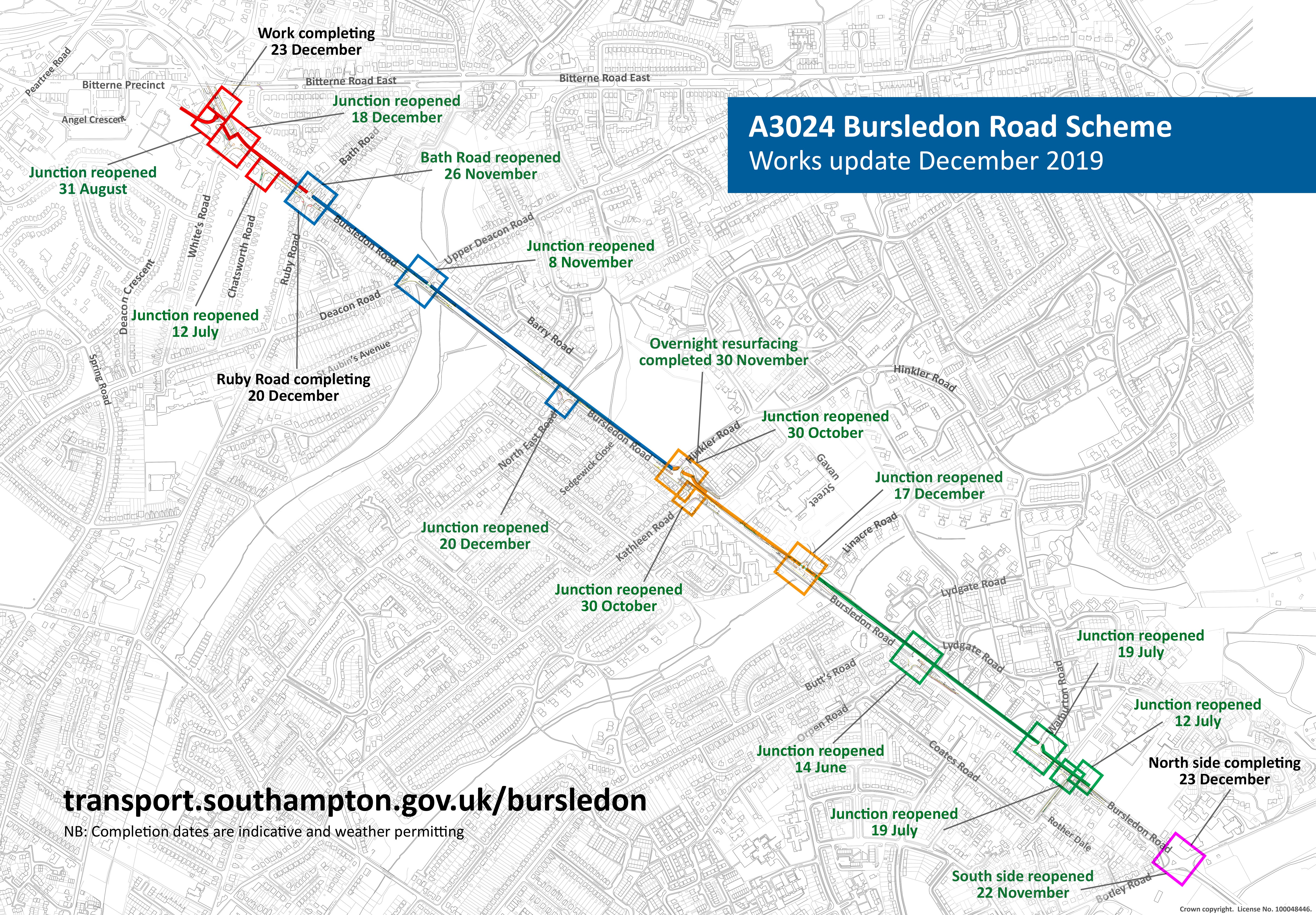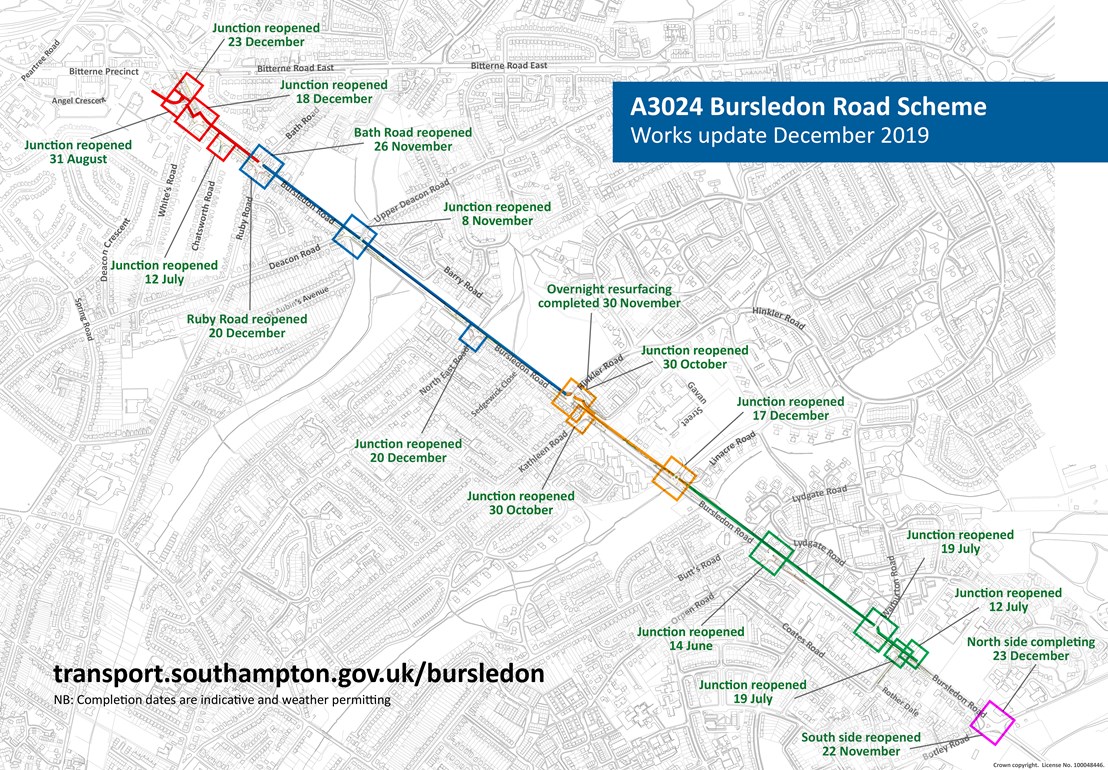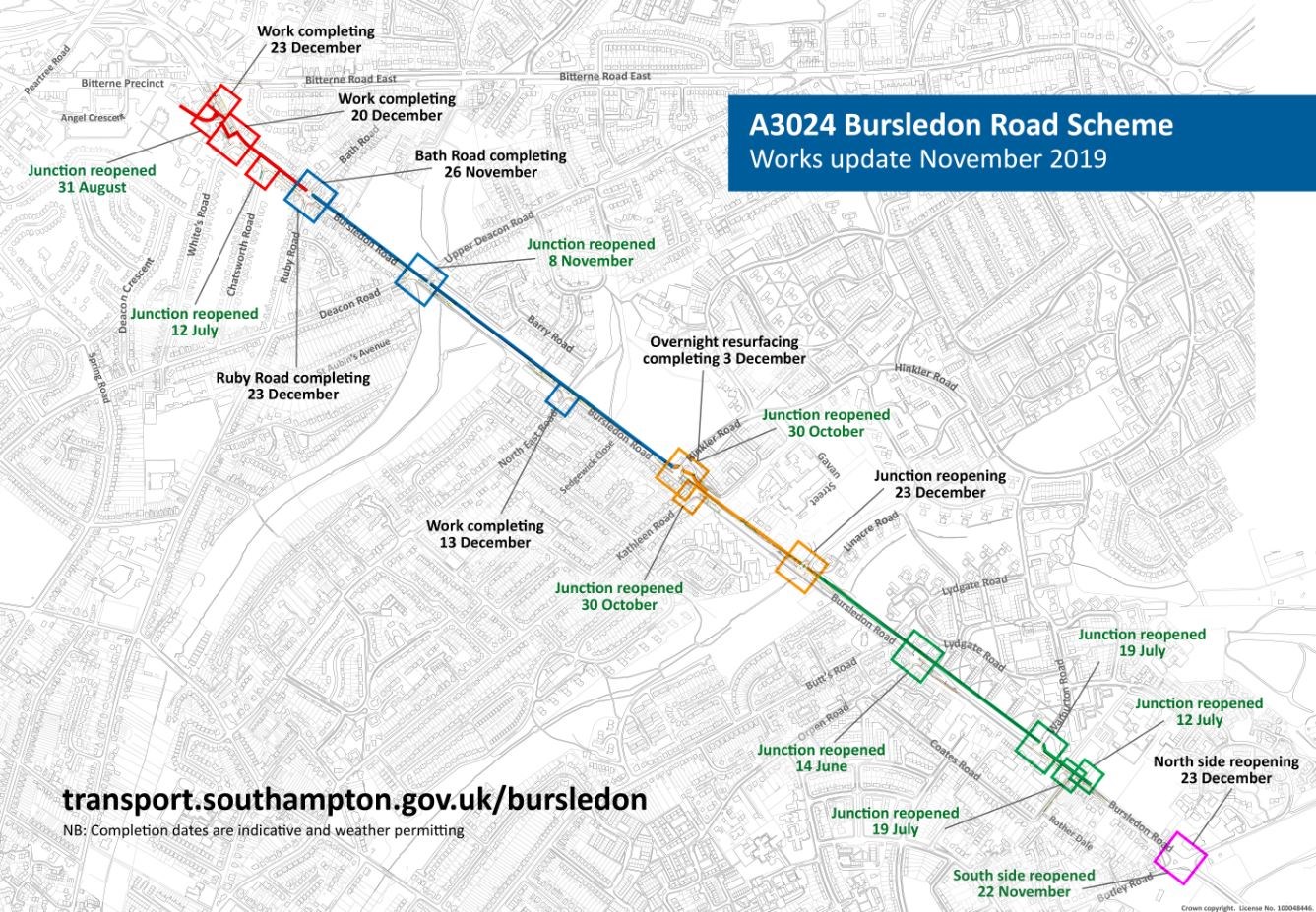 View a larger version of this map.
There are 3 predominant improvements across all of the junctions. Firstly, all the traffic signals have been upgraded to make them more responsive to demand and so that they can be remotely controlled. This is to introduce virtual bus lane technology which is a key factor in improving journey times for all road users. Buses communicate their location and route, and once they are close enough the traffic signals are held on green for longer to allow the approaching bus to get through. This will lead to more reliable bus journey times, as well as an increased capacity for vehicles on the road because the physical bus lane has been removed.
Secondly, the crossing islands have been changed to improve traffic flow through the junctions. By reversing the direction of the staggered crossings the stop line can be moved towards the junction, which reduces the time for vehicles to cross the junction. While a small change, the aggregate improvement to the junction signals is significant. As part of these changes the crossing islands have also been changed to toucan crossings with wider crossing areas and flat waiting areas.
Finally, the footways along the north side of Bursledon Road have been widened to create a segregated footway/cycleway. This forms the SCN3 Eastern Cycle Freeway, as part of the Southampton Cycle Network to create high quality, consistent and safe cycle routes.
What is new?
At Botley Road, some key features of the new junction include the creation of a central area for vehicles turning right. This clears the way for traffic going straight ahead and means on the inbound side we can bring forward the stop line and make the left lane left turn only onto Botley Road. This should make the junction more efficient for most drivers. Additionally, a diagonal cycle crossing through the centre of the junction has been installed, which will automatically detect a cyclist waiting and provides the SCN3 route through the junction for cyclists.
A continuous segregated footway/cycleway has been installed across the entrance to the Highpoint Centre, which gives right of way to pedestrians and cyclists over turning traffic – a new feature that is being installed city wide.
Coates Road has been narrowed to one lane at the junction with Bursledon Road, and a contraflow cycle lane has been installed which connects the SCN3 Eastern Cycle Freeway to the housing estates in east Sholing. Without this, residents in this area would have to use Orpen Road or Botley Road to travel south from the Freeway. The contraflow lane provides a more direct cycle route from Hightown/Thornhill to east Sholing. Orpen and Botley Road are also larger and more intimidating roads; the contraflow lane therefore allows less confident cyclists to use a quieter route. A right turn into the petrol station near Coates Road has also been created.
Furthermore, the gating system at Orpen Road has been removed to allow traffic to reach Bursledon Road from Orpen Road at all times.
In order to create more capacity on the road, a left hand turn into Kathleen Road has been created by removing the bus lane, an additional eastbound lane has been created at the junction of Hinkler Road, and a right turn filter lane into Upper Deacon Road has been created.
There is also a new footway for pedestrians parallel to Carey Road and a new cycleway on Carey Road which links to the Freeway.
To further increase capacity on the road, a dedicated right turn lane eastbound into North East Road has been added as well as a new dedicated right turn into Whites Road. Moreover, the A3024 westbound has been widened at the Ruby Road junction to create an additional westbound lane, so two lanes will continue onwards towards Bitterne, which should help to reduce congestion.
The right turn into Chatsworth Road has been removed, as it contravened DfT safety guidelines by crossing a dual carriageway without control of traffic signals.
A continuous segregated footway/cycleway has been installed across the entrance to Antelope Park, and a new dedicated left turn into the retail park has been created. A continuous crossing has also been installed across the entrance to Bursledon Road side road (off Maybray King Way).
Project Details
Work on a major one year project to improve journey times for all road users on the A3024 Eastern Corridor began on Monday 25 February 2019. The project will deliver improvements over multiple phases on Bursledon Road, between Botley Road and Bitterne Road East junctions, with each phase broken down into different parts. This will include new and improved footways and cycle lanes, improvements to traffic signal technology, safety enhancements and bus priority changes through the use of virtual bus lane technology.
Below is an overview of what the scheme will deliver. You can also see the junction details and indicative timings, and see answers to some frequently asked questions.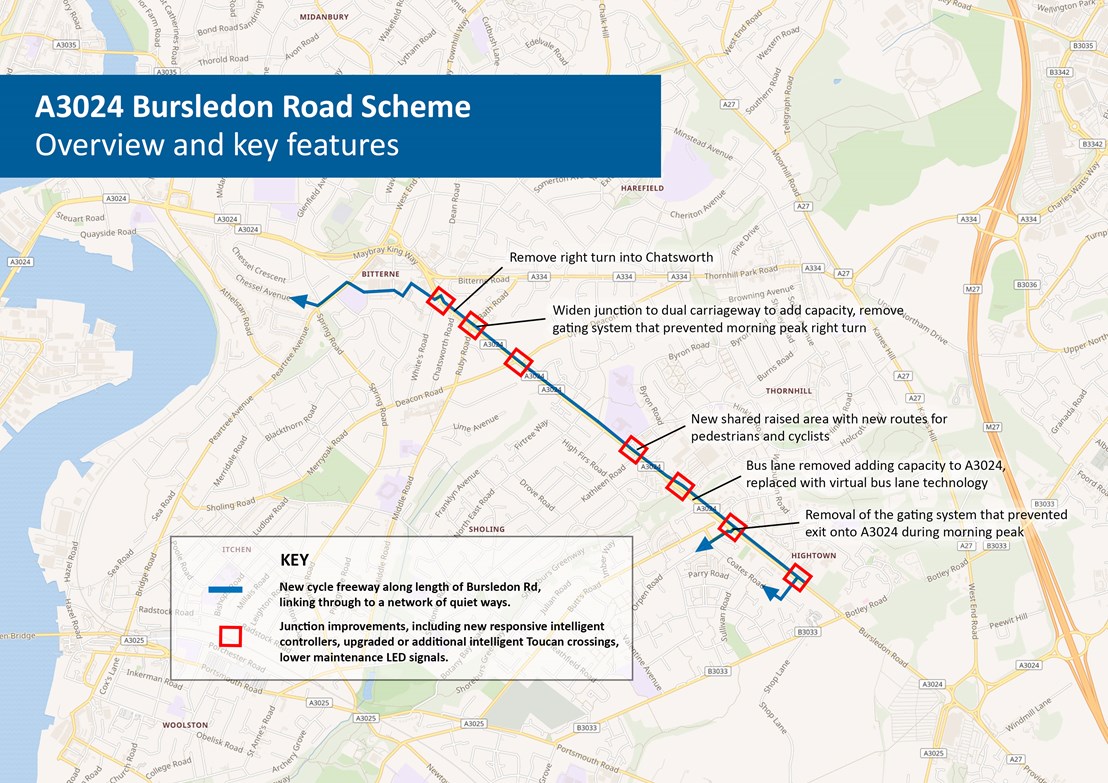 View a larger version of this map.