Creating a true cycling city
We launched our ten year strategy in 2017 to transform cycling in Southampton. Since then, we've made some big improvements to the Southampton Cycle Network (SCN). Here's an update on where we're creating high quality, consistent and safe cycle routes across the city. 
SCN1 Western Cycle Freeway
The SCN1 cycle route from Totton in the west to Southampton Central Station was completed in July 2019. This has set the benchmark standard for what we aim to achieve with our other main cycle freeways. Most recently, we completed further works on the route along West Quay Road from Herbert Walker Avenue to Harbour Parade; these included improvements to the shared footway, public realm and new crossings. Find out more about the route here.


SCN3 Eastern Cycle Freeway
In January 2020 we completed the first section of the SCN3 Eastern Cycle Freeway, investing in a new segregated cycle freeway along A3024 Bursledon Road. This connects to a quietway route through Bitterne before joining the existing shared use cycle paths along Northam River Bridge. Most recently, we extended the route between Northam River Bridge and Northam Rail Bridge with upgrades to the shared cycle/footway along Northam Road. New continuous crossings were also created to give people cycling priority over vehicles at the Northam Road/Kent Road junction and at the entrances to the Esso Garage. Looking ahead, Hampshire County Council will be upgrading the route to the east with improvements to Burlsedon Road between Botley Road and Windhover Roundabout. Find out more about the route here.

SCN5 Northern Cycle Freeway
The SCN5 Northern Cycle Freeway is an important part of the wider Southampton Cycle Network. Improvements to date include a 'Copenhagen' style segregated cycle freeway along Inner Avenue, where one-way cycle lanes follow the direction of traffic on both sides of the road; and, further north, segregated on and off-road cycle lanes both north and south bound between Lodge Road and just north of Highfield Road. Other features along the route include continuous side road crossings to give people walking and cycling priority over traffic; traffic signal upgrades at the Banister and Lodge Road junctions; a new parallel crossing at Northlands Road and a new toucan crossing at Winn Road to improve access to The Common. Bus stop islands also feature along Inner Avenue and mean that bus stops are now bypassed by the segregated cycle lane. This means that buses do not have to overtake those cycling between bus stops, cyclists do not have to negotiate around stopped buses and passengers getting on and off the bus are separated from the cycle lane. Find out more about the route here.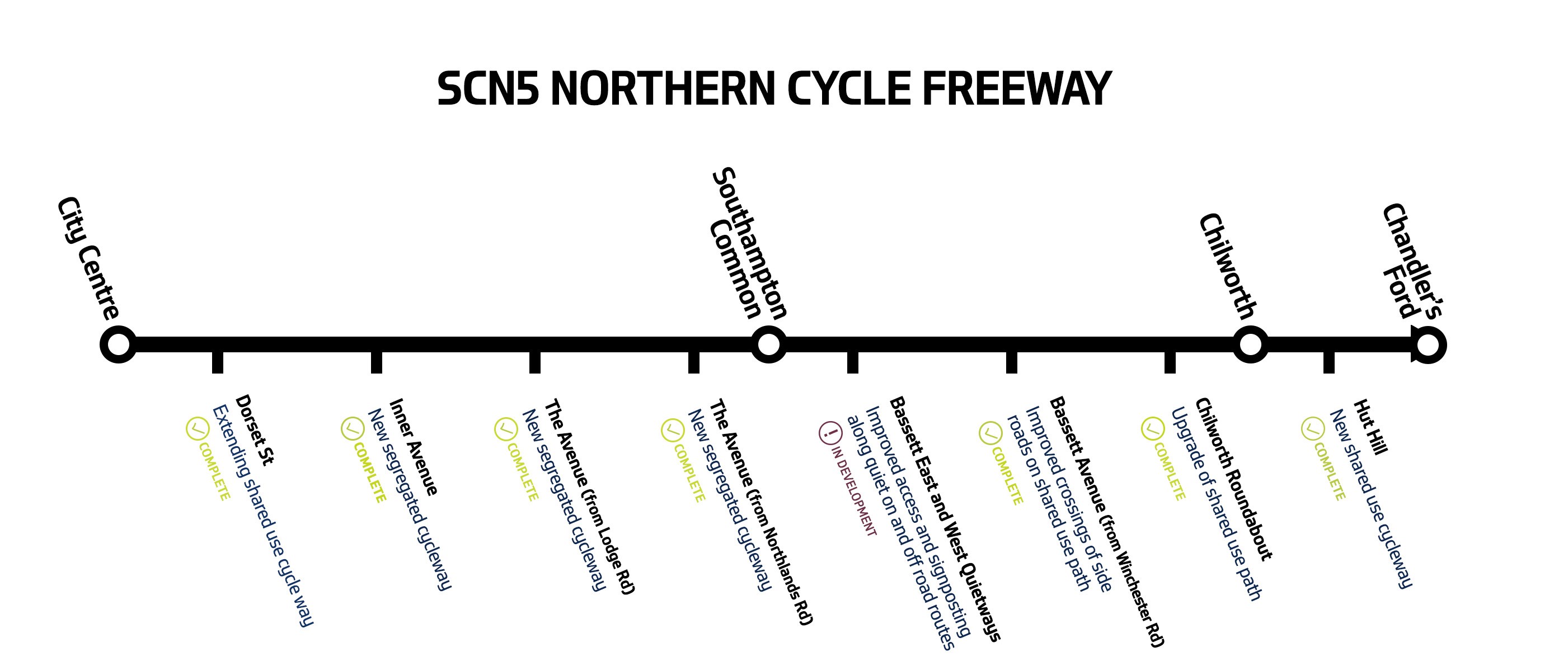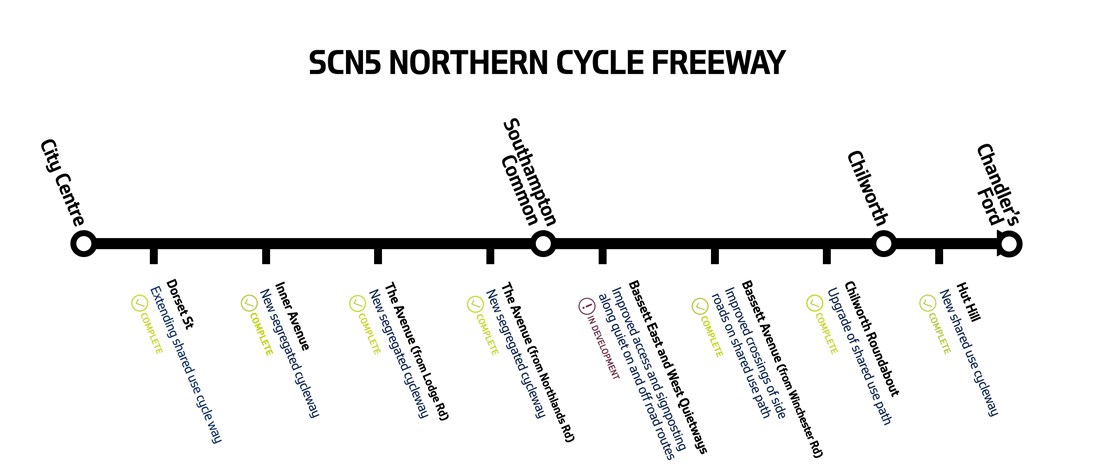 SCN6 cycle route - Bevois Valley
We have completed works to create the first section of the SCN6 cycle corridor along Onslow Road and Bevois Valley. Improvements include widened shared use footways and new crossing facilities to enhance walking and cycling access; continuous crossings to prioritise people walking and cycling; and upgraded signage and resurfacing providing better conditions for road users. Once complete, the planned SCN6 cycle corridor will connect Southampton to Eastleigh and Chandler's Ford, while also creating better cycle links to Southampton Airport Parkway. Find out more here.
Cycling Southampton 2017-2027
In cities across Europe, and increasingly in Britain, cycling is becoming more and more popular. It is regarded as a quick and green way of getting around - whether this is for work, going to school, leisure or exercise.
Cycling Southampton 2017-2027 sets out Southampton City Council's approach to investing in and realising our vision for cycling over ten years. We want cycling to be treated as a normal form of transport and create a liveable and thriving city.
The strategy outlines what work has already taken place, develops a policy approach for cycling and sets out a Delivery Plan of proposed improvements to the network to realise the vision for cycling in Southampton. You can read both the ten year strategy and the three year delivery plan in full from the downloads section at the bottom of this page.
Swap four wheels for two with My Journey
The My Journey website offers tips, groups to join and events to take part in for both new and established cyclists. You can find out where to get your bike repaired, sign up for cycling confidence training, led rides and more. You can also join the Southampton Cycling Forum to help us shape our plans for the future of the cycle network. Make sure you check it out.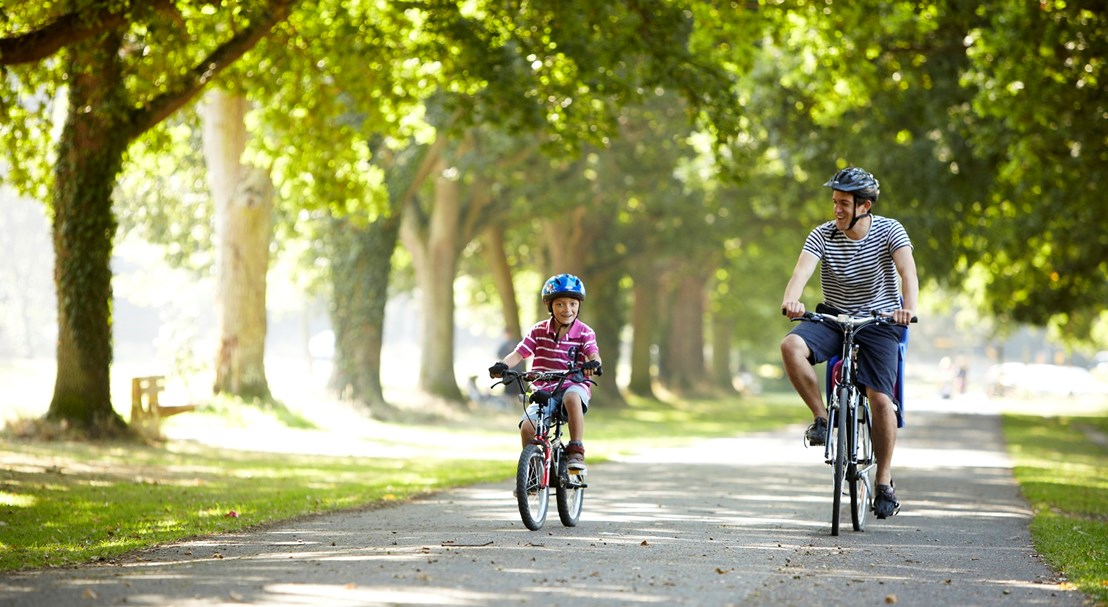 The benefits of cycling 
Health - making cycling the norm in everyday life can reverse a lack of physical activity. This can help people lead healthy lifestyles which can in turn reduce health inequalities, save the NHS money, increase productivity and reduce absenteeism at work.
Environment - most air pollution in Southampton comes from road traffic. Cycling is a low impact, zero emission way of getting around. This contributes to reducing CO2 and NOx emissions, improving air quality to create a more pleasant place to live.
Strong & Sustainable Growth - creating a cycling city can benefit employers, residents and visitors by providing an affordable transport option that reduces high commuting costs and connects people to opportunities for work and training. Cyclists who visit shops regularly spend more money than those who drive.
Regeneration - putting cycle infrastructure into new developments can integrate them and create denser more people-centred environments for a green, attractive and modern Southampton.
Transport - travelling by bike can connect people with the places they want to go. This can help to reduce congestion by freeing up road space for businesses to move their goods and services. It also makes for a more attractive and reliable city.
Social Inclusion - cycling provides an affordable way of getting around for people who do not have access to a private car allowing them to get to work, training or to ride for leisure.
Safety - more people cycling will change the urban environment to make it safer for people to get around by bike by changing perceptions and reducing the number of accidents.
Downloads