Summary
Where:

 

Bevois Valley / Onslow Road

When:

C

OMPLETE
What: Improvements to walking and cycling provision
Why: To increase the width of the shared footway and upgrade the controlled crossings, improve the bus stop and give pedestrians and cyclists priority at junctions. 
How: Funded as part of

a Transforming Cities Fund

awarded in March 2020
Latest News
Work on Bevois Valley completed on Friday, 16 October with the traffic management being removed on Saturday 17 October. This route links to the Inner Avenue quietways route, which you can find out more about here.
Full details of all the work and the phases and timing are detailed below. We've also provided answers to frequently asked questions about this scheme, including the diversion route while Onslow Road is one way, see our FAQs page.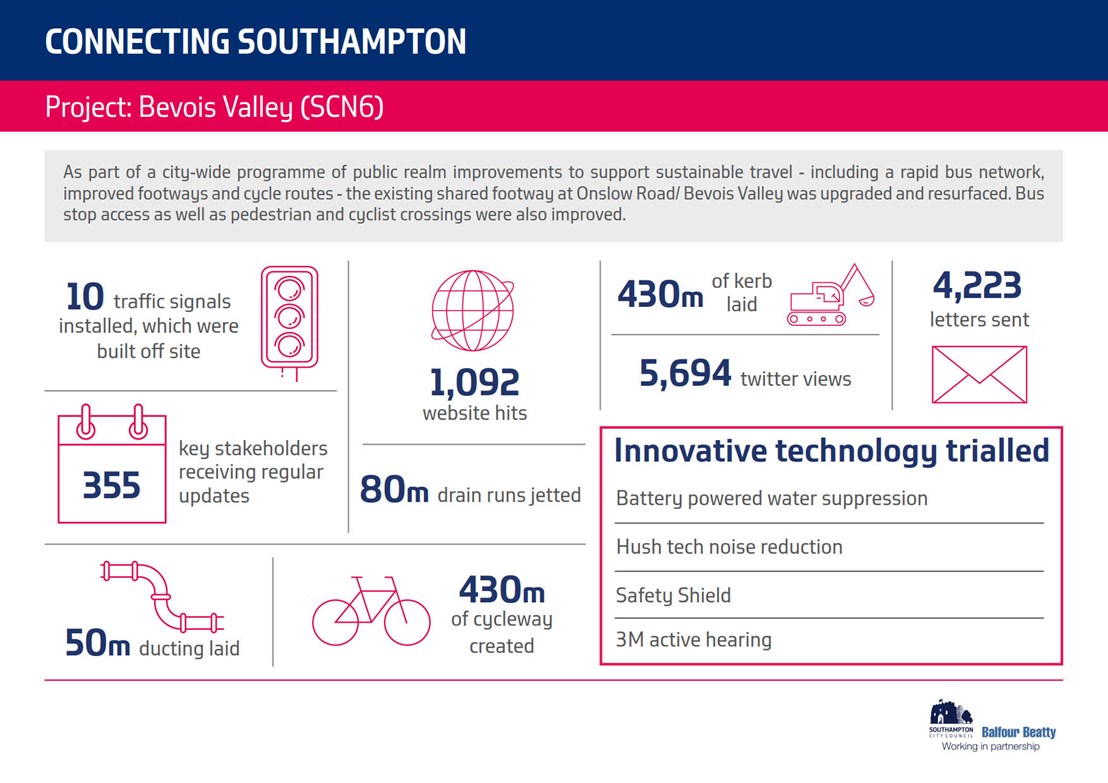 Phasing of work
As part of a city-wide programme of public realm improvements to support sustainable travel, including a rapid bus transit network, improved footways and cycle routes we are upgrading and resurfacing the existing shared footway at Onslow Road/Bevois Valley, improving bus stop access as well as providing better pedestrian and cyclist crossings.
The work was planned in five phases starting from Monday 27 July, working at multiple locations to deliver the work as quickly as possible. By doing this, we completed the works in 12 weeks with phases 1 & 4 starting simultaneously:
Phase 1 : 27 July for approx. 2 weeks – Forster Road to across the car park exit
Providing a transition dropped kerb for cycles to join the road northbound, constructing a continuous crossing at the car park exit to give pedestrians and cyclists priority over vehicles and resurfacing the footway.
Phase 2 : 11 August for approx. 3 weeks – Car park exit to Ancasta Road
Building out the bus stop so buses can pull away without having to wait to be let out, prioritising public transport over other vehicles. This will remove a pinch point on the shared footway, which we are resurfacing with asphalt. Constructing a continuous crossing at the entrance to the car park. 
Phase 3 : 27 August for approx. 3 weeks – Ancasta Road to Earls Road
Widening the shared footway on the west side to a minimum of 3m in this section and resurfacing the footway and the first 1m of road to bring it up to the new kerb line. Constructing a continuous crossing at Ancasta Road.
Phase 4 : 27 July for approx. 9 weeks – Earls Road to across Mount Pleasant Road
Widening the shared footway on both sides of the crossing for Onslow Road to make the shared areas a minimum of 3m, and  upgrading the signals and crossing to a shared use toucan crossing for cyclists and pedestrians. Footway widening either side of Mount Pleasant Road, to narrow the crossing width and allow us to install a new shared use toucan crossing. Constructing a continuous crossing at Earls Road, relocating a storm drain and then resurfacing all the new wider shared footways and strips of the road to bring them up to all the new kerb edges.
Phase 5 : 26 September for approx. 3 weeks - Mount Pleasant Road to Rockstone Lane
Continuing to widen the shared footway to 3m, constructing a continuous crossing at Peterborough Road and putting in a wider dropped crossing from Rockstone Lane to allow cyclists using this quiet way to link to the improved shared footway cycleway along Bevois Valley.
Throughout all five phases, we upgraded signage and where possible moved street furniture that creates pinch points in the footway.
To see answers to some frequently asked questions visit our FAQ page. Alternatively you can email us at roadworks@southampton.gov.uk.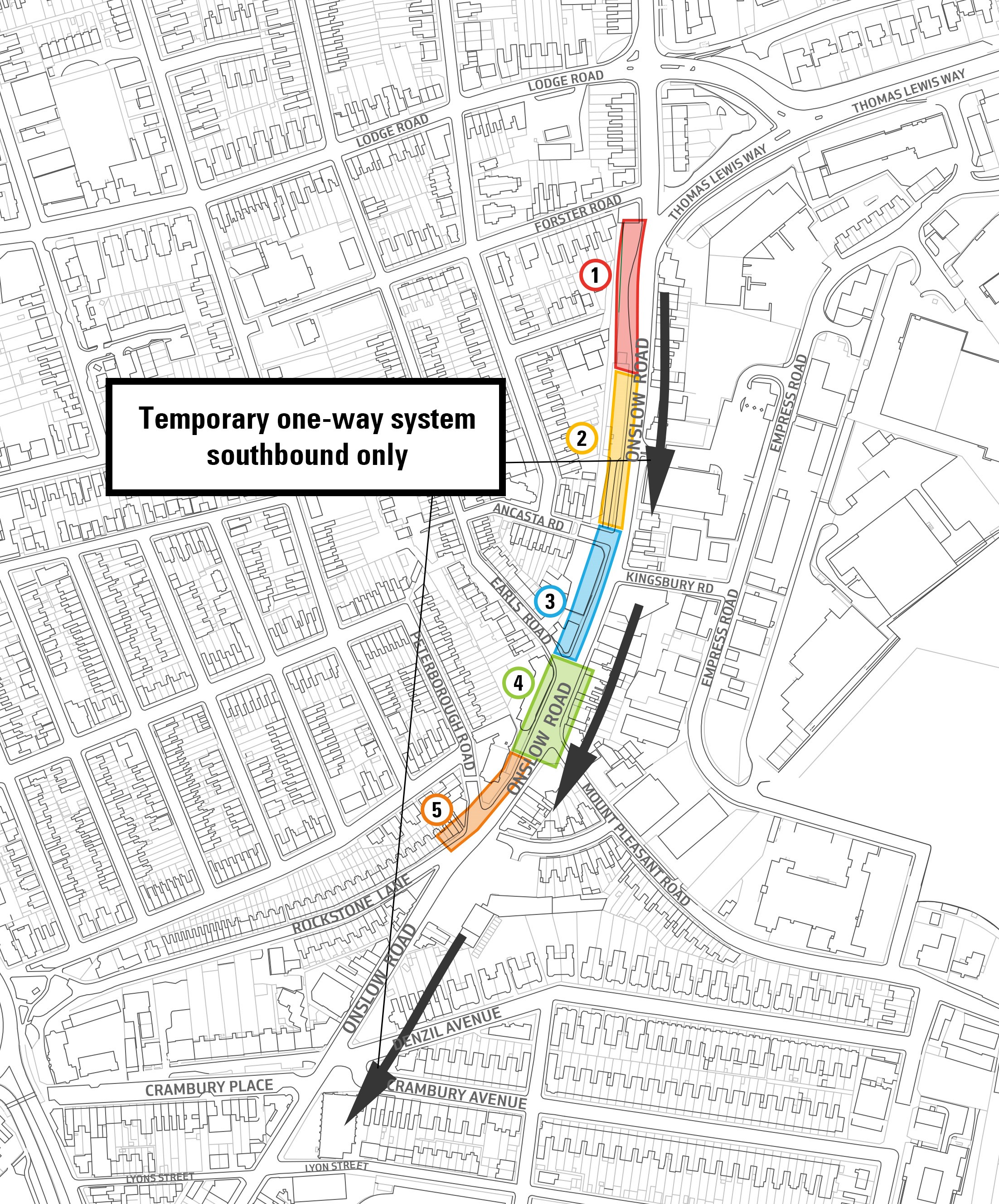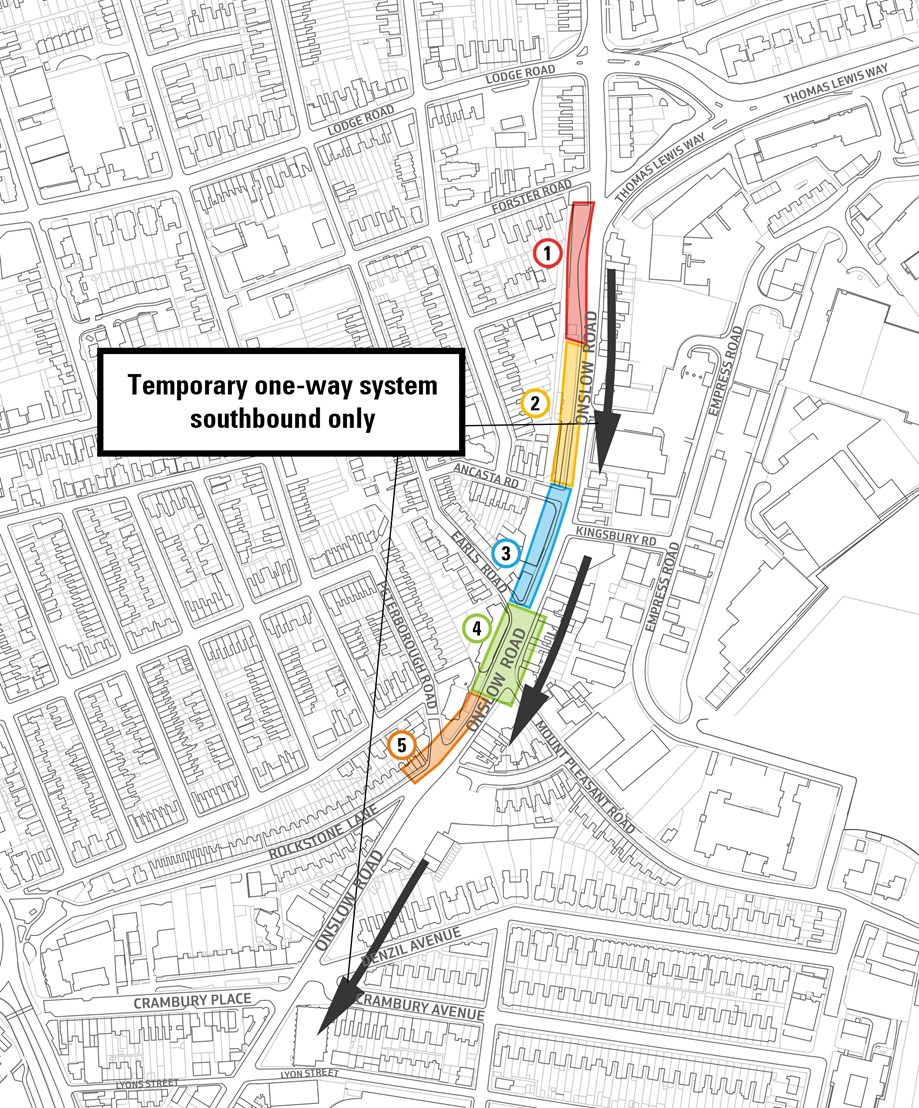 Crown copyright OS map license No. 100048446