Where: Various according to community requests (subject to prioritisation)
When: Ongoing
What: A new process to allow communities to request 20mph zones
Why: To make residential areas in the city safer and more child-friendly
Latest news
July 2022
Residential Streets in the Bassett East area (1 in the map below) are the latest to see a 20mph speed limit introduced.
Signage and painting will start on Monday 11 July.
January 2022
We have reviewed all of the 20mph requests received, including all supporting documentation, to determine which areas can proceed to the formal design stage for implementing 20mph limits. This process has been based on the evidence of community support provided, the streets proposed and the feasibility of introducing the measures within the specified areas.
In total, we received requests demonstrating community support for 47 streets or areas. These have been consolidated into 14 areas which will be individually consulted over the next two years through to the end of 2023. The below map shows each of the areas which will be consulted - you can click on this to download a copy.
Click here for more information about planned timescales for each consultation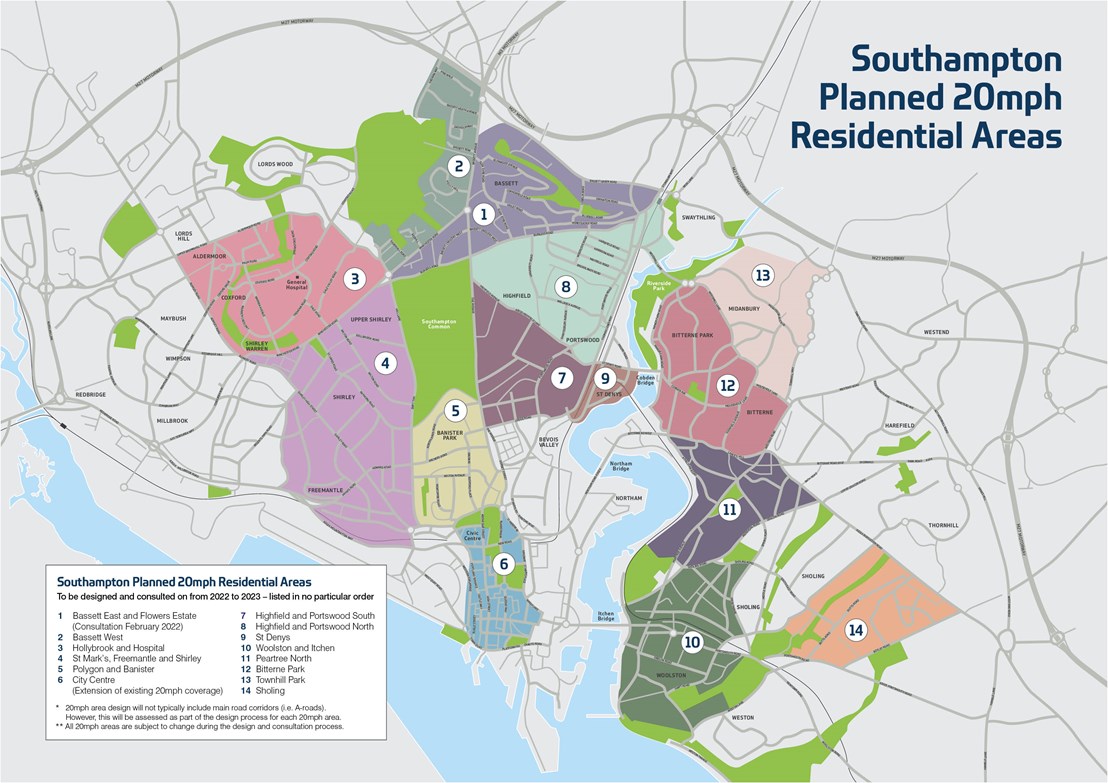 Bassett East and the Flowers Estate will be the first area to be consulted. This follows close engagement with the Flowers Estate community, which has already been informally consulted about proposals for new 20mph speed limits and other traffic calming measures.
The formal consultation for this will open on Friday 18th February and will close on Friday 11th March.
Click here for more details and to take part in this consultation
As outlined in the above map, other areas set to be consulted include the west of Bassett; Bitterne Park; the Highfield and Portswood area; Townhill Park; the Shirley and Freemantle area; Polygon and Banister Park; Woolston and Itchen; the north of Peartree; the south of St Denys; Hollybrook; Sholing; and the city centre. Consultation and delivery of 20mph speed limits in these areas will take place over the next two years.
Once finalised, the changes will be implemented using £500,000 plus additional funding sources such as the Transforming Cities Fund and Active Travel Fund. 
To help raise driver awareness of speed limits in the city, the council will be investing in new mobile Vehicle Activated Speed signs (VAS). These will also be used to monitor speeds in areas, alongside automatic speed and traffic monitoring methods.
Residents, community groups, schools and anyone else interested in supporting 20mph limits in their area, can purchase 20mph wheelie bin stickers and other resources from the '20's Plenty' webpage here. 
Project details
Southampton City Council is committed to ensuring the city's streets are safe for everyone who uses them. Our Corporate Plan and Connected Southampton 2040 Local Transport Plan set out our objectives to make Southampton a place where people can easily and safely get around; and continue to reduce casualties from transport collisions towards zero, focusing on the safety of children and people walking and cycling. The council has recently committed funding to consider implementing 20mph limits in residential areas of the city where feasible and where there is strong community support.
Why 20mph
Human error is a factor in 95% of all road traffic collisions. Driving at 20mph is a more forgiving speed when people make mistakes, as the consequence of those mistakes is less severe, the lower the speed of the collision. Even if a 20mph limit does not bring speeds down to 20mph or lower, there is evidence that speeds do fall overall, and every 1mph drop in speed can significantly reduce the severity of a collision. The Royal Society for the Prevention of Accidents (ROSPA) has put together a useful 20mph factsheet, explaining the need for lower speeds to bring down casualty rates, and the evidence behind 20mph zones/limits in reducing vehicle speeds. National policy guidance is also clear that vehicle speeds should be below 20mph on quieter routes to create safe and comfortable streets for walking and cycling. 
Southampton is seeking to become a recognised UNICEF 'Child Friendly City' by 2025. Evidence shows that children's reaction times are slower than adults' in perceiving gaps in fast moving traffic. The UN's 'Streets for Life' campaign and World Health Organisation call for 20mph in all areas where people and traffic mix to promote child friendly streets and reduce child casualty rates.
Studies have also shown that the use of 20mph speed limits will specifically assist other vulnerable road user groups, including people with disabilities and elderly pedestrians. This is of vital importance in reducing the risk of severe injury and helping to maintain independent mobility. 
Where
To change the speed limit on all residential streets in Southampton would be a complex and costly exercise due to the cost of signage and legally required consultation involved. However, the council is committed to empowering communities to come forward with requests for 20mph limits in their local areas. 
In addition to this, the council has already secured government grants through the 'Active Travel Fund' and 'Transforming Cities Fund' for new Active Travel Zones in the city. These zones will include 20mph limits and physical speed reduction measures. You can find out more about these schemes on the Active Travel Fund  and Transforming Cities Fund webpages.
When
We opened an online form for people to submit 20mph requests from October 2021 to January 2022. This form has now closed. 
What happens next
Each request has now been reviewed and 14 areas have been identified for consultation on 20mph speed limits over the next two years. For full details, see the 'Latest news' at the top of this page.