Where: In Residential Areas and District Centres
When: Ongoing
What: 20mph Speed Limits
Why: To make residential areas in the city safer and more child-friendly
Latest news
August 2023
The consultation on the introduction of a 20mph speed limit in the City Centre and Northam is now live and open for feedback until 15 September. See the full details here. 
July 2023
Following the successful roll out of the 20mph speed limits in Bassett, Polygon and St Denys, we are now expanding the areas to include Shirley and Freemantle. 20mph signage will be installed in these areas during August and September.
Project details
Southampton City Council is committed to ensuring the city's streets are safe for everyone who uses them. Our Corporate Plan and Connected Southampton 2040 Local Transport Plan set out our objectives to make Southampton a place where people can easily and safely get around; and continue to reduce casualties from transport collisions towards zero, focusing on the safety of children and people walking and cycling. The council has recently committed funding to consider implementing 20mph limits in residential areas of the city where feasible and where there is strong community support.
Why 20mph?
Human error is a factor in 95% of all road traffic collisions. Driving at 20mph is a more forgiving speed when people make mistakes, as the consequence of those mistakes is less severe, the lower the speed of the collision. Even if a 20mph limit does not bring speeds down to 20mph or lower, there is evidence that speeds do fall overall, and every 1mph drop in speed can significantly reduce the severity of a collision. The Royal Society for the Prevention of Accidents (ROSPA) has put together a useful 20mph factsheet, explaining the need for lower speeds to bring down casualty rates, and the evidence behind 20mph zones/limits in reducing vehicle speeds. National policy guidance is also clear that vehicle speeds should be below 20mph on quieter routes to create safe and comfortable streets for walking and cycling. 
Southampton is seeking to become a recognised UNICEF 'Child Friendly City' by 2025. Evidence shows that children's reaction times are slower than adults in perceiving gaps in fast moving traffic. The UN's 'Streets for Life' campaign and World Health Organisation call for 20mph in all areas where people and traffic mix to promote child friendly streets and reduce child casualty rates.
Studies have also shown that the use of 20mph speed limits will specifically assist other vulnerable road user groups, including people with disabilities and elderly pedestrians. This is of vital importance in reducing the risk of severe injury and helping to maintain independent mobility. 
Where
The council has committed to formally consulting on 20mph in areas where residents submitted requests in early 2022.  The areas have been designed to cover wide areas bounded by main arterial roads, so the speed limit is coherent and consistent. 
In addition to this, the council secured government grants through the 'Active Travel Fund' and 'Transforming Cities Fund' for new Active Travel Zones in the city. These zones will include 20mph limits and physical speed reduction measures. You can find out more about these schemes on the Active Travel Fund and Transforming Cities Fund webpages.
See below or click here for map of proposed roads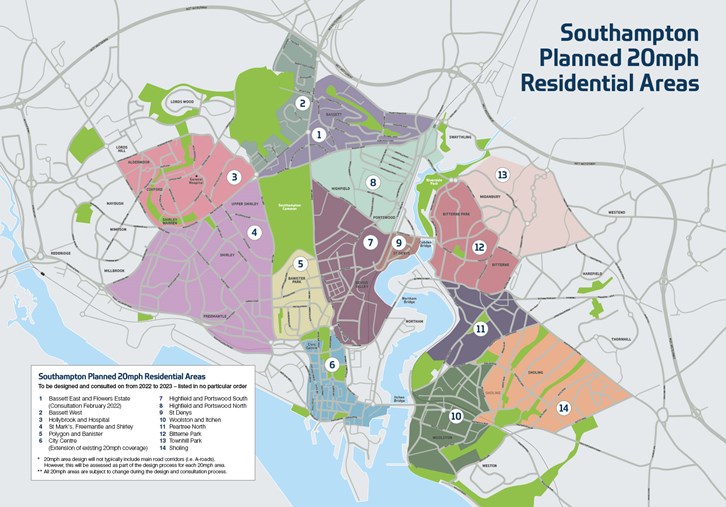 When
We opened an online form for people to submit 20mph requests from October 2021 to January 2022. The council received 47 requests from across the city and has since designed 14 areas that include these requests to take forward for formal consultation over the next two to three years up to 2025.
What happens next
Consultation dates are under review and will be confirmed in due course.
For details on the latest 20mph TRO consultations, click on the 'Latest Consultations' window on the right.