Summary
Where: High Road/Stoneham Way junction, Swaythling to Lodge Road/Portswood Road junction, Portswood
When: October 2020 onwards
What: To be determined
Why: To improve the area for pedestrians, cyclists and bus users, encouraging more sustainable modes of transport
How: Funded as part of

a Transforming Cities Fund

awarded in March 2020
Scheme background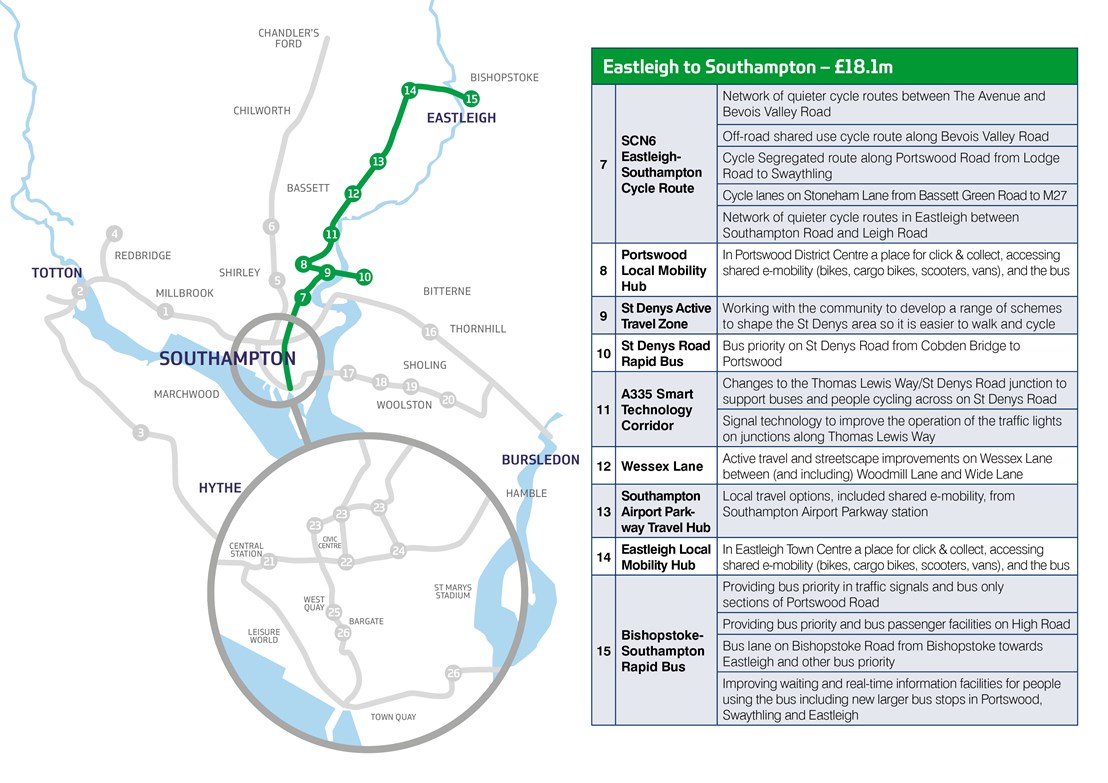 The Eastleigh to Southampton Corridor will connect Fair Oak and Bishopstoke to Eastleigh by bus and bike, and onwards from Eastleigh to Southampton Airport and Southampton City Centre by bus and bike with improved connections to the University of Southampton.
The corridor carries approximately 7,500 vehicles a day, on Portswood Road and 20,000 on Thomas Lewis Way with 26 two-way buses an hour, and connections with the rail network at Eastleigh, Southampton Airport, Swaythling and St Denys stations.
The corridor serves Portswood District Centre and employment areas in the City Centre around Solent University, Royal South Hants Hospital, Mountpark Southampton, Southampton Airport, Eastleigh Town Centre, and Barton Park Industrial Estate in Eastleigh. The corridor serves Swaythling and Townhill Park, which have 3,181 people living in the top 20% most deprived areas of England.
The timelines below outlines some of the policy and consultation background that has already fed into the Portswood and Swaythling corridor proposals.

We already have a number of exciting ideas for the corridor as a whole, and in particular, Portswood High Street, that we would like to discuss with the community, as outlined in our Transforming Cities Fund Bid.
Scheme progress
Through October and early November, we conducted an initial perceptions survey to understand how people travel through the local area and what transport infrastructure improvements people would like to see.
Following this in early December and on January 28th January, we presented our findings and started to discuss some of the solutions we could bring forward. Recordings of these presentations are available on the council's YouTube channel and by following these links: Portswood presentation and Swaythling presentation and below.
If you have any comments or questions, please get in touch via roadworks@southampton.gov.uk.
We are planning further engagement later in the Summer but, in the meantime, if you would like to sign up for updates you can do so by clicking here and entering your email address.