What are the aims of these proposals? 
We want to create a more attractive and safer Portswood. The proposals include significant bus priority upgrades, improved facilities for cycling and walking and reducing the amount of  traffic through Portswood. This will result in a greener, more pleasant environment for everyone living, working, studying and spending time in Portswood.    
Why was Portswood chosen?  
With all its shops and cafes, this area has a high amount of footfall and reducing through traffic at this point will have a considerable benefit for users of Portswood. It will allow us to improve public space, increase the use of sustainable travel to and within the area, improve air quality, increase road safety and creating better connection into and out of Southampton City centre.    
Where is the funding coming from?  
This funding for this project comes from the Department for Transport's Transforming Cities Fund. In March 2020, Southampton City Council, in partnership with Hampshire County Council, was awarded £57M to deliver an ambitious package of transport improvements. Full details of the bid can be found HERE and an overview of the schemes HERE.   
Will I still be able to drive to the area to come shopping? 
Yes, you will. Access will be maintained to the Sainsbury's Car Park to the north of the proposed work and to the South you will still be able to access Westridge Road Car Park.   
We will be improving access, lighting and safety in the Westridge Road Car Park as part of these proposals. Additional disabled parking will be provided as part of the works.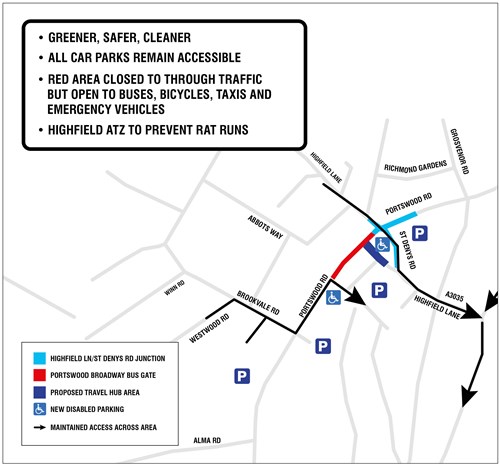 Can we add more green space along the Broadway?
We are proposing additional green space, along with ten new trees along the Broadway. more benches and seating. The introduction of bee-friendly bus stops will also help improve biodiversity. The aim is to make this a more pleasant space to shop, enjoy and meet people.   
What do these plans do for people with disabilities?  
The proposals include additional and continuous footways, allowing better access for people walking or wheeling. We will also be providing disabled parking bays next to St Denys Road and by the junction with Westridge Road for people who need to drive.   
Further information can be found under the Additional Information section on this site.  
Can we trial the scheme before implementing it permanently?
We are currently investigating the phased introduction of the bus gate should the proposals move forward.  
Further information can be found under the Additional information section on this site. 
Won't restricting the traffic along the Broadway push traffic into other areas?  
Many people raised the concern about additional traffic using local roads to get through the area, should a bus gate be introduced.   
To further assess this, additional traffic modelling and counts were commissioned in April 2023. It is also proposed that an Active Travel Zone be introduced to the Highfield area, which will be designed with the local community, in order to minimise any impact from the proposals, while maintaining access for local residents.  
 Further information can be found under the Additional Information section on this site.  
What are you doing to help people who choose to cycle?  
People who choose to cycle will still be allowed to cycle along the Broadway as they currently do. It is our hope that, by providing more protected spaces, more people will take up this sustainable alternative to the motor car. We will also be providing additional protected spaces at junctions, advanced stop lines and are considering a secure cycle parking facility as part of the proposed transport hub.   
How will deliveries for local businesses work?  
Loading and deliveries are important, and we will continue to engage with local businesses to ensure their needs are met. Following this consultation, should we decide to proceed to a detailed design phase, loading and delivery needs will be incorporated into any final designs.  
Can we spend this money on something else?  
This money has been awarded to Southampton City Council from the Department for Transport to improve our public transport service, walking and cycling areas around Portswood.   
While the details of the scheme are yet to be agree, should the proposals be approved, the overall fundamentals of the scheme are fixed and any change would need considerable negotiation with the Department for Transport and due to restriction on time frame are likely to lead to a loss of the investment in the area.  
How can I find out more about the Portswood Project Scheme?  
We would like to invite you to two drop-in sessions which will be held at the corner of Portswood Road and St Denys Road weather permitting on Wednesday 6th September (4-7pm) and Monday 11th September (4-7pm) where you will be able to ask questions and get any clarifications on the proposals.   
 Should you have any further questions you do not feel are covered on these pages, please email us at Portswoodcorridor@southampton.gov.uk  
What consultation will there be with residents?  
The public consultation questionnaire for the Portswood Project - including Highfield ATZ - is available online until 1st October 2023.     
In addition to this, two public consultation events are happening on Wednesday 6th September (4-7pm) and Monday 11th September (4-7pm), on the corner of Portswood Road and St Denys Road next to Trago Lounge.     
Once the survey has closed, we will review and analyse all feedback from the consultation questionnaire and events. If we decide to proceed with the proposals, we will then enter a more detailed design phase for the scheme. The public and local stakeholders will again be consulted on the plans.   
What is a local travel hub?
A local travel hub is gives travel options located close to one another that are designed for user convenience and to encourage more sustainable travel choices.  
Options for local travel hubs in Southampton are currently being investigated. Options could include cycle parking, cycle hire, a bike maintenance hub, electric vehicle charging points, electric vehicle hire, disabled parking, public green space and a micro freight hub to support local deliveries. E-scooter hire is also an option as part of local trials.  
The pavements on many of the roads in the area require repairs. Would this be included in the project?
Transforming Cities Fund money has been allocated to make improvements to transport infrastructure in the local area, as part of the Highfield Active Travel Zone and the improvements to the Broadway we will be able to repave many local and main roads to improve footways and carriageways.  
What is the legal position regarding the use of e-scooters with regard to using roads, cycle lanes and pavements? 
Only hire E-scooters are legal to use. They will need to be used on the road or cycle lanes.  
We are trialling an e-scooter hiring system across the city and many people have raised concerns about people riding on the footway or other unsociable use.  Should you see an incident you can report it here (Voi Scooters - Report a Voi) which will then be investigated.  The Council has been working with Voi to undertake on site enforcement in the Portswood Broadway area to issue warnings / riding bans for pavement riding.