In August 2020, in order to give businesses additional space to operate safely outdoors and create the potential for increased trade during the period following closures as a result of the COVID 19 pandemic, a trial pedestrianisation was implemented in the Bedford Place area of the city centre.  Temporary road closures were created in the area by using a mixture of planters and decorated concrete barriers. The roads initially included in the trial were:
Bedford Place from Henstead Road to Carlton Place;
Carlton Place from Bedford Place to Southampton Street;
Lower Banister Street from Carlton Place to opposite the Popworld establishment;
two-way traffic permitted along the lower half of Lower Banister Street; and
a timed closure along Lower Banister Street on Friday-Saturday evenings (8pm-3am)
These measures formed an important contribution to the 'Inside Out' initiative launched last year by the council and the Southampton Business Improvement District (BID), Go! Southampton. This joint project was designed to help businesses in the hospitality sector introduce new or extended outdoor seating while social distancing restrictions limited the delivery of services in indoor settings. 
Hear what local businesses had to say about the scheme
Together with the walking and cycling charity Sustrans, we created a series of videos giving a snapshot of what some of the businesses in Bedford Place made of the trial pedestrianisation in the area. Watch our video below to hear what they had to say or click here to hear more from individual businesses.
Bollards were spray painted to brighten up the scheme.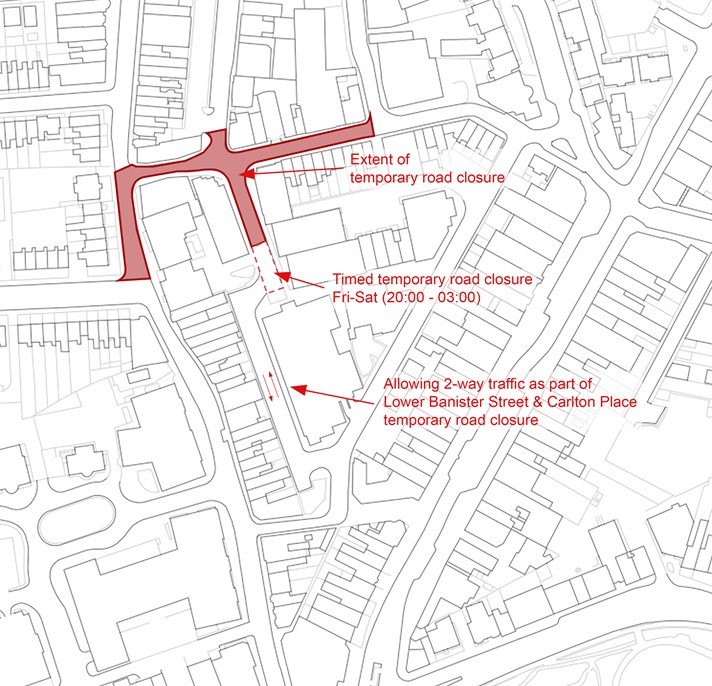 Between April and July 2021, we partnered with GO! Southampton, Solent Showcase Gallery and Southampton architect Darren Bray to deliver a road painting project to further enhance the pedestrianised area of Bedford Place. This was a Go! Southampton funded initiative which saw the temporary installation of an interactive 'grid' design, conceived by local artist Amanda Moore, laid out on sections of Bedford Place and Carlton Place. Local schoolchildren, artists and traders were invited to put their personal stamp on the artwork by 'colouring in' sections of the grid.
With the further easing of Covid-19 restrictions, in May 2021, including the reintroduction of indoor hospitality, a survey was undertaken to seek feedback from businesses on Bedford Place about the trial pedestrianisation of the road. As a result of feedback from local businesses, the decision was made to reopen Bedford Place and this took place in July. A new zebra crossing and a 20mph zone was introduced on Bedford Place, between Milton Rd and Cumberland Place. 
Between July 16-19 2021, as part of the reopening of Bedford Place (the road) the painted street art was removed and the concrete barriers and planters were relocated alongside the suspended parking bays which had been used on a trial basis by smaller hospitality businesses to provide outdoor seating. Some of the painted barriers were moved to the junction with Carlton Place to protect the continued pedestrianisation of that section. 
We continue to work with local traders and residents to help co-design changes which could encourage lower vehicle speeds through The Polygon area and traffic calming measures to improve safety. We have allocated a budget of £150k to support the delivery of any recommendations made during this further engagement with local businesses and residents.
A co-design working group, consisting of representatives of local businesses, residents and other stakeholders, was formed in October 2021. Its remit was to work with us to develop proposals for a permanent scheme for Bedford Place, Carlton Place & Winchester Street, to replace the existing temporary measures that were then in place.
The pedestrianisation of Carlton place was made permanent in February 2022.
Proposed designs for improving public realm and accessibility on Carlton Place, and for slowing traffic and improving safety on Bedford Place, were made available for public consultation in September 2022. Following the results of that consultation, work is planned to start on Carlton Place and Bedford Place in early 2022.