Summary
Where: The Polygon
When: From November 2020
What: Active Travel Zone
Why: To create a greener and more sustainable neighbourhood for everyone by identifying and making some small changes to the streets and roads in the Polygon that will improve walking and cycling for short journeys
How: Funded as part of the Active Travel Fund
Latest news
17 December 2021
The feasibility design stage of the Polygon ATZ scheme will conclude in Spring 2022. In line with our commitment to improving safety for everyone on Southampton's streets, we are also looking at options for implementing a 20mph limit throughout the Polygon area. This will be incorporated into the feasibility study for the Polygon ATZ project, for review in Spring 2022, and residents are not required to submit a request for this to happen.
Our current focus in the Polygon area is on identifying a suitable permanent solution for Bedford Place and the surrounding streets. We have met with representatives of all sectors of the local community around Bedford Place to agree a proposed scheme (including residents, local businesses and the hospitality industry). The 'Bedford Place Co-design Working Group' have agreed concept plans that are now subject to a feasibility study. A proposal will be ready to present to the wider community in Summer 2022. 
If you would like to sign up for email updates on this and other projects in the Southampton City Centre, you can do so by entering your email address here.
Project details
The Polygon is in walking distance of the city centre and the popular area of Bedford Place, with commutes from and to the area under 5km. As such, car ownership here is low, with between 30-50% of households without access to a car. The area nevertheless experiences a high volume of cut-through driving, with 30-40% of traffic travelling through the Polygon to access other parts of the city.
We want to redress this balance and create a more liveable neighbourhood where residents of the Polygon can walk and cycle safely and with greater ease to access nearby shops, schools and employment hubs. 
We are undertaking engagement with the local community to understand what improvements could be made to the area. We firmly believe that the best ideas always come out of the community and invited local residents and businesses to share their thoughts and suggestions by taking part in a perceptions survey.
The Polygon ATZ Perceptions Survey is now closed and the contributions have been analysed. The three key priorities that respondents identified for improving the Polygon neighbourhood are:
reducing the speed limit
reducing through traffic
improving crossing facilities
More detail of the findings from the survey can be seen below.
Polygon Active Travel Zone Co-design Workshops
The Polygon local community was invited to attend our online co-design workshops on 23 February. Twenty-two participants worked together in groups to explore potential measures for improving three key areas in the Polygon:
Milton Road / Wilton Avenue
Devonshire Road / Henstead Road
Morris Road / Newcombe Road / Handel Road
In each group, participants' comments and suggestions were recorded on a map, as you can see in the examples below. Click to expand the images.
Then, after discussing a range of potential measures for each location, including their own suggestions, participants were asked to vote on them. Here is a summary of the results from the four groups:

Once our design team has assessed the input from both the perceptions survey and co-design workshops in detail, we will present potential schemes for each location back to the community in June.
Key findings from the Perceptions Survey
177 respondents answered questions about what methods of transport they use when travelling in and around the Polygon area, which areas could benefit from improvement, and what improvements those areas require.
75% of respondents live either in the Polygon or within a 20-minute walking distance of it.
Transport to and around the Polygon area:
Respondents are more likely to walk or cycle within the Polygon area, (73%) compared to other transport modes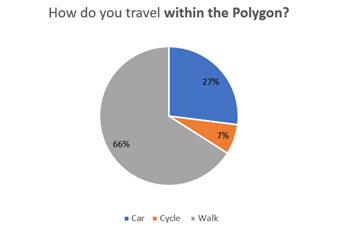 Respondents are most likely to use their car to get to the Polygon area (51%)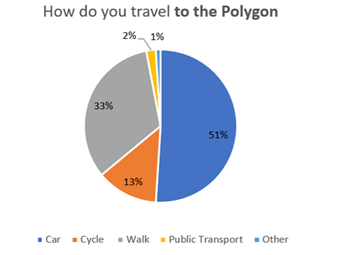 Respondents that live furthest away from the area are more likely to use the bus (8%) or drive (58%) when travelling to the area
Travel within the Polygon area: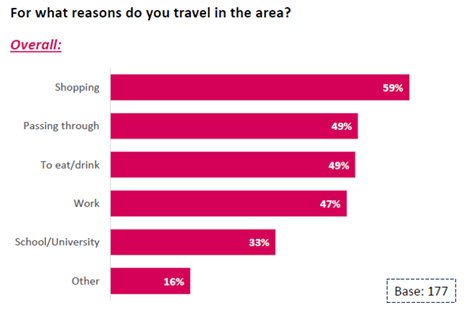 The most common reason that respondents travel within the Polygon area is for shopping (59%)
Respondents that live within a 20-minute walk are more likely to travel within the area for School or University (57%)
Respondents that live outside the Polygon area (either within a 20-minute walk or further) are most likely to be passing through or travelling there for work
Imrovements in the area:
 Almost 3 in 4 (72%) respondents highlighted that there are areas or roads within the Polygon area that could benefit from improvement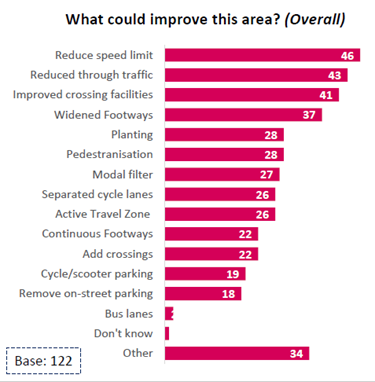 If you would like to sign up for email updates on the project you can do so by clicking here and entering your email address.
Click here for more details on the scheme and how we'll be engaging on our proposals