School Streets: timed road closure proposals
A School Street sees a road directly outside a school temporarily closed to motor vehicles to become a pedestrian and cycle zone for a short period of time at the beginning and end of the school day. Closing the road space outside schools at drop off and pick up times provides a much safer environment for everyone at peak times and helps those who are able to walk, cycle or scoot to school.
Access is maintained for residents who live within the closed area, emergency vehicles and blue badge holders.
*All residents, pupils, parents and staff were invited to complete a survey during the 2020/21 academic year on the impact of these schemes. You can see a summary of feedback under the "Latest News" section. If you would like to comment further on the trials, please visit transport.southampton.gov.uk/tro.
More information about the Southampton School Streets programme can be found on the My Journey website. Here you'll also find more travel to school information for parents.
Permanent School Streets schemes in Southampton:
St John's Primary – French Street – 08:15 to 09:00 & 2:45 to 3:30pm (started November 2018)
St Mary's CE Primary – Golden Grove – 08:15 to 09:00 & 2:45 to 3:30pm (started February 2020)
St Mark's CE Primary - Stafford Road north – 08:00-09:30 and 14:15-15:45 (started September 2021)
School Street Trial Areas
School Street trials are currently in place from Monday to Friday, 8:00 – 9:30am & 2:15 – 3:45pm during the school term, at the following schools across Southampton:
Bassett Green Primary - Honeysuckle Road (started September 2022)
Shirley Junior School - Bellemoor Road (started September 2020)
Shirley Infant School - Wilton Road (started November 2020)
Mansbridge Primary - Octavia Road (started November 2020)
Freemantle CE Community Academy – Mansion Road (started November 2020)
Wordsworth Primary - Victor Street (started December 2020)
Regents Park Community College - Richville Rd (started December 2020)
Valentine Primary - Valentine Avenue (started March 2021)
Shirley Warren Primary - Warren Crescent (started April 2021)
Mansel Park Primary - Portlock Road (started September 2021)
Cantell School - Violet Road – (started in November 2021)
Bitterne C of E - Brownlow Avenue (started June 2022)
Bitterne Park Primary – River View Road (started June 2022)
Bitterne Manor Primary - Quayside Road (November 2022)
Bitterne Park Secondary – Dimond Road (started June 2022)
Foundry Lane Primary – English Road (started July 2022)
Moorlands Primary – Kesteven Way (started June 2022)
Townhill Junior – Cutbush Lane (started June 2022)
Swaythling Primary - Mayfield Road (starting November 2022)
School Streets volunteers
Schools in Southampton are looking for volunteers to help with stewarding their School Streets.
Click here for the volunteer role description. To register your interest, please contact: School.Streets@southampton.gov.uk 
Latest news
October 2022
We are inviting residents to feedback on proposals which could see automatic number plate recognition (ANPR) cameras used to reduce moving traffic contraventions at specific locations including selected School Streets.
For more information or to share your views please click here
October 2021
Following consultation, Cantell School has now been approved as the next location to take part in the School Street scheme. From 1 November, Violet Road (between Copperfield Road and Primrose Road) will be signposted as a bus gate restriction, in place from 8am to 9:30am, and 2:15 to 3:45pm. This will be supported by camera enforcement and fines will be issued for vehicles found to be using the road without proper permissions.
29 June 2021
We recently carried out School Streets surveys to gather the views of pupils, adults and residents who attend, travel to or live by a school where a School Streets scheme is in place. As of 10 May, we have received 521 responses (124 pupils and 397 adults).
We have now analysed the results of the surveys and our main findings are below:
School Streets make the streets safer and more pleasant
85% of pupils said they feel safer or a lot safer on their school street when they walk/cycle/scoot
80% of adults agree or strongly agree that the street is safer
62% of adults agree or strongly agree that the street is now a more sociable space (13% disagree or strongly disagree)
50% of adults agree that the street is now a more inclusive place (12% disagree or strongly disagree)
46% of adults agree that the street is now a more attractive place (13% disagree or strongly disagree)
School Streets are having a wider impact
53% of adults agree or strongly agree that the air quality has improved (11% disagree or strongly disagree)
52% of adults agree or strongly agree the surrounding streets are the same or less congested with car traffic than before the school street (35% believe they are more congested)
School Streets are supporting more active travel
78% of pupils said it's easier or a lot easier to walk/cycle/scoot to school 
60% of parents agree or strongly agree it is now easier to walk/cycle/scoot to school and back (12% disagree or strongly disagree)
27% of parents walk more (3% walk less)
7% cycle more (4% cycle less)
14% scoot/skate more (4% scoot/skate less)
17% drive less (4% drive more)
There is strong overall support for School Streets
83% of pupils said they are quite happy or very happy with their school street
76% of adults would like the school street closures to continue (16% would not)
56% of residents of school streets support the closures (37% do not) and 51% want the closures to continue (40% do not)
72% of local residents or those who travel through the area support the closures (18% do not) and 66% want the closures to continue (25% do not)
Overall 82% of adults said they support the school street road closures (13% are against them).
What did people say?
Pupils
"[I like most] that everyone is able [to] walk without worrying about cars"
Parents
"It is so much safer for our children and the air quality is better. I am more relaxed waiting in the queue for school knowing there aren't as many cars. Illegal parking down the road has massively reduced too. It should definitely continue."
Residents
"[…] this makes the travelling by foot to school a lot safe. No cars!! It's brilliant. It also encourages kids to walk to school as parents cannot just pull in to drop the kids off."
3 November 2020
Following the launch of Shirley Junior School's 'School Streets' scheme in September, three more schools in Southampton will be commencing their own schemes in November. Shirley Infant School is the first of these and on Monday 2 November began its trial of the measures outside of the school on Wilton Road, between Winchester Road and Bellemoor Road. 
Mansbridge Primary School and Freemantle C of E Community Academy are set to follow later this month, on Monday 16 November and 23 November respectively. Additional schemes are also in the pipeline for a further three schools, with implementation dates to be confirmed. The council is continuing to work closely with local schools to encourage active travel on the school run and continue expanding the city's School Streets programme. 
Shirley Infant School's 'School Streets' scheme in action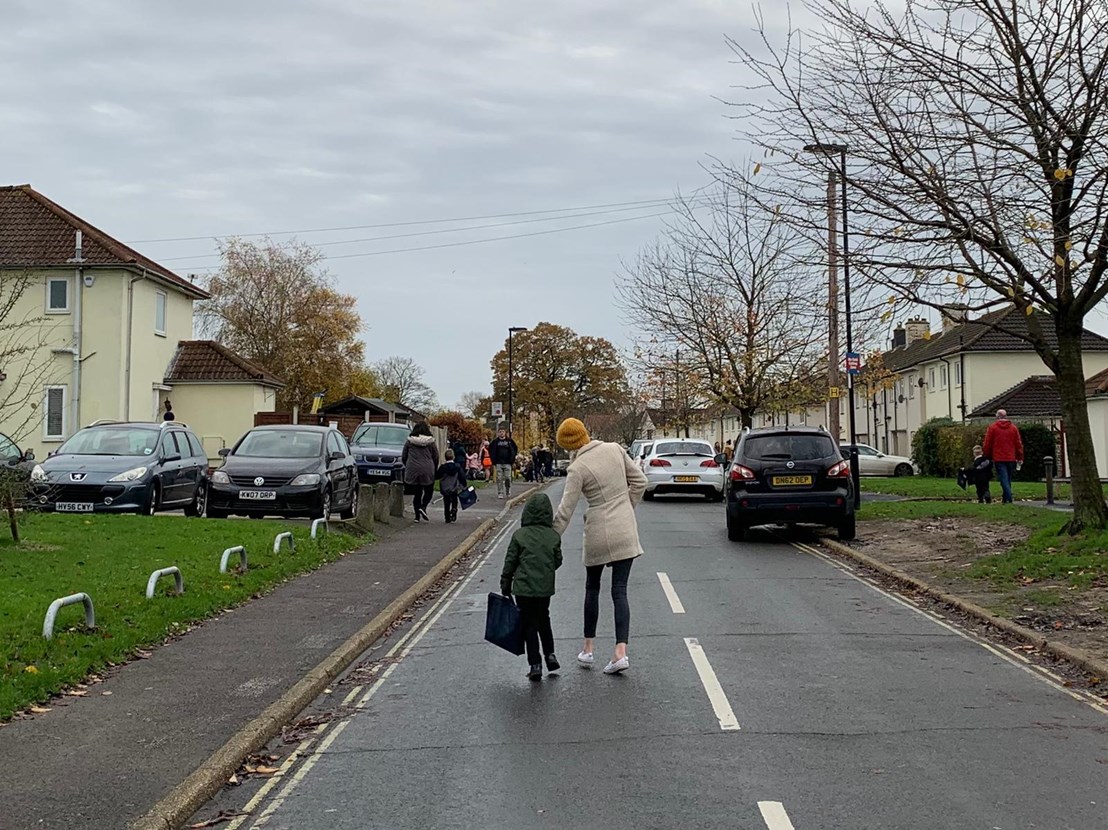 Mansbridge Primary School's 'School Streets' scheme is now up and running
16 September 2020
Shirley Junior School last week became the first school in Southampton to trial a School Streets scheme under the Green Transport Recovery Plan. The scheme is being trialled by the school in partnership with Southampton City Council and Sustrans to provide additional space for social distancing, encourage more families to travel actively to school and create a safer, healthier and more pleasant environment. 
The first week of the closure went smoothly and the scheme has excellent support from staff and families, with some parents already now volunteering to help out with manning the closures. There has also been positive feedback from local residents as well as the school community.