Summary
Where: Townhill Park, Meggeson Avenue
When: Work is currently aimed to start in the first quarter of 2020
What: Road and footway resurfacing, traffic calming and access improvements
Why: To create a safer, more pleasant environment with improvements for pedestrians, cyclists and bus users.
How: As part of the wide redevelopment of Townhill Park, funding from Homes England combined with developer funding is being used to create a new park and play area and to undertake major highway improvements along Meggeson Avenue. 
Latest News
The consultation is drawing to a close, Friday 17 January is the last chance to send us your feedback. Meanwhile, on the ground in Meggeson Avenue, you will have seen some of our crew carrying out surveys marking out the location of utility services under the footway or road. This will enable us to progress safely when we start full construction work.
During the last couple of weeks we have also had a drain surveying crew on site. They have been coning-off parking around drains so that they can get equipment close enough to the drain to suck out sediment and to jet clean the pipes so that the drains are all clear and flowing well before we start work. It will also tell us if there are any damaged drains which we can rectify whilst we are constructing the scheme. We realise it's frustrating when parking spaces are coned off in advance, but it is necessary to ensure we can access the drains. The drainage survey will finish this week.
Project Details
As part the redevelopment of Townhill Park funding from Homes England was provided to invest in the highway and green space. 
The above plans for the highway improvements started taking shape two years ago and are the culmination of two local consultation events and work with the SO18 Big Local to take on board the views of residents. We unveiled the plans at the end of November 2019 and invited the local community to see and ask questions of the design team. To finalise the design, we are consulting on proposed aspects of the plan which are covered by five separate notices:
If you would like to comment on these, you do not have to send individual comments, but you do have to send comments you want officially recorded to : Traffic.Orders.Legal@southampton.gov.uk or by post to Highways Legal Team, Southampton City Council, Civic Centre, Southampton, SO14 7LY.
This formal consultation would typically last three weeks, but because it will be over the Christmas period, this has been extended to 28 days so all comments need to be received by 17 January 2020.
Below are some artist impressions of how the scheme may look. Open a full screen version of scheme plan.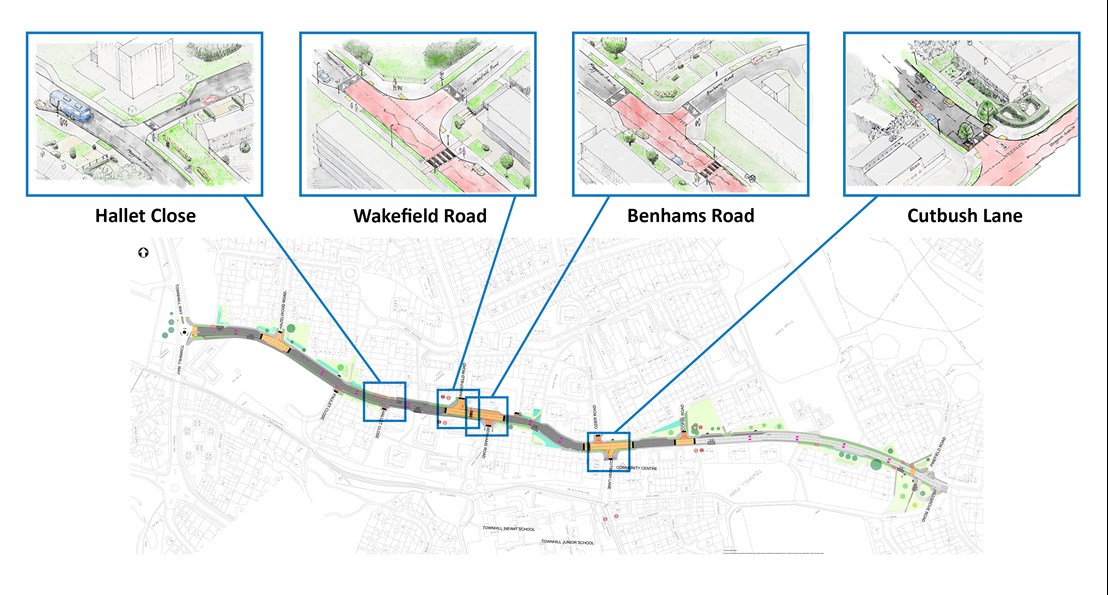 Highway improvements
In response to the feedback from residents, the improvements will include resurfacing the road and footways with the addition of proposed traffic calming measures and a new 20mph zone. There are proposed continuous crossings at junctions (to giving pedestrians right of way over vehicles) and proposed raised tables to slow drivers as they come into the areas where there are the most pedestrians. In addition, we will be narrowing some junctions to aid crossing and to slow turning vehicles. There are also planned changes to parking areas, formalising some parking but also ensuring the footpaths are accessible. There will be some widening of sections of footway to improve access. There is a section of proposed shared cycle paths to help cyclists going uphill along Meggeson Avenue. There will also be some improvements to bus stop areas and the proposed addition of two new zebra crossings to support access to the schools and pre-school/community centre. The addition of coloured surfacing will give drivers a visual warning that they are entering an area where there is high footfall.
The aim is to undertake these works in several phases in 2020. Dates will be confirmed. 
Keep up to date
We will be writing to those residents directly affected by the planned works but to guarantee you are kept up to date, please sign up for our email alerts. 
If at any point you don't want to receive updates you can unsubscribe by clicking on the unsubscribe link on any emails we send you.
If you have any further questions about the highways improvements you can email us (please note this is different to the email address for registering your comments).