Summary
Where: The Avenue and Lovers Walk
What: Proposed improvements to cycle access
Why: To complete a safer, dedicated cycle route for the city's north south corridor along The Avenue and to widen the existing route along Lovers Walk to cater for current use.
How: Proposed to be funded as part of

a Transforming Cities Fund

awarded in March 2020
Latest news
Thank you to everyone who responded to our consultation in early 2020 regarding proposals for The Avenue cycle corridor and Lovers Walk. We received a total of 286 responses, with the level of support for our proposed measures outlined below:
Strongly Agree = 50%
Agree = 14%
Neither agree or disagree = 10%
Disagree = 11%
Strongly Disagree = 15%
Since March 2020 we have been reviewing all of the requests received during consultation and, along with further investigations along the corridor, we've been using these to identify what is deliverable.
During this time, Covid-19 has prompted an unforeseen and significant shift in people's daily lives with a subsequent impact on traffic volumes across the city. In response to the pandemic, we have installed temporary cycle lanes along The Avenue (between Winchester Road and Winn Road) as part of our Green Transport Recovery Plan. These have allowed us to make surther observations which have also been taken into consideration for the design of the next phase along the corridor.
Based on the information gathered and all of the feedback received, we're now pleased to confirm that we're in the later stages of finalising the scheme design and will share details of this in due course.
What have we done with your feedback?
Below is a look at the most common lines of feedback received and how these have been incorporated into the scheme design or, where changes are not possible, why this is the case.
Your feedback

What have we done

Shared footways are dangerous and do not encourage cycling/walking.

Based on this feedback, we are reviewing the level of shared use to see what we can feasibly move to on-road segregated.

Cyclists are brought back onto footways at certain points. This is to make sure that cyclists travelling from and to the corridor in these locations have sufficient access to signal-controlled junctions and crossing points.

Cyclists go too fast / endanger pedestrians / ignore the Highway Code. There need to be speed restrictions / enforcement for cyclists built into shared footways.

We're currently finalising plans for physical signage to encourage slower cycle speeds on shared use footways and footpaths in Southampton Common and other City Parks. This is part of a 'Share with Care' code of conduct that was a popular request during the consultation period.

This is in addition to an upcoming road safety campaign that will encourage all road users to show consideration for others.

A delineated footway/cycleway off the road is preferable over shared use footways which are too 'stop start' for cyclists.

Based on this feedback, we are reviewing the level of shared use to see what we can feasibly move to on-road segregated. 

There should be cycle segregation along the whole length of The Avenue. 

The on-road sections of cycle lane will be segregated from traffic and we have been trialling various options for this over the summer months.

Do not make both footways from Northlands Road to The Cowherds shared use - cyclists only use the inner path (and not the outer).

The existing shared use footpath is not as accessible to many cyclists so the footway alongside The Avenue would be used regardless. The new shared use footway prevents the need for cyclists to enter Southampton Common via Cemetery Lane which is a pinch point.

The footway from Burgess Road to Highfield Avenue is not wide enough for a shared use footway.

Based on this feedback, we are reviewing the level of shared use to see what we can feasibly move to on-road segregated.

On-road cycle lanes are too narrow and too close to the busy highway and as such don't feel safe.

The on-road cycle lanes will be segregated from traffic along the route. This has been trialled along the corridor over summer 2020 to assess its performance.

This will cause greater traffic congestion, increasing delays and pollution.

The predicted impact of these proposals on the highway network has been considered and on balance is considered acceptable to achieve the goals of the scheme. It is not accepted that overall the scheme will have a negative impact on air quality. While there may be localised concerns around queuing traffic during peak traffic hours, these would not override the wider benefits delivered by facilitating modal shift.

We are committed to improving Southampton's air quality and reducing health impacts. The national Air Quality Plan for Nitrogen Dioxide in UK (2015) sets out targeted local, regional and national measures to meet these goals. We are currently developing a package of measures as part of the city's Air Quality Action Plan and Clean Air Zone implementation plan to encourage behaviours which support improvements in air quality. This includes schemes like SCN5 which aim to improve transport through efficient infrastructure, the uptake of new and innovative technologies and the increased uptake of public transport, cycling and walking.

This scheme is inadequate to accommodate faster cyclists who will therefore continue to use the road. As the road will be narrowed to create the new cycle lanes, this will put cyclists who fall into this category at greater danger.

The design is catering for all cyclists and therefore strikes a balance between users. The facility is predominantly placing cyclists in their own lane with a greatly improved facility compared to that which currently exists. The segregation provided will feature gaps at regular intervals, making it possible to overtake or exist the cycle lane should that be desired.

Provide a two-way cycle lane on the west side of The Avenue rather than two narrow cycle lanes. This will provide room for overtaking, allows right turns for outbound cyclists and would be cheaper.

The cycle facilities along The Avenue have been designed so that people can cycle with traffic and this next stage is a consistent continuation of those.

The final design won't be good enough to encourage modal shift.

We are reviewing the level of shared use to see what we can feasibly move to on-road segregated. Despite this the design greatly improved cycle access along the A33.

Suggested design improvements:

Use the most direct route
Gradual ramps
Design out lips on kerbs
Better lighting at junctions
Better visibility and signage

We've taken all comments into account for good design practice.

Cycle lanes are not cleaned and maintained. More needs to be done for existing routes.

We are in discussion about changes to street sweeping practices that will reflect the increase in on-road segregated cycle routes.

There should be more crossing facilities as part of the design to access bus stops and at Highfield Road.

As part of the design feasibility stage, the provision of crossing facilities for cycles and pedestrians around Highfield Road was considered. Unfortunately, due to issues with surface levels, trees and sight lines, it was not feasible to include any specific facility within the scheme design. Northbound cyclists wishing to access the university and the Highfield Road area will be able to do so by using the Common underpass to cross The Avenue.

Junctions should give priority to cyclists and be clearly signed as such.

The design proposes to provide continuous crossings at side roads where the cycle facility is shared use. These encourage drivers to turn into side roads with caution and reinforce rule 170 of the Highway Code which states that drivers should give way to pedestrians crossing when vehicles are turning into side roads.  

The level of cycle facility to be provided at the signalised junctions of Burgess Road and Highfield Road is still in design review.

Narrowing The Avenue will make it dangerous for traffic turning into Highfield Road.

 

Narrowing will formalise a single lane in either direction, requiring traffic to stop behind a right turner. Currently right turners need to navigate two informal lanes of traffic with northbound vehicles passing on their inside.

Improve uneven conditions of the footpath along The Avenue.

The design takes into consideration the need for resurfacing where the scheme impacts on footways.

The Common is overgrown onto the footway. There may be enough room for a shared footpath if this is cut back.

Vegetation along this section of The Avenue will be cut back and the design will permit the ongoing cutting back of vegetation. This would achieve shared use footway widths in sections.

Plant wild flowers in retained verges to encourage biodiversity and reduce maintenance.

As with all schemes we will be considering planting options as part of the design. 
Further consultation
We have undertaken Traffic regulation Orders (TROs) for elements of work over the summer period that have received overall support. The results of these will be shared in due course.
Further measures on the scheme that were not proposed in the consultation will be advertised shortly via a TRO process and will provide an opportunity to give further feedback before the design is finalised.
We have applied to the Secretary of State for Environment, Food and Rural Affairs for consent under section 38 of the Commons Act 2006 to carry out restricted works on Southampton Common for the section of corridor between Northlands Road and Highfield Avenue. The Planning Inspectorate will decide the application on behalf of the Secretary of State. Due to Government advice in respect of Coronavirus (COVID019), a copy of the application form will not be left in a public area for viewing. However, a copy of the application form and accompanying documents may be obtained by writing to Traffic.Orders.Legal@southampton.gov.uk The application form and documents will be available until 18th December 2020.
In view of the pandemic, any representations should where possible be sent only by email ON or BEFORE that date to: commonlandcasework@planninginspectorate.gov.uk
The Avenue Cycle Corridor and Lovers Walk Consultation
In February and March 2020 we sought your views on proposals to extend the City's north-south cycling corridor along The Avenue from Northlands Road to Burgess Road shown in black on the illustration below.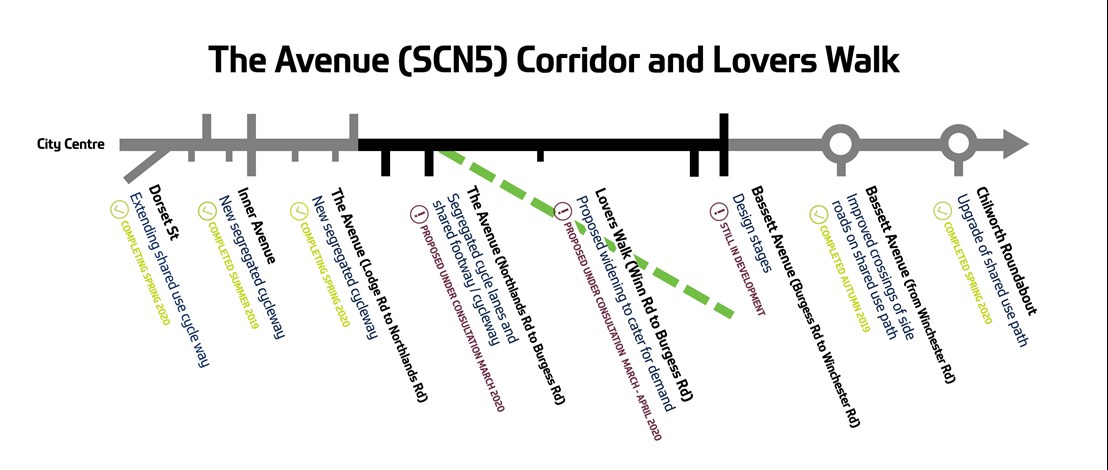 Delivery of cycling facilities along parts of this corridor are already well underway with the completion of the sections between Dorset Street / London Road and Northlands Road.
This final section of the Southampton Cycle Network route 5 (SCN5) will finally provide a connection from the city centre to the north most edge of the city at Chilworth Roundabout and beyond via Hampshire's cycle network which they in the process of improving.
In addition, as part of the wider network, we also sought feedback regarding the planning application for proposals to widen Lovers Walk footpath which is an important walking and cycling route with close links with SCN5 proposals.
We have considered views submitted during the consultation period and will shortly be unveiling the final proposed scheme. Below are the details of the proposals consulted on over Spring 2020.
The Avenue Cycle Corridor (SCN5)
In 2017 Southampton launched its ambitious strategy to develop and grow cycling in the city. Within the strategy, the Southampton Cycle Network (SCN) a statement of ambition for a safe, integrated cycle network that is accessible to everyone. It recognises that people will choose different routes for different purposes, and so the network comprises of a hierarchy of strategic corridors, local routes and leisure cycleways.
Southampton's Cycle Network consists of 14 radial and cross-city routes that link key cycle trip origins and destinations, either following the main arterial transport roads or more cycle-friendly routes through quieter or traffic free areas.
Within this network of connecting routes, SCN5 has been identified as a cycle freeway, this is the highest level of cycle category and as such, proposes the highest infrastructure provision feasible. A freeway is defined as being a high quality, safe and easy to use direct cycle route radiating out from the city centre along the main transport routes connecting to neighbouring towns and villages; connecting to the main places of employment, education, health, leisure, transport, new development, and onwards into the neighbouring towns and villages.
These proposals will have a number of important benefits:
Improving the experience for all users of the Common;
Facilitating an increase of active and green travel to major clusters of employment in the City, helping to improve air quality and supporting healthier life styles;
Extension of the northern radial corridor (SCN5) to connect with the Hampshire cycle network at Chilworth roundabout;
A reduction in conflicts between pedestrians and cyclists, especially on Lovers Walk.
Southampton City Council Cycle Strategy Corridor Plan(Click on image to open)

Lovers Walk
Lovers Walk is a footpath across common land that links the Avenue to Burgess Road and runs adjacent to the University of Southampton's Highfield and Avenue campuses. As such, it is a very heavily used footpath for both leisure and commuting. During peak use, the existing width of the footpath does not cope with demand and users step / ride onto the verges to pass each other. As well as user conflict, the current width results in exposed footpath edges, which are a safety hazard to users and maintenance issues.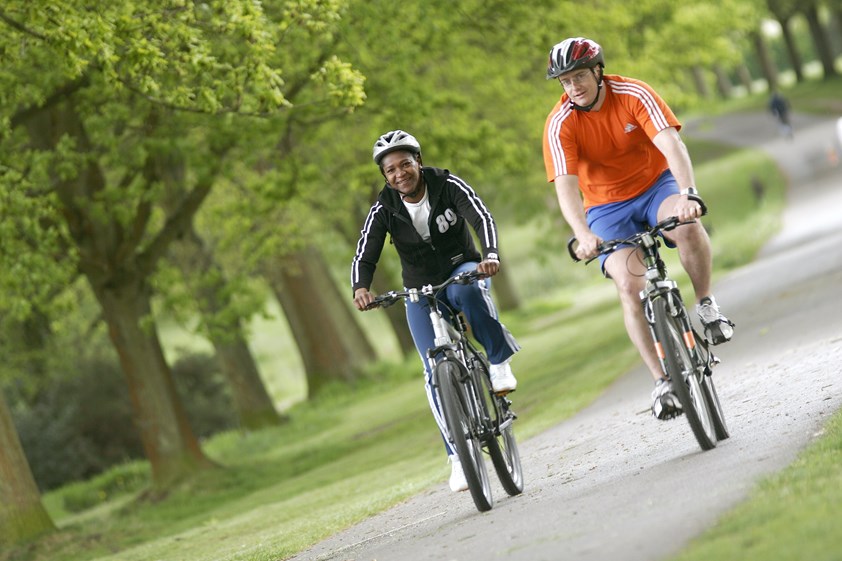 A planning application for the widening of Lovers Walk was submitted by Southampton City Council in 2015 and paused to review objections received. During this time the council has worked with Southampton Common Forum to collate more user data on travel through and via Southampton Common.
Southampton Common Forum undertook extensive user consultation between 2017 and 2019. This included conducting an online survey of Common users (2,190 respondents from across the whole City in 2017); of users travelling across the Common (621 respondents in 2018); interviews with users on Lovers Walk (early 2019) and, in partnership with the council, a census of pedestrians and cyclists across the Common (early 2019 involving about 15,000 observations over seven days).
This research revealed that:
Green commuting (by foot or cycle) is the second-largest activity on the Common after walking for pleasure;
There are three main destinations: City Centre, University campuses adjacent to the Common, hospital complex on Coxford and Tremona Roads;
90% of green travellers commute a distance of up to 5.5 km;
Lovers Walk is, by far, the most congested path attracting staff and students at peak times, especially during term times;
The density of the traffic peaks at over 120 persons per hour per metre,
Concerns over the width of the pathway in sections of Lovers Walk south of the steps at the south-west corner of the Highfield Campus.
The top issues identified by users were safety-related; in particular the narrowness of parts of Lovers Walk. This leads to conflicts between users and has resulted in pedestrians and cyclists straying onto the path verges by up to a metre in places.
The lack of lighting during darkness, especially on the section south of Highfield Road.
Users supported a separated cycleway on The Avenue as it would be a faster route and would improve safety (reducing conflicts with pedestrians and dog walkers and it has better lighting)
The survey also showed that such a cycleway would reduce cycle traffic density on the Common (especially on Coronation Avenue and Lovers Walk) by diverting it onto The Avenue cycleway.
Southampton Common Forum user survey 2019 (357 respondents)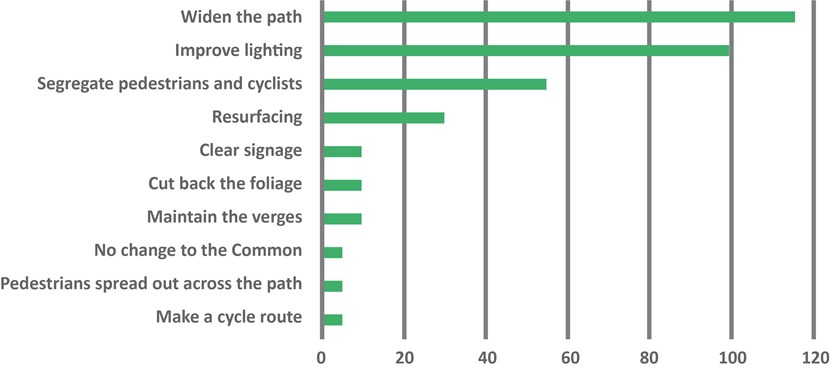 The various reports of this large body of evidence and work are available online. 
This extensive evidence supports the 2015 planning application proposal within the context of the strategic approach to green travel across the Common described in this consultation. Following this review the planning application for Lovers Walk is to be resubmitted on the 24th of February 2020.  (Click for SCN5 planning application)

Public events
We held public drop-in events in early March 2020 at three locations at either end of The Avenue and partway along The Avenue and several hundred people attended and gave feedback.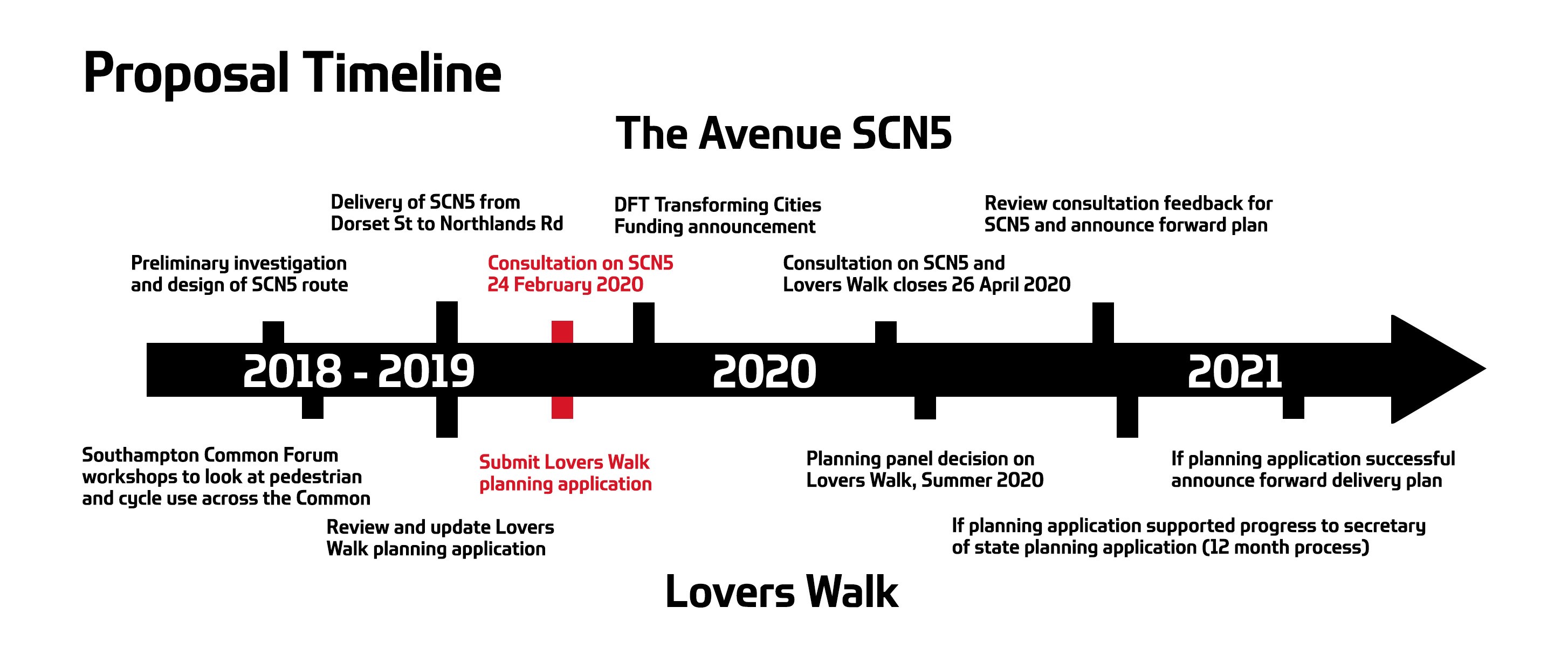 Frequently Asked Questions