Summary
Where:

 

The Avenue (Part of SCN5)
When:

 

From Sunday 6 October 2019 for up to 20 weeks
What:

 Improved cycle and pedestrian facilities

Why: Enable more people to cycle safely and confidently from Southampton city centre to Chandler's Ford
How: This £1.3m scheme is funded by central Government through Transforming Cities Tranche 1, with additional funding from Southampton City Council's Local Transport Plan
Latest News
The improvements to The Avenue have progressed to plan, and cyclists and pedestrians are already benefiting from delineated or segregated cycle lanes and a new tiger crossing at Northlands Road.
We are underway in our New year plans to upgrade the traffic signals with the latest Smart technology on The Avenue and Lodge Road junction. Work at the Banister Road junction is nearing completion and we plan to switch over onto Lodge Road overnight on Sunday 19 January from 8pm. There will be a signed diversion route in place.
For the changeover, we need to relocate all of our equipment from Banister Road to Lodge Road. To do this there will need to be a short transition period when both junctions with Banister Road and Lodge Road are closed on Sunday night. We will do our best to keep this double closure as short as possible. 
What improvements are being made to the junction?
As part of upgrading the junction to smarter technology, we will be installing durable LED bulbs that last longer and use less power. We are also installing quick release 'nal sockets' for the signal poles, this will significantly reduce future disruption for maintenance. A new faster computer running the junction will enable it to respond much quicker to demand and will synchronise with other junctions to improve flow at busy times. The new signals will provide remote control access to allow us to override the settings for events and other incidents. The new junction will also support rapid bus lane technology to help ensure buses run on time.
We are also adding a Toucan Crossing to the Lodge Road junction and making the footway here shared use, which should improve access and help support the growth in cyclist commuters. This is part of the Green City Charter to help improve air quality and reduce congestion at peak times. Last year Southampton moved into third place for the most cyclists per capita of any city in the UK.

Project Details
As part of the council's commitment to improving sustainable travel and developing Southampton's Cycle Network; the cycle route from Inner Avenue is being extended along The Avenue from Lodge Road to Northlands Road with a combination of segregated on and off-road cycle lanes and improved cycle and pedestrian crossings. 
Works are planned in multiple phases starting from 6 October for approximately 20 weeks, excluding a 2 week break over Christmas. The initial 10 phases before Christmas are planned to take up to 11 weeks. (See Map)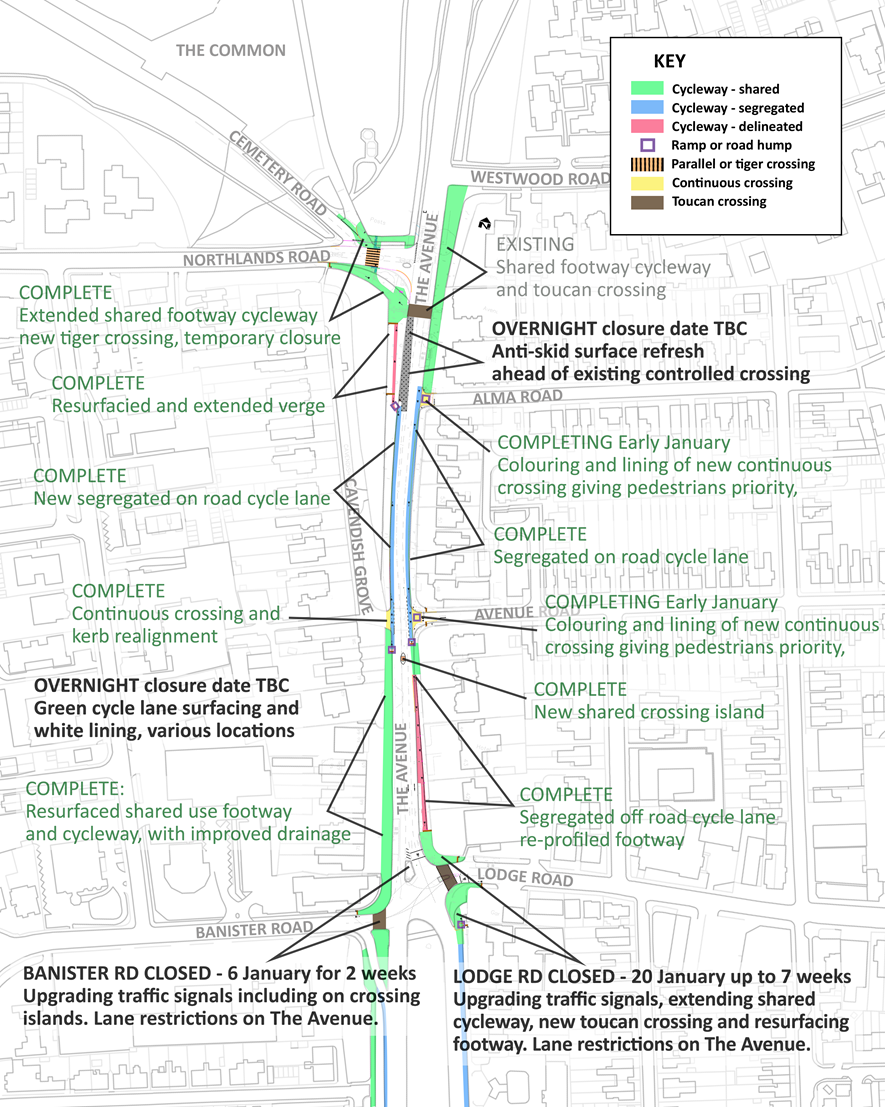 Phases of Work
Works from New Year
There will be no works or traffic management from 23 December until 5 January. After Christmas we will begin with overnight closures of The Avenue, but will mostly be working at The Avenue and Lodge Road junction upgrading the traffic signals, creating a shared cycle footway and toucan crossing for Lodge Road as well as resurfacing sections of footway. In addition, we will be laying a section of anti-skid surface on the Avenue (see map). Work will commence from Thursday 2 January 2020 for up to 9 weeks in three phases.
Phase 1 - Overnight closures of The Avenue - 2 January, 3 nights
There will be overnight closures of The Avenue from Northlands Road to Lodge Road for lining from 9pm until 6am. This is to complete some of the work postponed due to weather in December. The diversion route for this closure is Lodge Road, Portswood Road and onto Highfield Road.
Phase 2 - Banister Road closed - 6 January, 2 weeks
Next, we are moving to Banister Road and across the outbound lanes of The Avenue, and from this point, we will need to disconnect the existing traffic signals. We will be upgrading the traffic signals on the west side of the junction and on the pedestrian island to the north of the junction. For these two weeks, Banister Road will be closed, and there will be lane restrictions outbound on The Avenue with temporary 3-way lights in place.
To reduce the impact and ensure traffic flows along The Avenue, we need to simplify the junction and therefore turning right on to Lodge Road will be banned for the duration of both phase 2 and 3. To get around this road closure, please divert north to Hulse Road and right on to Northlands Road, which will take you out to The Avenue. The Stag Gates Bus stop will also be closed for the first two weeks. Please contact your bus provider for further details on the nearest alternative.
Phase 3 - Lodge Road closed - 20 January, 7 weeks
After the first two weeks, we will switch over to the Lodge Road side of the junction for up to seven weeks. As well as completing the traffic signal upgrade we will be extending the shared cycle footway and adding a toucan crossing to this arm of the junction. Resurfacing works will also continue on the footway. During this section of the works, the Lodge Road arm of this junction will be closed, however, access from the opposite side will remain open. There will also be lane restrictions coming inbound on The Avenue.
The diversion route for this closure is south to Charlotte Place Roundabout, take the first exit on to St Mary's Rd and proceed to Onslow Road and up to Bevois Hill. Follow this link to see the advised diversion route.
Other Phases
After 6 January, there will be separate 1-day closures of Alma Road and Avenue Road to add textured printed surfacing across the junction. Dates will be confirmed with advanced warning signs and local signed diversion routes. Please keep up to date with this webpage for these confirmations. There will also be some overnight closures to renew the anti-skid surfacing on The Avenue south of Northlands Road and to apply the green coloured surfacing and lining to various locations. We will be notifying about these once dates are confirmed.
Previous Phases - See completed areas on the map.
Travel Advice
Banister Road will be closed from 6 January for two weeks. After this, the Lodge Road side of the this junction will be closed from 20 January for seven weeks. To plan your journey around these closures, please check the diversion routes.
Pedestrians and Cyclists
For safety reasons pedestrians are not permitted inside the work areas. There may be short pedestrian diversions in place to get around our works, but pedestrian access will be maintained throughout
Cyclists will be diverted via the main road while the shared spaces are being reconstructed.
Bus users
During the closure of the Lodge Road arm of the junction, the Stag Gates Bus stop that leads towards Portswood will be closed. Please contact your bus provider for the nearest alternative.
---
These works are part of a programme that is weather dependent in part so dates can change, and some work may slip into the new year. If there is a change of date, advanced warning signs will advise of the changes closer to the time. Please bear with us while we carry out these works, we will be working as quickly as we can to minimise the disruption.