Summary
Where:

 

Stoneham Way (Part of SCN8)
When:

 

From Monday 12 August 2019 for up to 18 weeks
What:

 

Cycleway and signal improvements 
Why: Create more reliable journey times and an improved environment for walking and cycling
How: This £1m scheme is funded by central Government through Transforming Cities Fund Tranche 1 and the National Productivity Investment Fund, with additional contributions from local developers
Latest news
The resurfacing of Stoneham Way outbound, over the weekend, was disrupted by weather conditions. With the road surface planed off, heavy rain flooded the road which was temporarily lower than the drains that would normally take water away. We were able to resurface lane two so that Stoneham Way could be partially open for commuters this morning. However lane one at the junction of Bassett Green Road remains closed. We plan to complete the surfacing tonight, Monday 9 December, this will require an outbound overnight closure of Stoneham Way from 8pm until 6am. 
As before the diversion routes is via Stoneham Lane, Basset Green Road up to Chilworth Roundabout; then via Bournemouth Road, to Chestnut Avenue and back along Stoneham Lane to Junction 5 of the M27.
Work is continuing with the installation and commissioning of the traffic signals on Wide Lane and Stoneham Way. There is also work being undertaken to widen the footway into the Market Place car park. Works are still planned for completion on Friday 13 December when we will switch on the new traffic signals and remove the closures at Swaythling Arch and Bassett Green Road.
Project Details
The Stoneham Way scheme will provide a new section for the SCN8 and a redesigned signalised junction with new pedestrian and cyclist crossing. Work started on 12 August 2019 and is planned to take up to 18 weeks to complete. The new traffic signals will link and synchronise with the signal junctions installed in 2018 on Stoneham Way. The works will require lane restrictions and a 30mph speed limit on Stoneham Way, as well as the closure of Swaythling Arch from 8 September and the closure of the junction with Basset Green Road during phase 1 until the completion of the works. We will be working days and nights to complete the work as quickly as possible.
This map shows the extent and phasing of the works: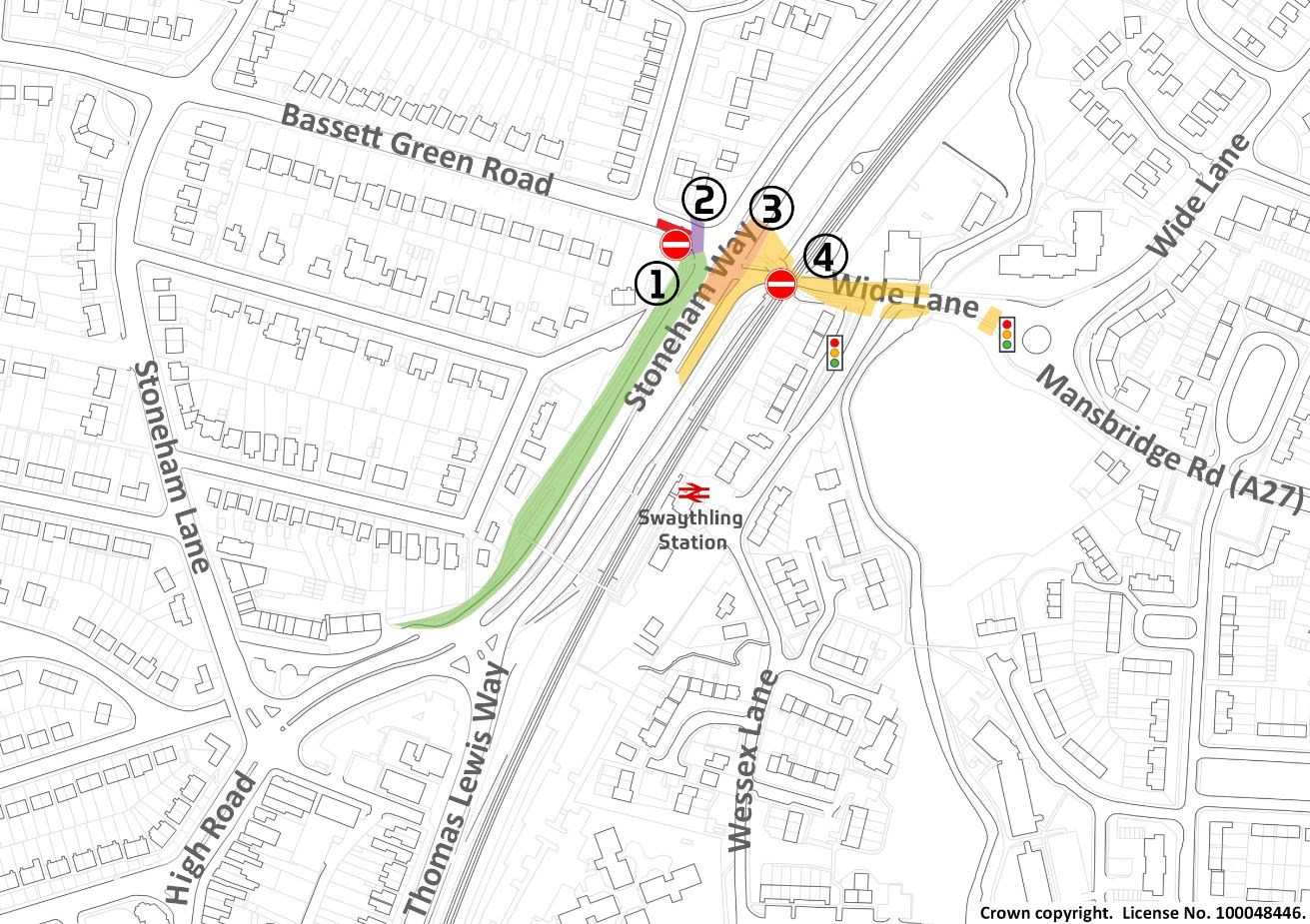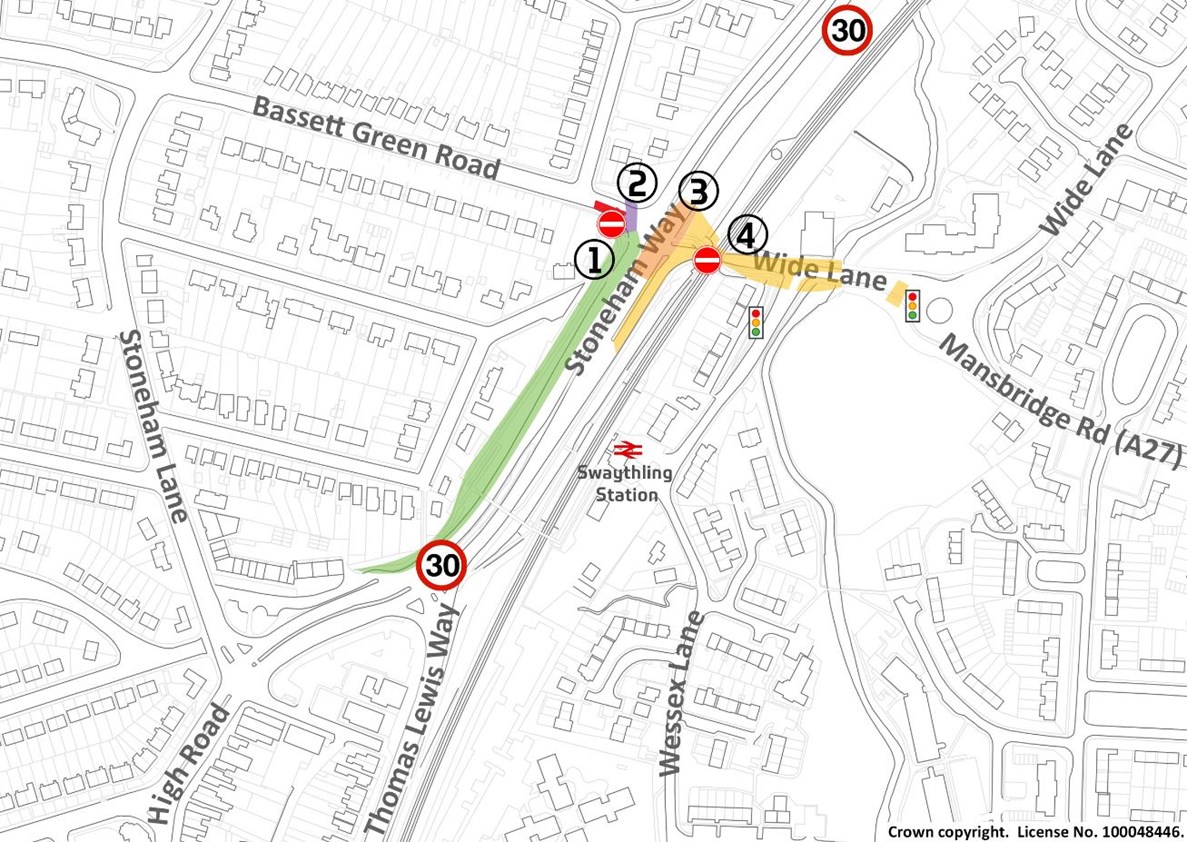 Phases of work
Phase 1 (12 August for nine weeks)
We have reconstructed the footway and verge along Stoneham Way outbound between Thomas Lewis Way and Bassett Green Road. This widened part of the footway for shared use and created a new separate cycle lane to the junction at Bassett Green Road.
Phase 1 images

Phase 2 & 3 (W/C 6 October for six weeks)
We have installed the redesigned crossing and replaced the signals on Stoneham Way, from Bassett Green Road to Wide Lane via Swaythling Arch. When complete this will provide a dedicated cycle route with a signal crossing via Swaythling Arch.
At the end of this phase, we will resurface Stoneham Way around the new kerb lines and crossing island.
Phase 4 (W/C 8 September for 13 weeks)
We have been reconstructing the signals on both sides of Swaythling Arch and have modified the road layout where Wide Lane joins Stoneham Way. As well as upgrading the traffic signals we are also creating a new shared cycle route and signal phase for cyclists to pass through Swaythling Arch. As part of these works we have resurfaced Wide Lane from the Roundabout through Swaythling Arch and waterproofed the bridge over Monks Brook. 
This phase of works will require the closure of Swaythling Arch for the duration and access between Wide Lane and Wessex Lane will be reduced to one lane controlled by temporary signals. All other traffic wanting to reach Stoneham Way should follow the diversions via Wide Lane and the Junction 5 roundabout with the M27. 
Travel advice
When Bassett Green Road turn in from Stoneham Way is closed the diversion is via Stoneham Lane.
While Swaythling Arch is closed, we expect unavoidable disruption, particularly at peak times. The diversion route is via Wide Lane and Junction 5. Please plan your journeys wherever possible and allow extra time.
We have notified all of the major satellite navigation system providers of the closures; as long as your satnav app has live traffic updates, it should provide you with the best local travel advice.
Pedestrians and Cyclists
During phases 2,3 and 4, we have maintained pedestrian route through Swaythling Arch for as much of the time as possible. Cyclists using this route will unfortunately have to dismount where there is insufficient room to maintain a shared route through the site.
We will be updating these pages with progress and changes to timing. You can also see details of any roadworks or road closures in Southampton. For up to the minute travel information in the city follow us on Twitter @SCChighways. You can also email us.