Summary
Where:

 

Stoneham Way (Part of SCN8)
When:

 

From Monday 12 August for up to 18 weeks
What:

 

Cycleway and signal improvements 
Latest news
The early completion of parts of phase 1 mean that we have started phases 2 & 3 at the crossing at Bassett Green Road several weeks early, from Monday 9 September and is expected to be in place for up to 8 weeks. This early start means there needs to be some changes to the planned traffic management at Bassett Green Road which will now have to close completely until early December when the signals can be brought back online and we can safely merge traffic exiting Bassett Green Road onto Stoneham Way.
Phase 4 begin as planned on 9 September with the closure of Swaythling Arch to vehicles. Pedestrian access through the arch is being maintained. We are asking cyclists using this route to dismount due to the narrow access.
Project Details
The Stoneham Way scheme will provide a new section and redesigned crossing for the SCN8 route work, and is planned to start Monday 12 August 2019 for up to 18 weeks. The new signals will link and synchronise with the new signal junctions we installed last year on Stoneham Way. The works will require lane restrictions and a 30mph speed limit on Stoneham Way, as well as the closure of Swaythling Arch from 8 September. We will be working days and nights to complete the work as quickly as possible.
This map shows the extent of the works within each phase but please see details below for timing and impact.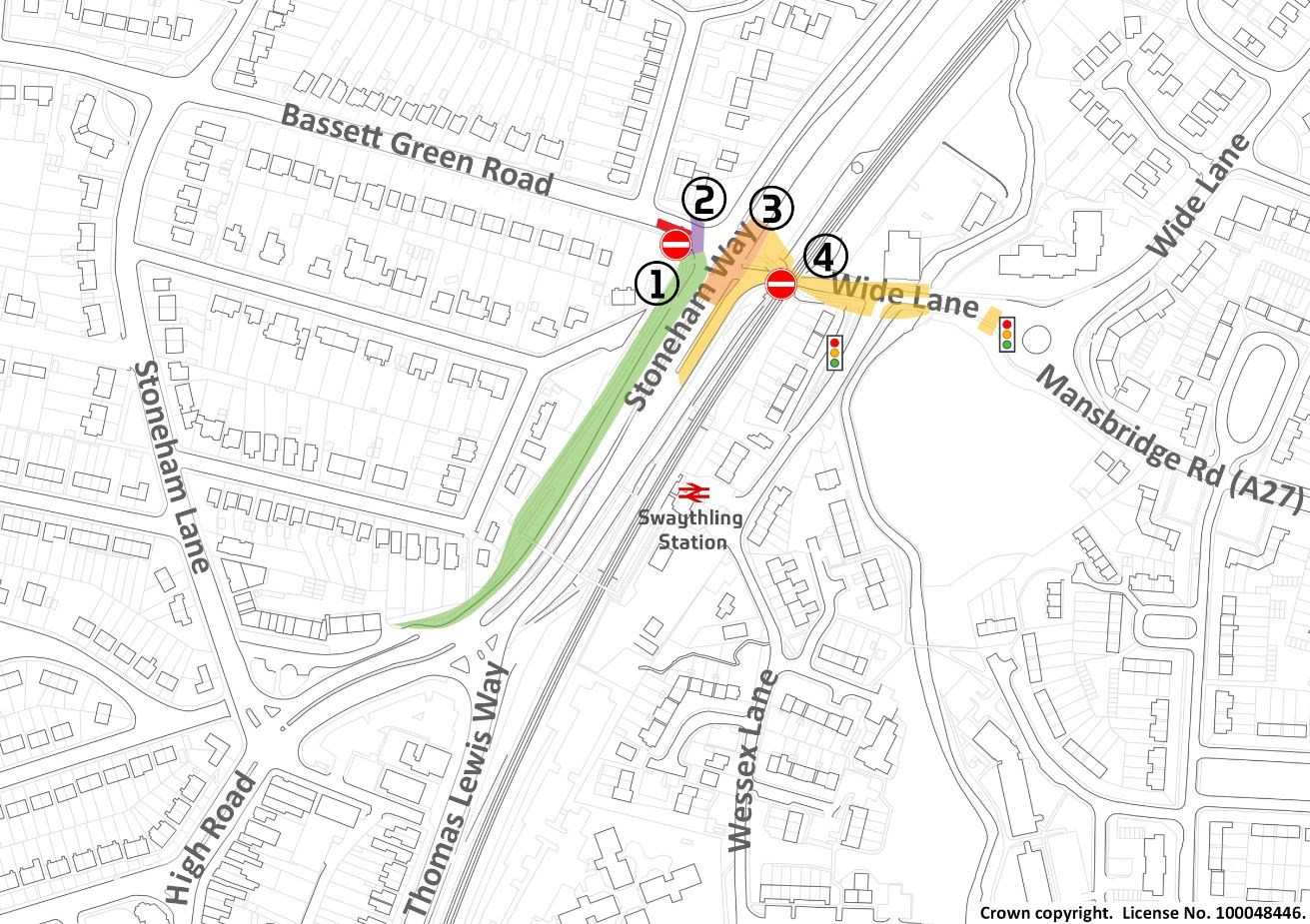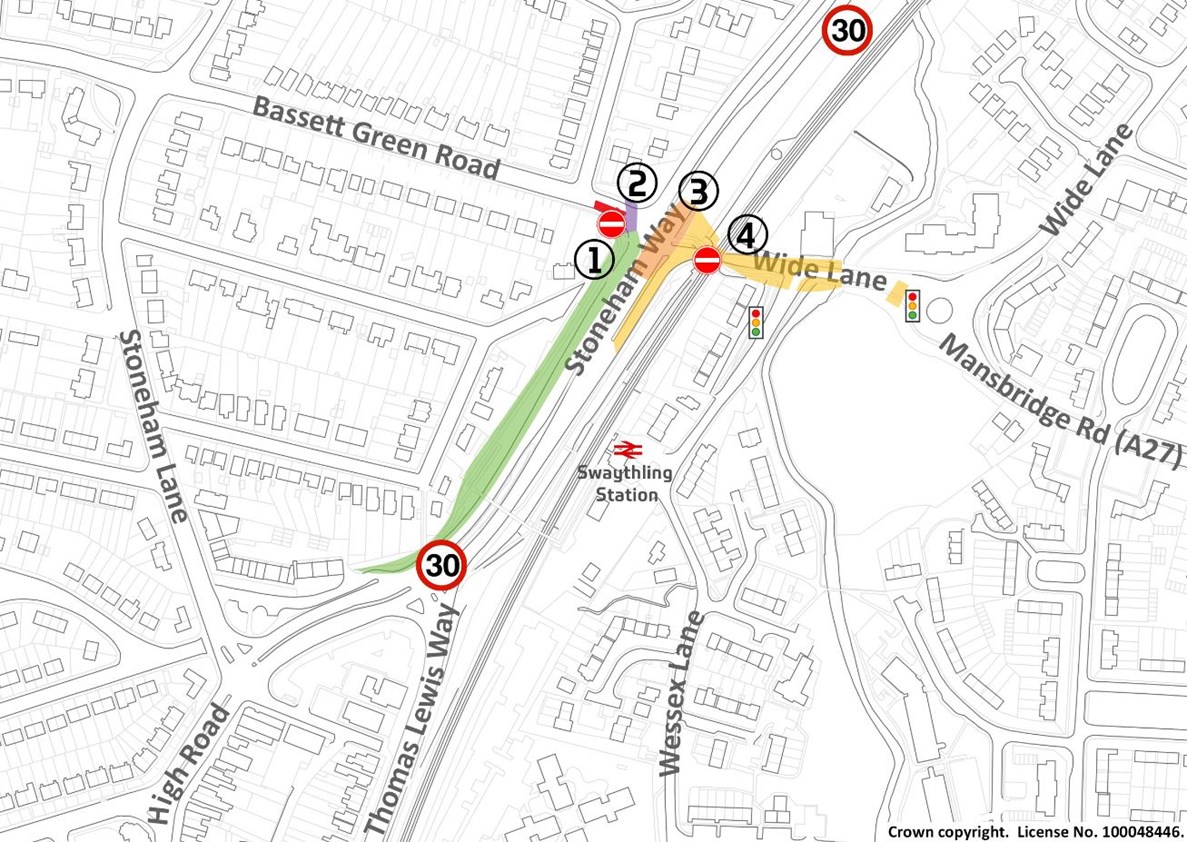 Phases of work
Phase 1 (12 August for 9 weeks)
We will be reconstructing the footway and verge along Stoneham Way outbound between Thomas Lewis Way and Bassett Green Road. This is to widen part of the footway for shared use and to create a new separate cycle lane to the junction at Bassett Green Road.
Although we are working on the verge, we will need a lane closure on Stoneham Way to provide plant vehicle access and a safe working area. To minimise this outbound impact, the lane restrictions will be from 8pm until 3pm. We will require the closure of the turn into Bassett Green Road for a site compound, but drivers can still come out of Bassett Green Road to join Stoneham Way. The diversion route from Bassett Green Road will be via Stoneham Lane.
Phase 2 & 3 (W/C 6 October for 6 weeks)
We will be installing the redesigned crossing and replacing the signals on Stoneham Way, from Bassett Green Road to Wide Lane via Swaythling Arch. This will provide a dedicated cycle route with its own signal phase through Swaythling Arch.
For the majority of this phase we will be working on the island in the middle of Stoneham Way; this will require lane closures to give us a safe working area. These lane closures will be on the outbound side from 8pm until 3pm and on the inbound side from 10am until 6.30am, which will avoid peak periods for traffic on these lanes. The site compound at Bassett Green Road will be removed in the middle of these phases. Bassett Green Road will reopen for outbound traffic onto Stoneham Way.
Phase 4 (W/C 8 September for 13 weeks)
We will be reconstructing the signals on both sides of Swaythling Arch where Wide Lane joins Stoneham Way. As well as upgrading the signals we will also create a new shared cycle route and signal phase for cyclists to pass through Swaythling Arch.
This phase of works will require the closure of Swaythling Arch for the duration and access between Wide Lane and Wessex Lane will be reduced to one lane controlled by temporary signals. This route is principally being maintained for buses, access to the train station and for local businesses and residents. All other traffic wanting to reach Stoneham Way should follow the diversions via Wide Lane and the Junction 5 roundabout with the M27. During this phase, a site compound will be located in the slip road from the Swaythling Arch.
During these phases, we will be resurfacing sections of Stoneham Way and Wide Lane overnight. This will require the closure of Wide Lane from Wessex Lane up to the Roundabout with Mansbridge Road.
Travel advice
When Bassett Green Road turn in from Stoneham Way is closed the diversion is via Stoneham Lane.
When Swaythling Arch is closed from 8 September for 13 weeks, we expect unavoidable disruption particularly at peak times. Please plan your journeys wherever possible and allow extra time.
We have notified all of the major satellite navigation system providers of the closures; as long as your satnav app has live traffic updates it should provide you with the best local travel advice.
Pedestrians and Cyclists
The footbridge is currently closed and is scheduled to re-open on Thursday 5th September.
During phases 2,3 and 4, we will be maintaining a pedestrian route through Swaythling Arch for as much of the time as possible. Cyclists using this route will unfortunately have to dismount where there is insufficient room to maintain a shared route through the site.
We will be updating these pages with progress and changes to timing. You can also see details of any roadworks or road closures in Southampton. For up to the minute travel information in the city follow us on Twitter @SCChighways. You can also email us.