Summary
Where: Stoneham Way and Wide Lane
When: From Monday 16 March 2020 over the following four weeks.
What:

 Add anti-skid surfacing, replace old crash barriers and undertake remedial works to Wide Lane

Why: To improve safety and reduce ponding
Latest News
Works to replace the crash barriers along Stoneham Way inbound was completed as planned. However, due to the ongoing situation with the Corona Virus causing supply chain issues, we have postponed the remainder of the planned work including on Wide Lane, until further notice.
At this time construction work is exempt from the latest Government guidance and we are currently working to ensure essential maintenance works are prioritised. This is an evolving situation, for the latest information please follow the council coronavirus updates.
Phases of work
As part of finishing works to Stoneham Way and Wide Lane we will be carrying out some overnight and daytime works as follows, see also map below.
Overnight lane-one closures on Stoneham Way northbound - Monday 16 March for two nights - from 8pm until 6am. This is to install an anti-skid surface treatment in strips up to the signals. Access will be maintained but just reduced to one lane.
Overnight lane-one closures Stoneman Way southbound between the M27 and Wide Lane - Monday 23 March for one week - from 8pm until 6am. This to replace the crash barrier on the verge.
Overnight lane-two closures Stoneman Way southbound and northbound, between Thomas Lewis Way and Bassett Green Road - Monday 30 March for three weeks - from 8pm until 6am. This is to replace the crash barrier on the central reservation that protect the footbridge support.
Closure of Swaythling Arch from Monday 30 March for two weeks. This is a 24-hour closure while we undertake remedial works on Wide Lane adjacent to Swaythling Arch. Pedestrian and Cyclist access will be maintained through Swaythling Arch for most of this time.
Overnight closure on Wide Lane from Swaythling Arch up to the roundabout with Mansbridge Road; currently planned to start from 9 April for two nights from 8pm until 6am, however, this is weather dependant. This is to resurface and add line markings to a section of Wide Lane.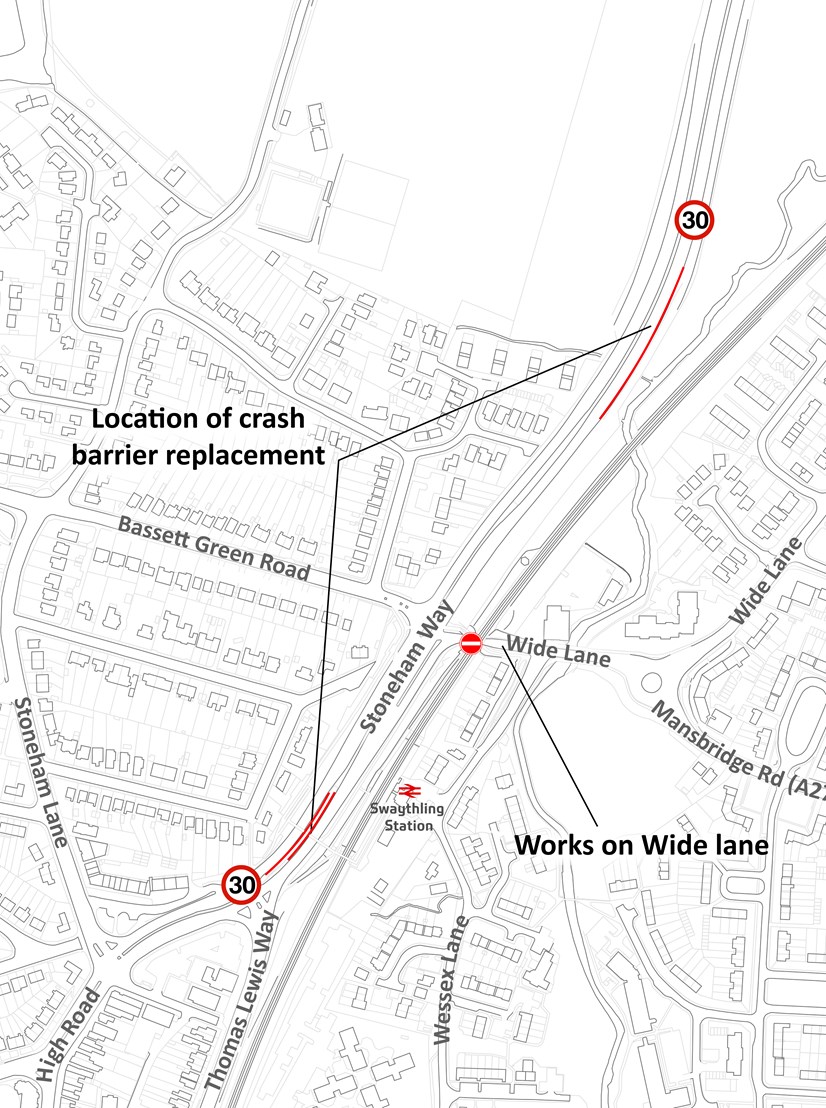 Some of these works are weather dependant so dates can change. If there is a change of date, advanced warning signs will advise of the new dates closer to the time.
For further information please email roadworks@southampton.gov.uk.