The Active Travel Zone project in St Denys has taken shape through collaboration with the residents of the neighbourhood. Its aim is to create a healthier, friendlier and safer environment for everyone by identifying and making some small changes to the streets and roads that will improve walking and cycling for short journeys.
In December 2019, all St Denys residents were invited to tell us what they would like to change about their neighbourhood in a survey. Nearly 1000 contributions were received, and residents' key concerns were identified as traffic, safety and air quality.
In February 2020, St Denys residents were invited to work with engineers and council staff in four co-design workshops, to develop ideas and design solutions to address their concerns. Our engineers have reviewed the most popular and most feasible suggestions, which will be taken forward to the detailed design stage. You can read about each proposal on the map below or download a copy.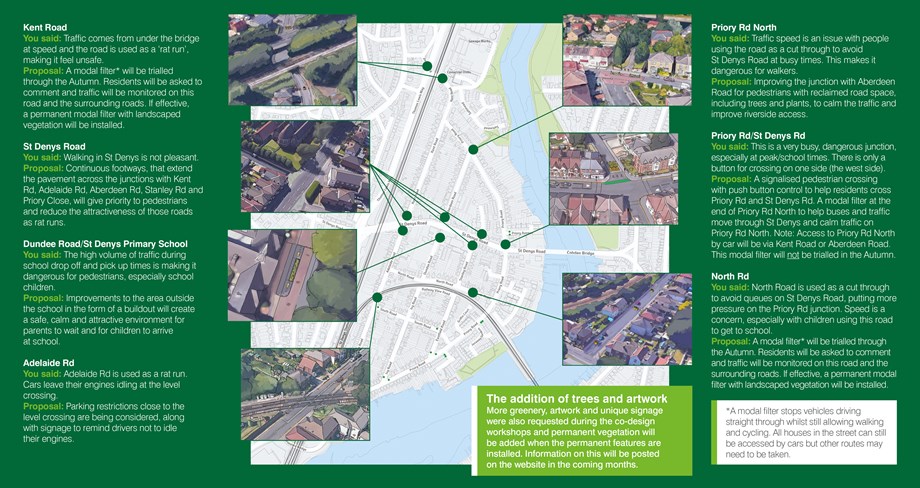 The St Denys Active Travel Zone is funded by money from the government's Transforming Cities Fund.
Next steps
Each proposed scheme will now undergo a cost analysis and detailed designs will be prepared, to determine whether they can go ahead. Installation is planned to start in Autumn 2020 and finish in Summer 2021. Some of the schemes will require consultation with residents before they can be implemented. If you live in the vicinity of one of these, you will be contacted by letter.
The modal filters (locations are marked on the map) will be installed on a trial basis (up to 18 months). During the first 6 months, traffic data, residents surveys and resident feedback will be used to review the impact of these filters and adjustments or changes may be made. The regulation governing the installation of these trial schemes is called an Experimental Traffic Regulation Order (ETRO).
You will find answers to common questions on our FAQs page.
You can see the contributions to the Your St Denys Your Say survey on Commonplace here and a summary of the results of the 'Co-designing St Denys' workshops can be viewed here.
Have your say:
Residents of St Denys are invited to view the proposals in St Denys Church Hall on the following dates:
Thursday 20 August 6-8pm
Tuesday 25 August 9.30am-5pm
Wednesday 2 September 1-4.30pm
You must confirm your attendance in advance and please be prepared to observe social distancing measures on arrival.
Important: Please register here to select an appointment for your household or you can email or telephone us using the contact details below. Please be sure to give us your own contact details, so that we can provide you with a timed appointment for your household and also let you know you if the event is cancelled due to the COVID-19 situation.
Please send your questions or feedback on the schemes to the Green City and Infrastructure team by 11th September 2020.
Email: ATZ.StDenys@southampton.gov.uk
Tel: 02380 833 926 (Mon-Thurs)
Post:
      St Denys ATZ, Green City and Infrastructure,
      Southampton City Council
      3rd Floor One Guildhall Square,
      Southampton, SO14 7FP