Summary
Where: Redbridge Road and Tebourba Way
When: Monday 18 May 2020 for various dates over two weeks.
What:

 Resurfacing and Highways England construction of Redbridge Roundabout

Why: To improve safety and replace sections of the road that are deteriorating
How: These works are funded as part of the council's annual road maintenance budget
Phases of work
These works are being coordinated with Highways England's planned closure of the M271 inbound and the northeast quadrant of Redbridge Roundabout.
The planned works are to resurface Redbridge Road inbound and parts of Tebourba Way. Highways England's work are to progress the construction of the Redbridge Roundabout new dedicated slip lane onto Redbridge Road. Details of the works are as follows:
Highways England closure of M271 southbound from Junction 1 to Redbridge Roundabout and the north-east quarter of Redbridge Roundabout from Monday 18 May for up to 9 weekday nights, from 8pm until 6am.
Resurfacing Redbridge Road, eastbound closure to resurface lanes two and three between both flyovers from Monday 18 May for up to 8 weekday nights from, 8pm until 6am.
Tebourba Way, northbound closure between Millbrook Roundabout and Oakley Road to resurface the approaches at two junctions overnight on Friday 29 May and Monday 1 June, from 8pm until 6am.
Diversion Routes 
During 1 & 2 inbound traffic which will be diverted via M271 Junction 1, Romsey Road and Tebourba Way.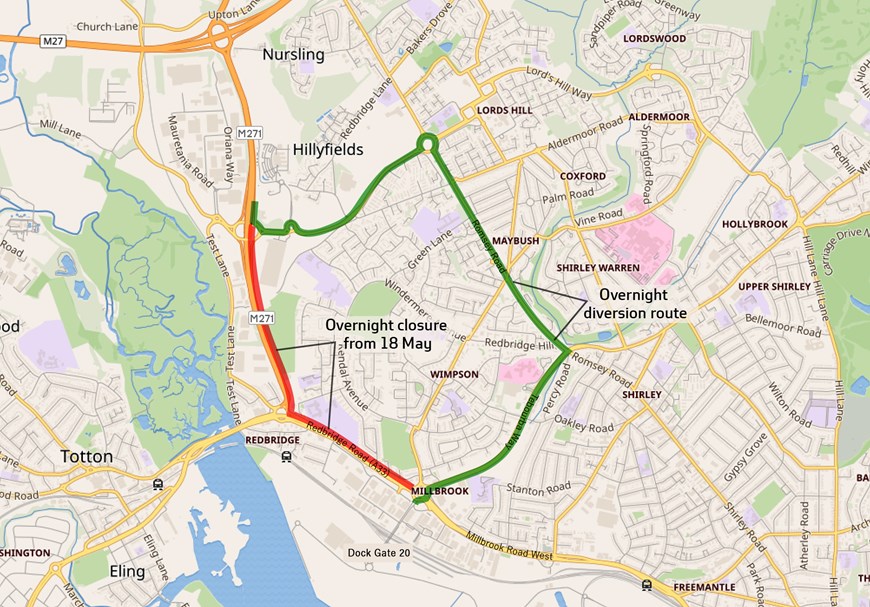 During 3 outbound HGV traffic will be diverted via Redbridge Road, M271 junction 1, Romsey Road. Light traffic will be diverted via Millbrook Road West, Regents Park Road and Shirley Road.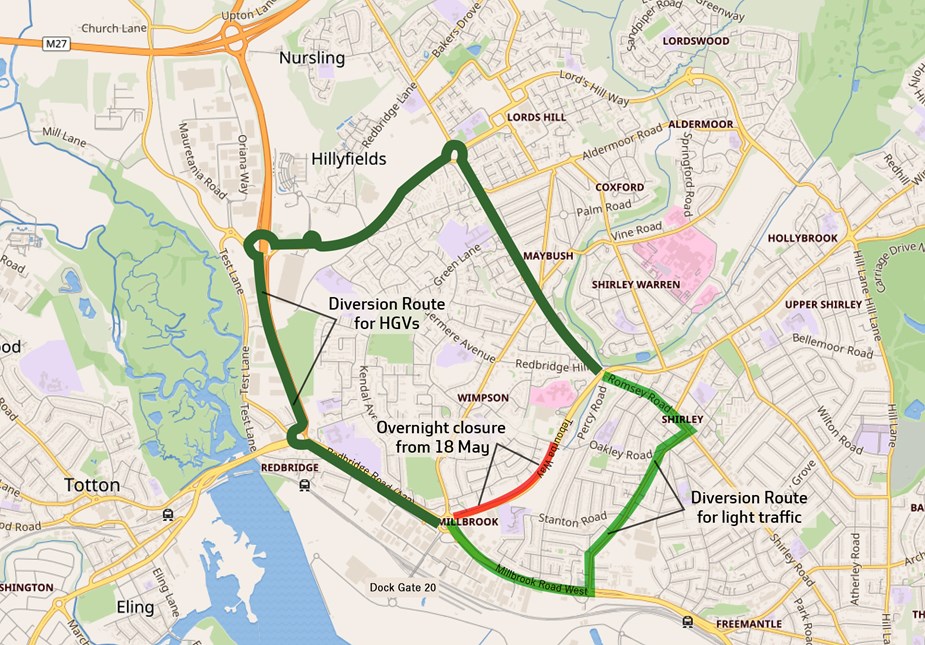 [Crown copyright OS map license No. 100048446]
Please accept our apology in advance for any inconvenience or disruption these works may cause these are essential works and our crews will be working as quickly as possible to complete them. 
COVID-19 Update
We have put several precautions in place to protect our staff and others around them while they are carrying out their work. Staff are observing the advised 2m distance wherever possible and only permitting one person per vehicle, unless this distance can be maintained. Furthermore, all staff have access to gloves, hand sanitisers and disinfectant to ensure good hygiene is maintained at all times.
While social distancing is a challenge, we are confident we can perform our work safely and efficiently. We ask that everyone respects our highway workers in these very difficult circumstances. As this is an evolving situation, we are continuing to monitor Government guidance. For the latest updates and information, please visit the council's website at: southampton.gov.uk/coronavirus