Bedford Place and Carlton Place
Latest news
November 2019
Together with the walking and cycling charity Sustrans, we recently created a series of videos giving a snapshot of what some of the businesses in Bedford Place make of the trial pedestrianisation in the area.
Click here to hear more from individual businesses.
October 2019
Since implementing the road closures in the Bedford Place area, we have made the following adjustments to enhance the scheme even further: 
Now motorists are more aware of the road closures, we have scaled back and decluttered the temporary signage and where possible erected any signage that needs to remain onto existing street furniture.
We have removed road markings at Lower Banister Street to allow for two-way traffic at this location while the road closures are in force.
We are continuing to meet weekly with local businesses to get regular feedback on how the scheme is performing to support all business in the area.
Some of the planters used to enforce the closures have been repositioned.
We have reinstated some of the on-street parking along Bedford Place between Wilton Avenue and Amoy Street as well as south of Henstead Road.
We have introduced a part time closure on Winchester Street, working together with Police and Synergy Security to support a safer environment at night time. Security patrols are also being carried out as part of this.
We are conducting a number of surveys in and around Bedford Place to monitor and evaluate how the scheme is working – for traffic, residents, people moving through and using the area, and for businesses. This will help to shape the scheme going forward and we will produce a review after three months on our website.
Most recently, together with the BID and Solent Showcase Gallery, we commissioned a local artist to spray paint some of the concrete barriers installed as part of the scheme. This has helped to bring the scheme further to life and add a vibrant splash of colour to the local area.
Looking ahead, and in line with requests from local residents, we will also be installing improved signage to reiterate to approaching drivers that Canton Street is a no through road. With winter now approaching, we are continuing to closely monitor usage of the scheme and, alongside the BID, exploring how we can enhance the space to suit the winter months.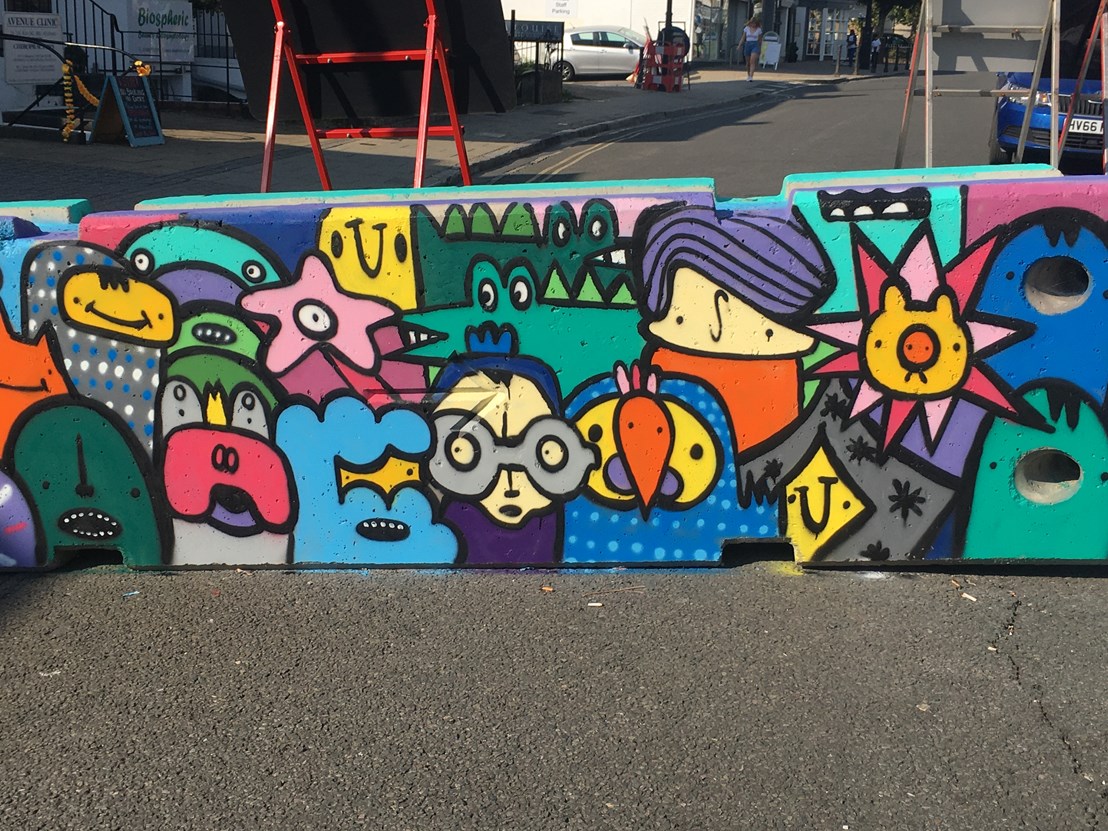 Bollards have been spray painted to brighten up the scheme.
Project details
We have implemented temporary road closures in the Bedford Place area of the city centre. Engagement has taken place regarding this proposal and overall it has been positively received. Some concerns were raised by business owners and where possible we have addressed these but can assure that we will be actively monitoring and reviewing the impact of the changes. Further feedback from businesses, their users and residents is welcomed.
The temporary closures have been enforced using a mixture of planters and concrete barriers, and the measures include:
a closure along Bedford Place from Henstead Road to Carlton Place
a closure along Carlton Place from Bedford Place to Southampton Street
a closure along Lower Banister Street from Carlton Place to opposite the Popworld establishment
two-way traffic permitted along the lower half of Lower Banister Street
a timed closure along Winchester Street from Carlton Place to Salisbury Street on Friday-Saturday evenings (8pm-3am)
a timed closure along Lower Banister Street on Friday-Saturday evenings (8pm-3am)
two-way traffic permitted along Waterloo Terrace while the timed closures are in place
These measures form an important contribution to the 'Inside Out' initiative recently announced by the council and the Southampton Business Improvement District (BID), Go! Southampton. This new joint project is designed to help businesses in the hospitality sector introduce new or extended outdoor seating while social distancing restrictions limit the delivery of services in indoor settings. The temporary road closures in Bedford Place are enhancing this further, giving businesses additional space to operate safely outdoors and creating the potential for increased trade.
Businesses can apply for a pavement license here. Please read our FAQs for more information.
If you would like to comment on these changes, please email – Traffic.Orders.Legal@southampton.gov.uk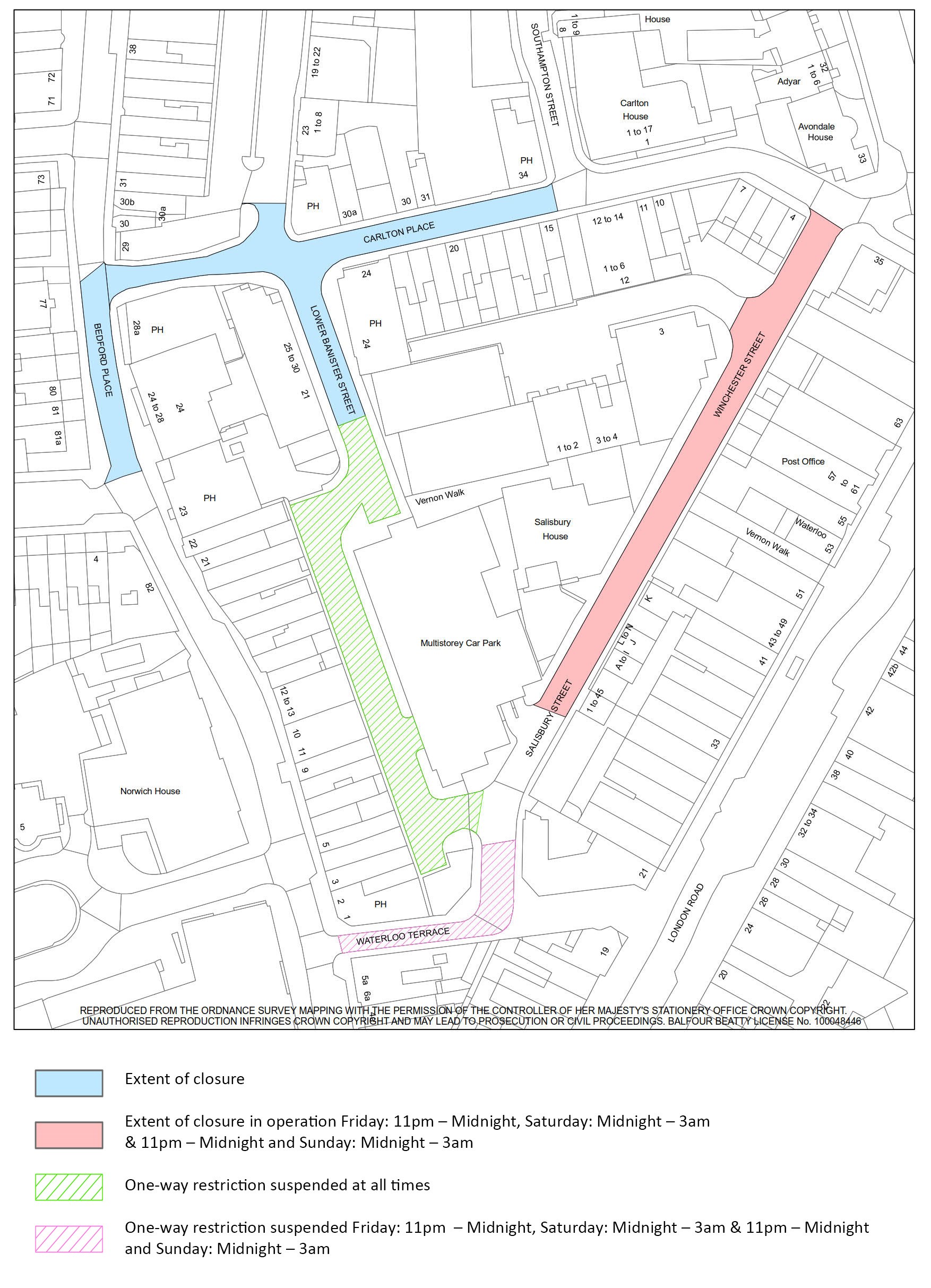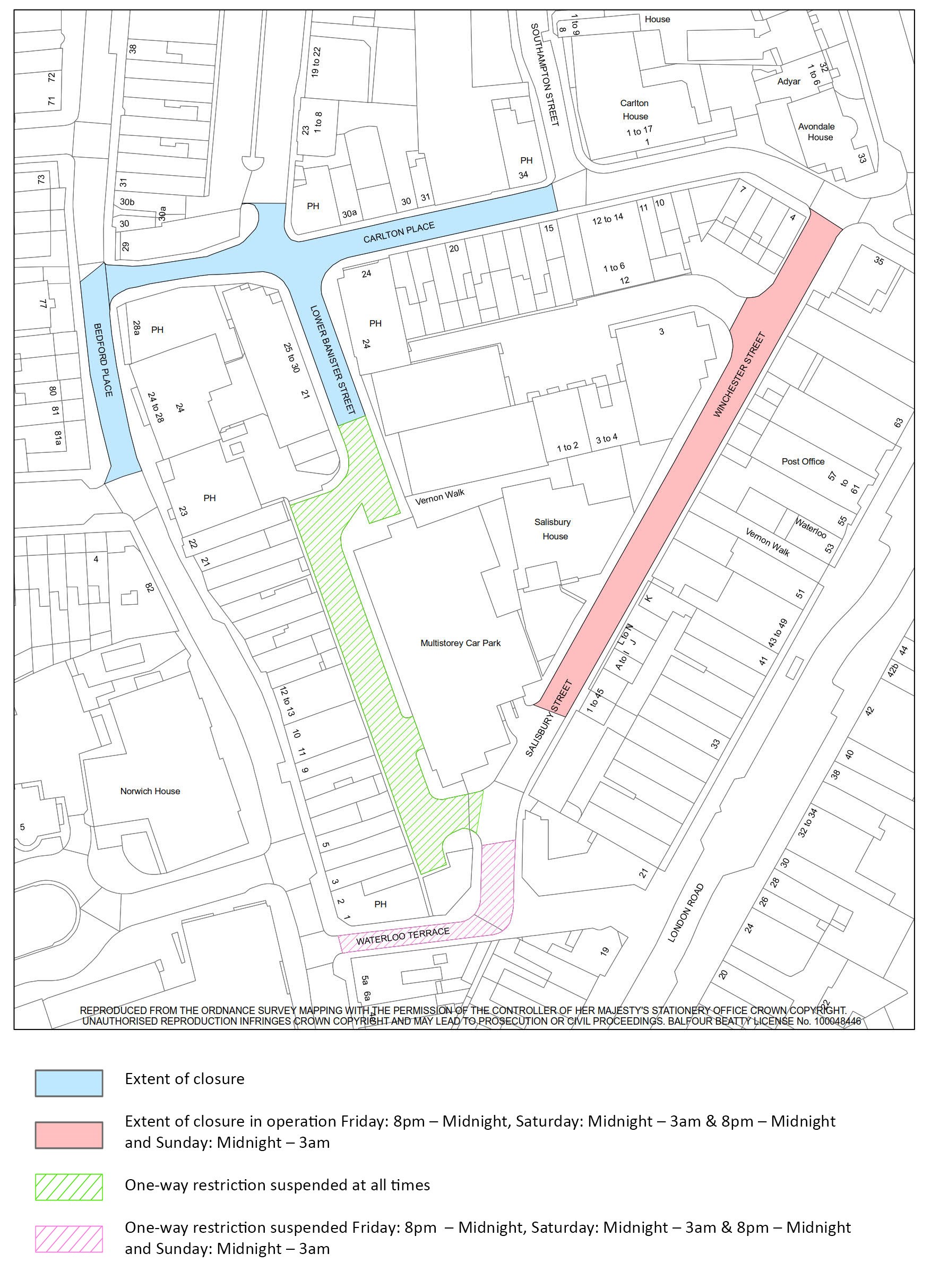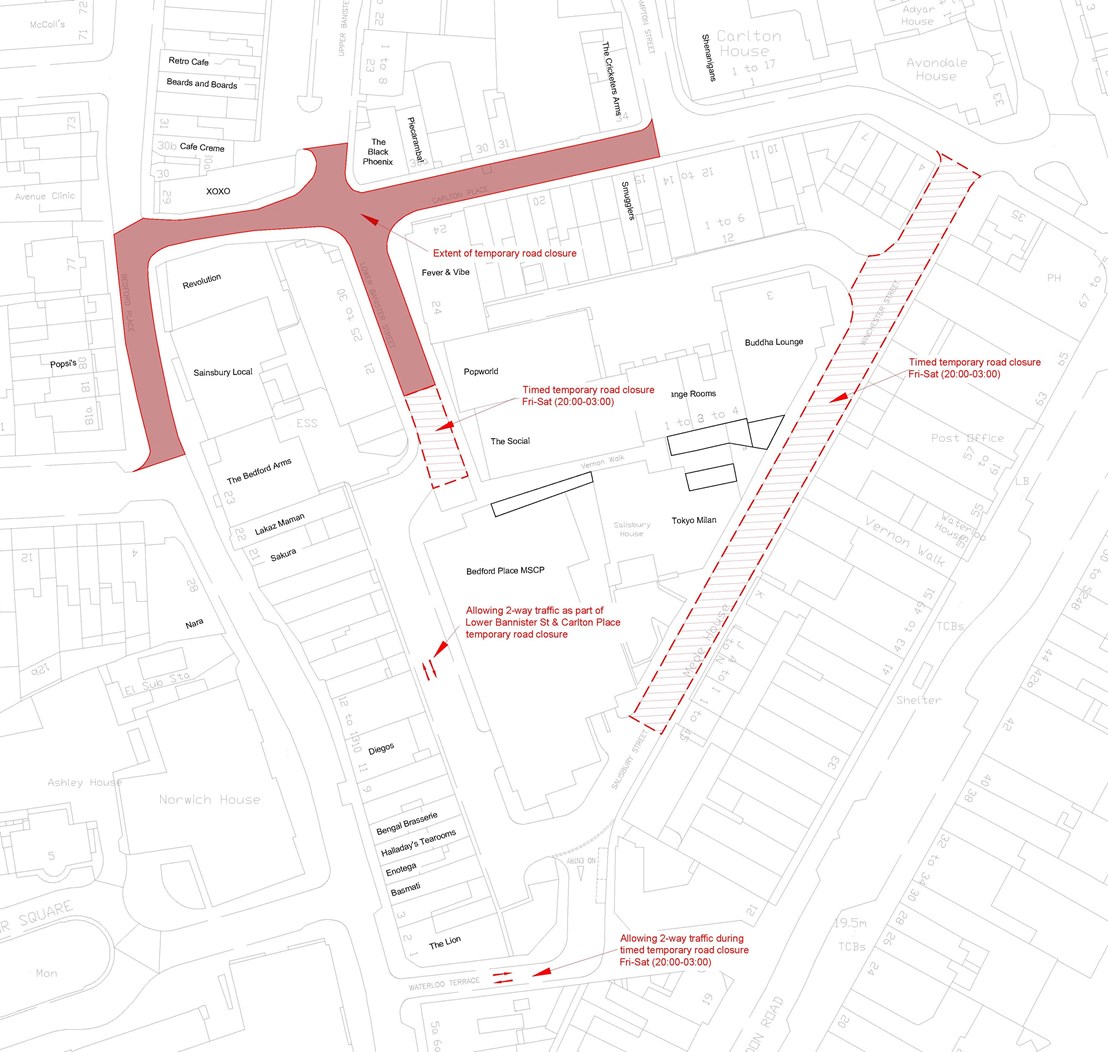 You can see a larger version of this image here.