The St Denys Active Travel Zone project was completed in late 2022, with measures being implemented throughout the St Denys area. Below you can read about the progress of the various projects which together make up the St Denys Active Travel Zone:
September 2022 Update
Recently, works to improve access to the Saltmead footpath on Priory Road, at the junction of Aberdeen Road, have been completed. These create a safer pedestrian environment.
Construction has been started on Dundee Road to create a continuous crossing to improve access to the school. Works will be completed in the October half term. Elsewhere in south St Denys a 20mph limit, various new dropped kerbs with tactile paving, and permanent modal filters on North Road to replace the current arrangement with wooden planters are being installed from the end of September.
North Road modal filter 
Works to install a permanent modal filter and buildouts in this location will take place from Monday 26 September for approximately 6 days. These will involve the removal of the current planter boxes, which we plan to re-purpose nearby, and installation of new permanent kerb planters.
A road closure will be in place around the current temporary modal filter whilst works in this location are in undertaken, however vehicular access will be maintained past the works areas for the buildouts close to Stanley Road and Priory Road junctions.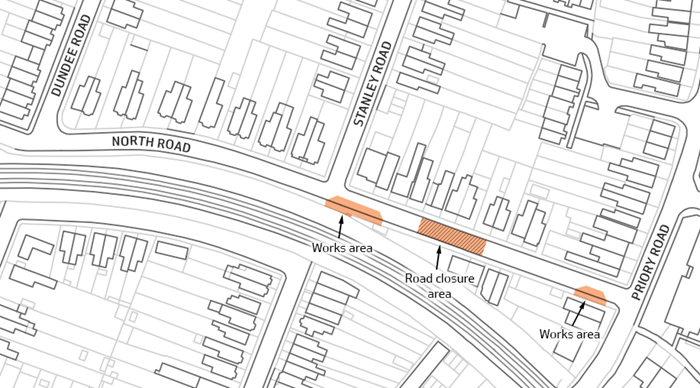 Pedestrian crossing improvements in Priory Road and South Road 
From approximately Tuesday 4 October, our team will then begin work at a number of junctions throughout Priory Road and South Road to install pedestrian dropped kerbs. Altogether this work will take approximately 10 days to complete.
The below mapped section of South Road will need to remain closed throughout the works, with temporary footway closures and three-way temporary traffic lights required at the following junctions when working in each area:
Pettinger Gardens / Priory Road
Janaway Gardens / Priory Road
Eastfield Road / Priory Road
South Road / Eastfield Road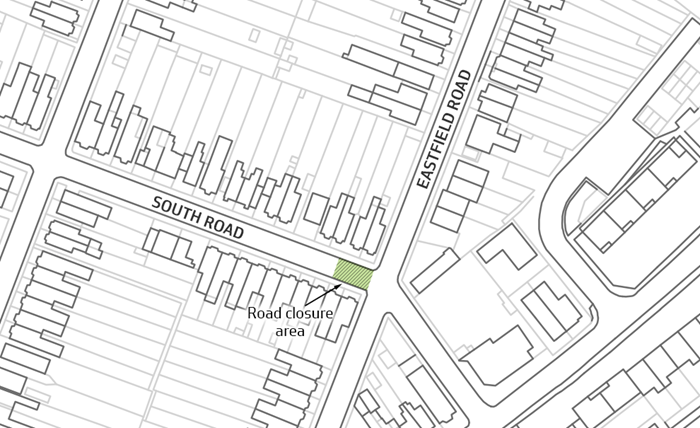 July 2022 Update
Footway resurfacing on St Denys Road at the Northern end of Dundee Road
Pavement improvement works will take place on the south side of St Denys Road near Dundee Road from Monday 25 July 2022 for approximately 1 week. During this time, pedestrian access along St Denys Road past the works site will be maintained where possible, however, pedestrian access into Dundee Road from St Denys Road will be unavailable. A suitable diversion route will instead be provided, along with a temporary pedestrian crossing on St Denys Road.
Whilst these works take place, two-way traffic will continue to be maintained on St Denys Road.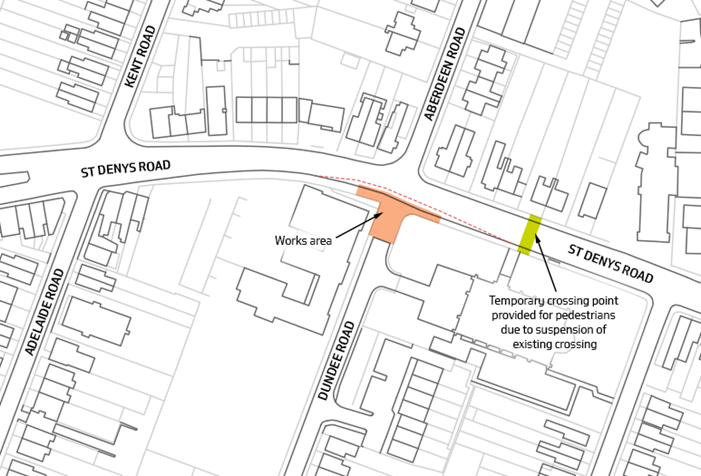 Continuous footway works at the Dundee Road junction with North Road
From Monday 1 August 2022, work will take place at the junction of Dundee Road with North Road to install a continuous crossing. This work will take approximately 2 weeks to complete and will be carried out in two halves to allow access to Dundee Road properties to be maintained - residents directly impacted by this arrangement have been contacted by letter. 
For the duration of the works at this junction, temporary traffic lights will be in use in Dundee Road and on North Road to manage traffic flows around the works site. Pedestrian access will be maintained throughout.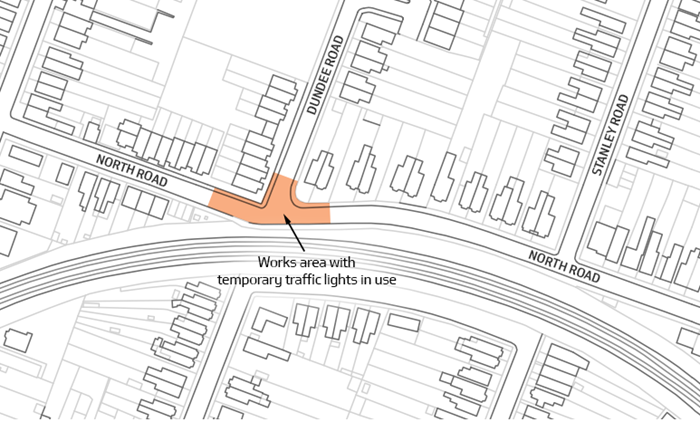 January 2022 Update
Junction improvements on Aberdeen Road and Priory Road
Works to improve access to the Saltmead footpath on Priory Road, at the junction of Aberdeen Road, have been partly completed. These create a safer pedestrian environment and make the area more attractive. We will return in the coming months to add road surface treatment and plant the flower beds.
Dundee Road
Last year formal consultation took place on proposals that seek to improve road safety around St Denys Primary School. These proposals included a multifunctional shared space in front of the school with restricted vehicle access on the northern extents of Dundee Road at peak school drop-off and collection times.
We have reviewed the scheme following feedback received around the potential loss of on-street parking space; as there is no suitable way of amending the design to mitigate any loss of on-street parking, we will not be continuing with the proposals as originally outlined. We still plan to resurface sections of the footway, improve dropped kerbs and investigate widening the pavements at the entrance to Dundee Road.
Traffic counts show the primary school area is benefitting from the modal filter on North Road, with an increase in daily walking and cycling trips on Dundee Road since its installation. North Road has seen a traffic volume reduction of 39%, making the route to school safer from south St Denys.
South St Denys 20mph limit
To further improve safety, a 20mph limit is proposed across all streets in the area south of St Denys Road (a 20mph limit is already in place in north St Denys). This is supported by a recent Resident Request, which included a poll with 93% of respondents in favour of the speed restriction.
A change in speed limits will require a new Traffic Regulation Order (TRO). Residents on affected streets will be invited to respond to the formal TRO consultation when it is live.
St Denys Road corridor
Separate to the ATZ project, further changes are proposed for the wider St Denys Road corridor and include improvements to junctions and traffic signals, bus journey times and facilities for walking and cycling. Please look out for an upcoming survey which will seek your feedback on these proposals.
November 2021 Update
Works have been scheduled to improve the gateway to Saltmead footpath on Priory Road, at the junction of Aberdeen Road.
This work involves footway improvements and a new kerb alignment build out which presents the opportunity for planting.  We shall return in the new year to complete the surface treatment works.
The works are due to take place from Monday 29 November 2021 for up to 3 weeks.  During this time the junction of Priory Road and Aberdeen Road will be closed to traffic and Saltmead footpath will not be accessible from Priory Road.  Pedestrians will still be able to use the junction, but not access Saltmead.  Vehicular access to Kent Road, Aberdeen Road and Priory Road will be via St Denys Road only.
The working hours of the site will be approximately 7:30am to 5:00pm. This is a noisy process and those properties close to the carriageway may experience some vibrations, together with flashing lights and reversing sirens.  We would like to take this opportunity to apologise in advance for any inconvenience or disruption these essential works may cause.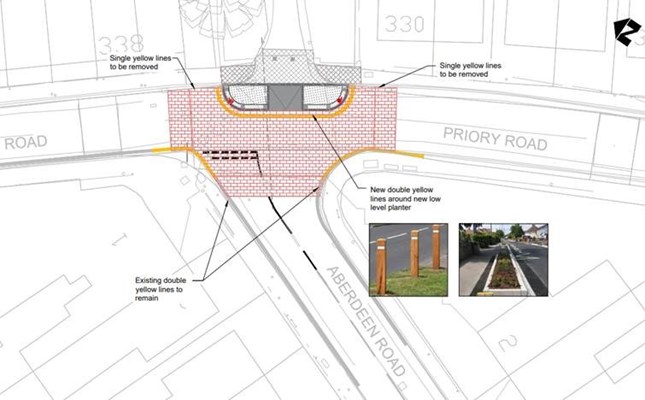 September 2021 Update
During our initial consultation on the St Denys ATZ, one of the most popular suggestions for how we could improve the area was to "ask drivers to turn off their engines at the railway crossing." We are pleased to confirm that 'no idling' signs have now been installed at four locations close to the railway crossing in the St Denys area.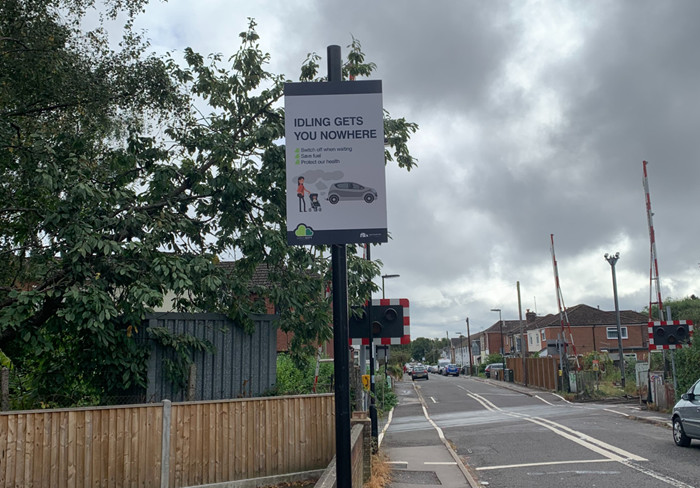 We would like to thank everybody that submitted their views as part of the Aberdeen Road and Priory Road/Dundee Road Traffic Regulation Order (TRO) consultations. We are in the process of reviewing schemes following the feedback we have received and the data we have collected.
We will require more information in order to make a final decision on these schemes and will conduct a second round of consultation when we have amended our plans. Residents will be notified when this consultation is live. In the meantime, please bear with us while we review the data we have and work to improve our proposals.
May 2021 Update
The continuous crossings along the St Denys Road junctions (Adelaide Road, Kent Road, Aberdeen Road, Priory Close, Stanley Road) were completed at the end of April 2021. During the work at Adelaide Road junction, we discovered the original tram lines that ran along St Denys Road so we worked around them. We are working towards the next phases that include buildouts by the school and Saltmead footpath as well as making a decision of the trial closures on Kent Road and North Road. We will keep you posted here.
These works started January 2021 and ran over 14 weeks. Full details including a map showing the phasing can be seen on a separate page. 
January 2021 Update
We have coordinated and programmed work between January and April to modify the junction mouths for five of the roads joining St Denys Road which form the second phase of the scheme. We are also coordinating with Gas Distribution Company SGN who are replacing a gas main along St Denys Road and Adelaide Road. Within this period we also plan to begin the trial closure of Priory Road North junction with St Denys Road but only after completing works at Kent Road junction.