Modal filters, a feature used to limit through journeys by motor-traffic, were implemented on a trial basis on Kent Road and North Road in St Denys in the week beginning 16th November 2020. The implementation of these modal filters was then monitored over a prolonged period of time whilst we sought feedback from the local community. 
Images of these temporary modal filters can be seen below: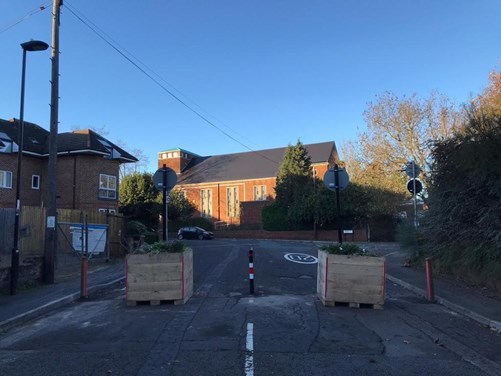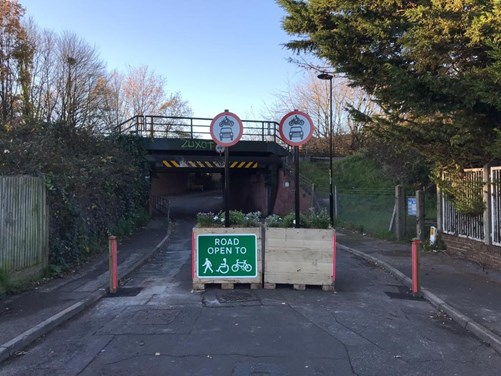 Modal Filter Trial Progress
Below you can read about the progress of the trial and implementation of the Kent Road and North Road modal filters:
September 2022 Update
Works to install a permanant modal filter and buildouts in North Road were completed in September 2022. 
January 2022 Update
The trial modal filters on Kent Road and North Road have been in place for 14 months now. Monitoring of the modal filters has been carried out over an extended 12-month period, including traffic surveys both before and after their implementation. Data from these surveys shows that the modal filters on Kent Road and North Road have significantly reduced traffic on all roads in the St Denys area, with the exception of South Road which has seen a very minor increase. The biggest reduction has been on Priory Road (north), which has seen around 1,300 fewer vehicles a day using the route.
Traffic data also shows that AM and PM peak traffic flows on St Denys Road are at a similar level to those in January 2020 before the pandemic. This indicates that the measures have had little impact on journey times on the main road through the area.
Pedestrian and cycle counts have also been carried out as part of our monitoring and show positive early signs of an increase in walking and cycling, with increases recorded on most residential streets in the Active Travel Zone area.
Finally, we have analysed feedback received directly from residents, with many commenting that the changes have improved their quality of life; reduced air pollution; created safer, quieter roads; and enhanced the environment for people walking.
The key aims at the outset of the St Denys ATZ project were to improve the local area and make active travel safer, easier and more attractive. The modal filters on Kent Road and North Road have been shown to successfully support these and, with this in mind, we have taken the decision to make these measures permanent at both locations. 
We understand that not everyone has been in favour of the changes. However, we are confident that any current concerns will be far outweighed by the long-term benefits in terms of reduced traffic; improved air quality and road safety; and a better quality of life. We are committed to continuing our engagement with the local community and will be making ongoing improvements to enhance the schemes even further. As part of this, designs are being developed to replace the temporary bollards and planters with a permanent scheme which will make the spaces even more attractive to use on foot and by bike.
August 2021 Update
Trial modal filters have been in place on Kent Road and North Road for just over six months now.
Traffic surveys were carried out before and after their introduction and the data has shown that these measures have significantly reduced traffic on all roads in the area, except for South Road which has seen a very minor increase.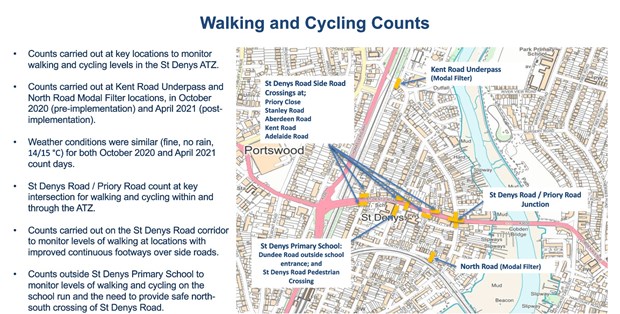 On Kent Road alone we have seen a reduction of around 1,000 vehicles per day. Surveys on St Denys Road show that the changes have had minimal impact on traffic along the main road.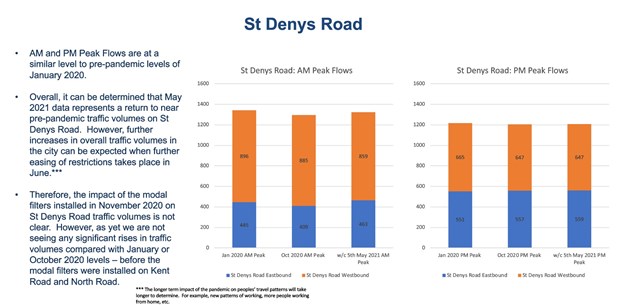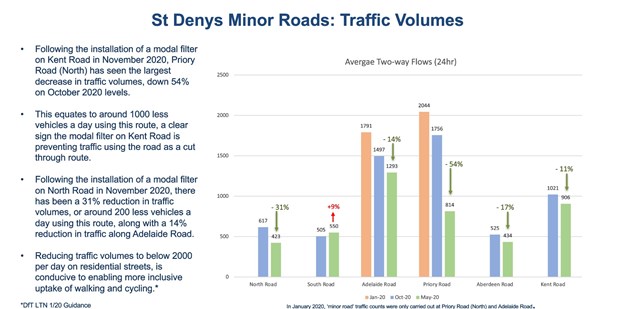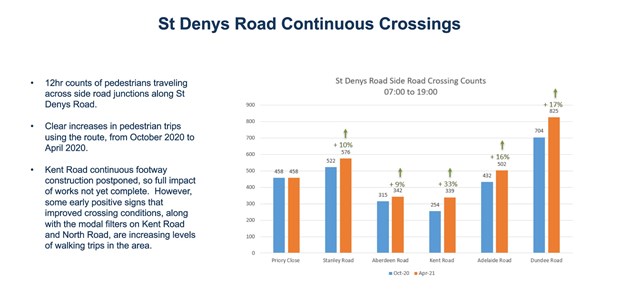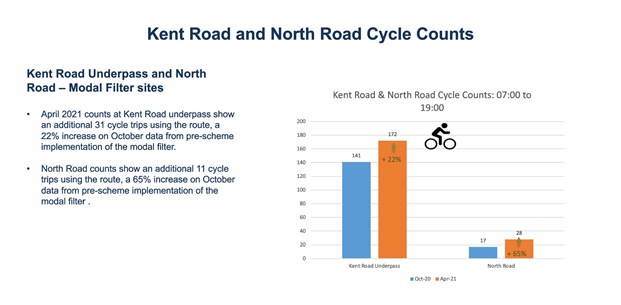 Weighing the benefits and disadvantages, the decision has been made to extend the review period for another six months to November 2021. The planters will remain in place and the council will review this again in November. We will continue to work closely with the local community on the St Denys ATZ project.
Following feedback from residents it has been decided that the proposed modal filter at Priory Road North will not be delivered as part of the St Denys ATZ programme.