Summary
Where: St Denys
When: November 2020 for 12 months
What: An Active Travel Zone
Why: To create a better environment for everyone by identifying and making some small changes to the streets and roads that will improve walking and cycling for short journeys.
How: Funded as part of

a Transforming Cities Fund

awarded in March 2020
The Active Travel Zone project in St Denys has taken shape through collaboration with the residents of the neighbourhood. Southampton City Council has been working with the St Denys community over the past year to address concerns relating to air quality, levels of traffic, and safety for walking and cycling in the area that was raised in the Your St Denys Your Say survey in late 2019.
The St Denys Active Travel Zone is funded by money from the government's Transforming Cities Fund.
You will find answers to common questions on our St Denys FAQs page.
Latest News
November 2021 update
Works have been scheduled to improve the gateway to Saltmead footpath on Priory Road, at the junction of Aberdeen Road.
This work involves footway improvements and a new kerb alignment build out which presents the opportunity for planting.  We shall return in the new year to complete the surface treatment works.
The works are due to take place from Monday 29 November 2021 for up to 3 weeks.  During this time the junction of Priory Road and Aberdeen Road will be closed to traffic and Saltmead footpath will not be accessible from Priory Road.  Pedestrians will still be able to use the junction, but not access Saltmead.  Vehicular access to Kent Road, Aberdeen Road and Priory Road will be via St Denys Road only.
The working hours of the site will be approximately 7:30am to 5:00pm. This is a noisy process and those properties close to the carriageway may experience some vibrations, together with flashing lights and reversing sirens.  We would like to take this opportunity to apologise in advance for any inconvenience or disruption these essential works may cause.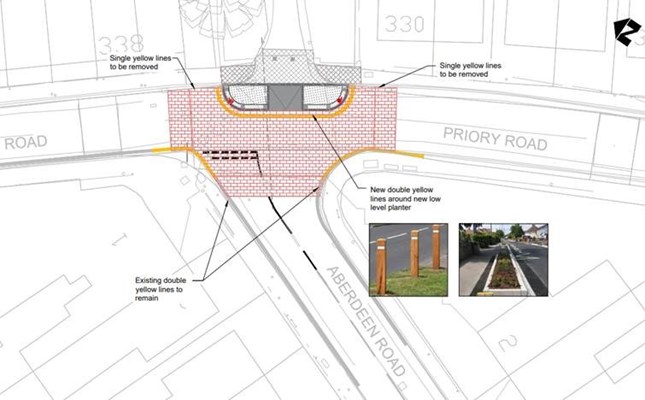 September 2021 Update
During our initial consultation on the St Denys ATZ, one of the most popular suggestions for how we could improve the area was to "ask drivers to turn off their engines at the railway crossing." We are pleased to confirm that 'no idling' signs have now been installed at four locations close to the railway crossing in the St Denys area.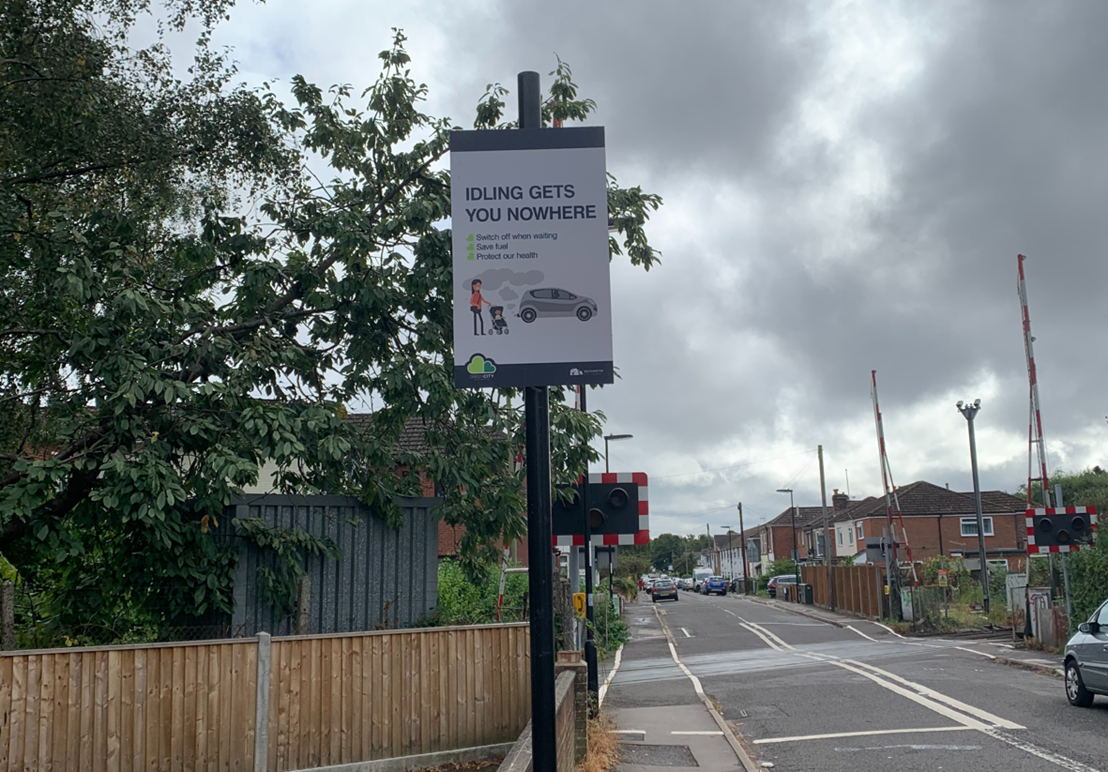 We would like to thank everybody that submitted their views as part of the Aberdeen Road and Priory Road/Dundee Road Traffic Regulation Order (TRO) consultations. We are in the process of reviewing schemes following the feedback we have received and the data we have collected.
We will require more information in order to make a final decision on these schemes and will conduct a second round of consultation when we have amended our plans. Residents will be notified when this consultation is live. In the meantime, please bear with us while we review the data we have and work to improve our proposals.
August 2021 Update
Trial modal filters have been in place on Kent Road and North Road for just over six months now.
Traffic surveys were carried out before and after their introduction and the data has shown that these measures have significantly reduced traffic on all roads in the area, except for South Road which has seen a very minor increase.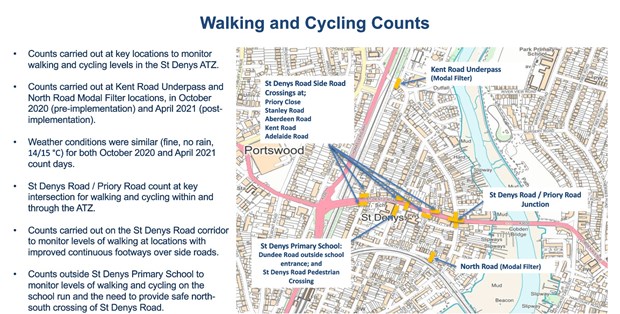 On Kent Road alone we have seen a reduction of around 1,000 vehicles per day. Surveys on St Denys Road show that the changes have had minimal impact on traffic along the main road.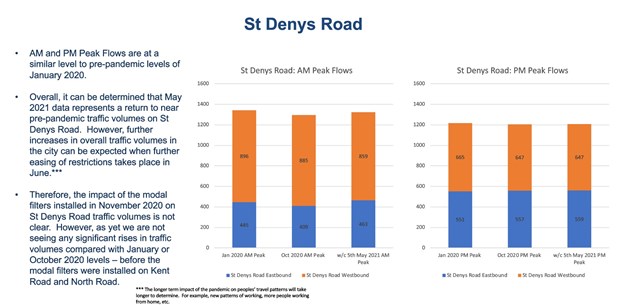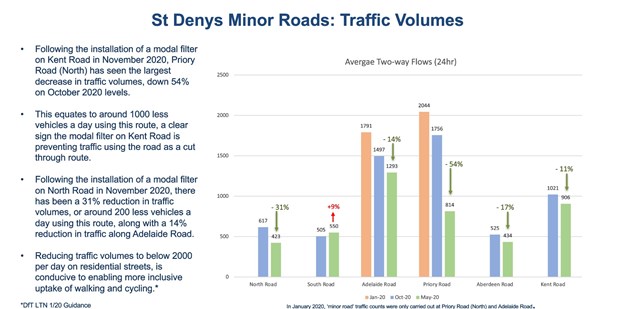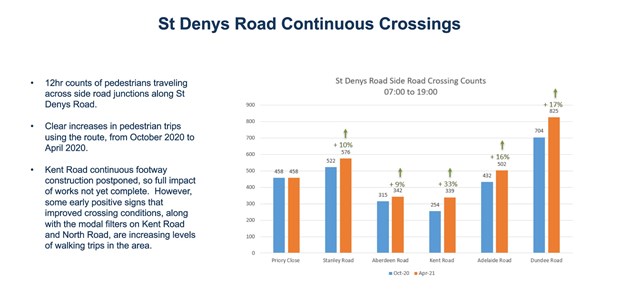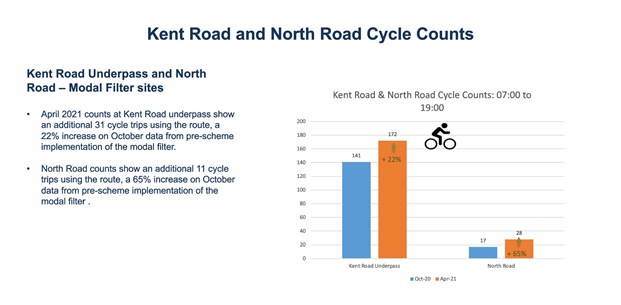 Weighing the benefits and disadvantages, the decision has been made to extend the review period for another six months to November 2021. The planters will remain in place and the council will review this again in November. We will continue to work closely with the local community on the St Denys ATZ project.
Following feedback from residents it has been decided that the proposed modal filter at Priory Road North will not be delivered as part of the St Denys ATZ programme.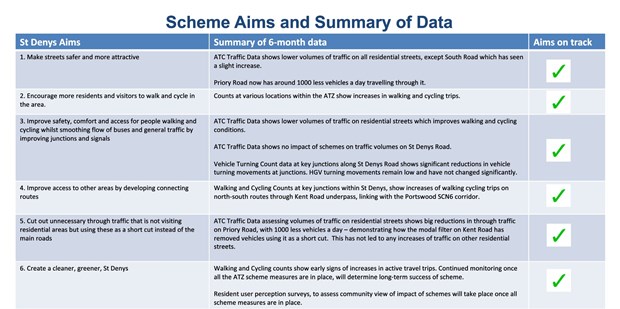 May Update
The continuous crossings along the St Denys Road junctions (Adelaide Road, Kent Road, Aberdeen Road, Priory Close, Stanley Road) were completed at the end of April 2021. During the work at Adelaide Road junction, we discovered the original tram lines that ran along St Denys Road so we worked around them. We are working towards the next phases that include buildouts by the school and Saltmead footpath as well as making a decision of the trial closures on Kent Road and North Road. We will keep you posted here.
These works started January 2021 and ran over 14 weeks. Full details including a map showing the phasing can be seen on a separate page. 
January 2021 update
We have coordinated and programmed work between January and April to modify the junction mouths for five of the roads joining St Denys Road which form the second phase of the scheme. We are also coordinating with Gas Distribution Company SGN who are replacing a gas main along St Denys Road and Adelaide Road. Within this period we also plan to begin the trial closure of Priory Road North junction with St Denys Road but only after completing works at Kent Road junction.
November 2020 Update
Trial modal filters on Kent Road and North Road in St Denys were installed in the week beginning 16th November and will be in place while we seek feedback from the community.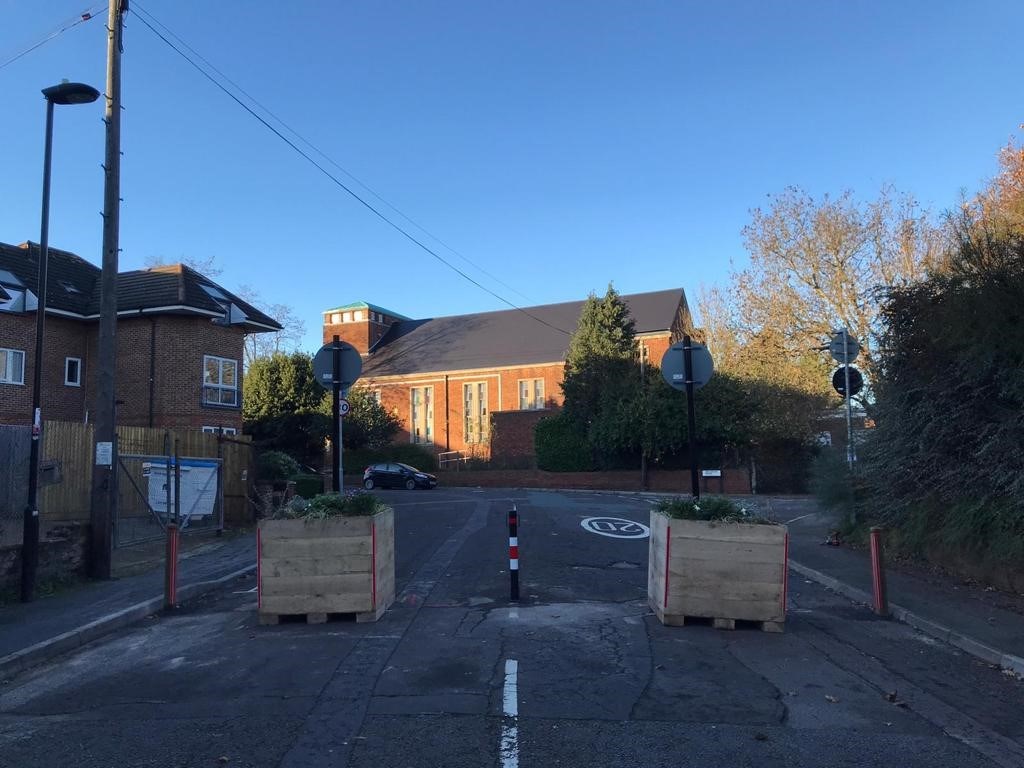 Modal Filters - Experimental Trials
Modal filters, a feature used to limit through journeys by motor-traffic, will be implemented on Kent Road, North Road and Priory Road North.
The consultation period for Kent Road and North Road will run from November 2020 to May 2021.
The consultation period for Priory Road North will run from January 2021 to July 2021.
During the 6-month consultation period, monitoring will take place to establish the impact on St Denys of each modal filter.
Have your say:
Comments about the trial modal filters during the initial 6 month consultation period should be directed to Traffic.Orders.Legal@southampton.gov.uk
The permanent schemes will require consultation with residents before they can be implemented, so if you live in the vicinity of one of these, you will be contacted by letter with details of how and when to comment.
We have been engaging with residents in the Portswood and Swaythling area regarding ideas for schemes that could be introduced to improve transport and travel in the local area. If you would like to sign up for updates you can do so by clicking here and entering your email address. In the meantime, you can learn more about what's happening here.