Our Transforming Cities programme includes ambitious plans to roll out a network of Local Travel Hubs in and around Southampton.
These are placed in convenient locations across the city and will provide people with access to a range of sustainable transport options. Ranging from bicycle or scooter hire; secure parking to facilitate sustainable onwards travel and electric vehicle charging stations.
On top of this, the hubs could include enhancements to the public space such as art, greening and seating and additional facilities like parcel lockers, information boards and wayfinding.  
Features include:
Car and bike sharing
Electric vehicle charging points
Electric vehicle hire including cars, scooters, bikes and vans
Connections to nearby public transport
'Click & collect' services to support zero emission deliveries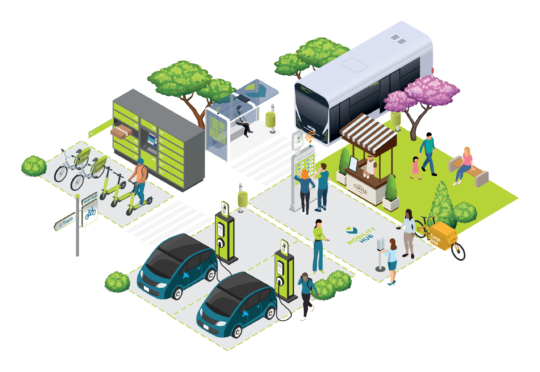 (Image credit: CoMoUK. Image is indicative only and does not reflect the final scheme to be delivered in Portswood.)
We are now considering creating a Local Travel Hub in Portswood that would provide a range of sustainable transport options for travel between Portswood and Southampton city centre.
Latest news
March 2022
To help us shape our plan we asked you about your travel habits and what you might like to see from a Travel Hub.
This survey closed in March and the results can be viewed by clicking the button below.
Click here to view the results of the survey