As part of plans to transform gateways to the City Centre an international gateway will be created at Southampton Central Station in partnership with South Western Railway, providing ease of access to the Port, cruise terminals and into the City Centre.
Benefits of the improvements will include:
New bus facilities – including dedicated bus stops and improved bus accessibility
Passenger waiting lounge – high quality waiting area for passengers using buses, taxis and for those travelling to the cruise terminals. Its style will complement the art deco style of the station building
Provision of e-scooter and e-bike for onward journeys into the City Centre and beyond
Dedicated taxi facilities – a five car taxi rank within the forecourt with a 10 car taxi waiting area on Western Esplanade
Improved pedestrian access - dedicated crossing points within the forecourt with improved disabled parking and access
High quality public realm – forecourt to be re-surfaced with high quality materials.
Project detail:
Funded jointly by South Western Railway and the government's Transforming Cities Fund, the area will benefit from a new multi-modal interchange that will enable improved pedestrian access, include safer crossing points, additional bus stop provision, disabled parking, along with better access into and out of the station for all vehicles.  A dedicated drop off/pick up point will also be included in the upgrade. The high-quality public realm hard landscaping design will draw on the original art deco influences that currently benefit the station.
These transformations will enhance onward transport links with improved outside passenger shelters that will include real time information detailed on them, a new taxi rank with improved waiting facilities along with availability of sustainable travel options such as e-bike and e-scooters.
Commuters will also see changes within the station forecourt, as South Western Railway build a new waiting lounge with up-to-date travel information.  
The work will include significant changes to the vehicular entrance and exit points of the station which will necessitate lane alterations on Western Esplanade to ensure the safety of the public and our workforce during the phases from May 2023 onward.
Development of the new multi-modal interchange on the South side of Central Station will commenced in February 2023 in partnership with Balfour Beatty Living Places who will be working from 7.30am - 5pm. Monday – Friday and there will be times when the team will be working on Saturdays too. 
During the construction phase there will be limited vehicular access to the area. Taxis will be available from the northern side of the station only and all car parking, including disabled parking will be moved to the north side within Southbrook Car Park. Please see the maps on the left showing how to access the station during these times.
Latest News
Winter 2023
We are now moving onto the next phases of work which will include works on the carriageway of Western Esplanade for resurfacing and other carriageway works. In order to create a safe space for our operatives as well as the machinery in use, we will be closing Western Esplanade between the Emily Davies student accommodation and the Southern Road/Mountbatten Way junction, as seen in the map below.
These works will be taking place overnight due to the arterial nature of the route, and will begin on Monday 13th November 2023 for 5 nights, between 8:00pm and 6:00am.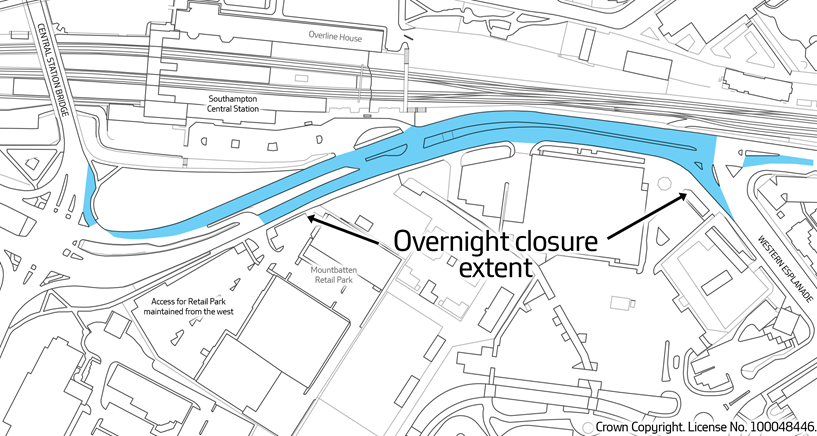 Access to the Mountbatten Retail Park (including PureGym) will be maintained via the west, using West Quay Road or Central Station Bridge, throughout.
During this resurfacing, a diversion will be in place for all traffic, including taxis and buses, however pedestrian access will be maintained, as well as access for emergency vehicles If required.
The diversion will use Harbour Parade for both eastbound and westbound traffic. For those travelling eastbound, use West Quay Road to navigate around the closure, and for westbound traffic, turn left down Western Esplanade before reaching the closure and follow this to Harbour Parade. These diversion routes will be clearly signed; however they are subject to changes.
Please follow the signed guidance if travelling during the night closures, and plan your journeys where possible.
Autumn/Winter 2023
We will shortly be progressing onto the footways adjacent to the Central Station Footbridge, which will require a temporary closure of the footbridge and a pedestrian diversion using Kingsbridge Lane to access the south side of the station from the north, and vice versa.
The footbridge will be closed from Monday 30th October 2023 for 3 days. Please follow the signed pedestrian diversion route in place, and if you need any assistance, please speak to the team on site and they will do their best to help.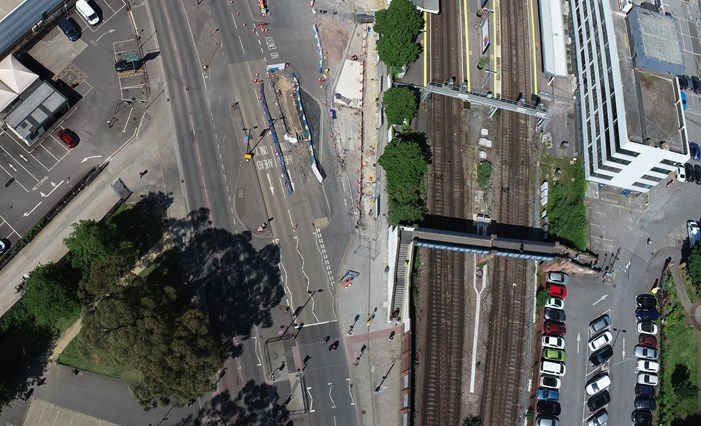 Summer/Autumn 2023
Works in these phases included:
Work on the taxi facilities on Western Esplanade
Continuation of works to the entrance/exit of the forecourt
Pedestrian improvements along the footpath of Western Esplanade
Traffic Management, Phasing, and Site constraints:
During this work, there will be a lane restriction in place on lane 1 travelling eastbound on Western Esplanade. There will be a lane restriction on a portion of Mountbatten Way travelling eastbound in order to prevent traffic turning onto lane 1 whilst it is closed, and there will be no left turn from Central Station Bridge to Western Esplanade.
Work will also be taking place on the footpaths near Central Station Bridge, and pedestrian diversions may be in place during this time.
The eastbound lane restriction will remain in place for the duration of the work due to the depth of excavation required, so we recommend planning your journeys ahead of time. Taxis and buses will not be able to access the south side of the station and will need to continue to use the northern side (Blechynden Terrace) at this time.
Access will only be afforded to deliveries and staff when safe to do so.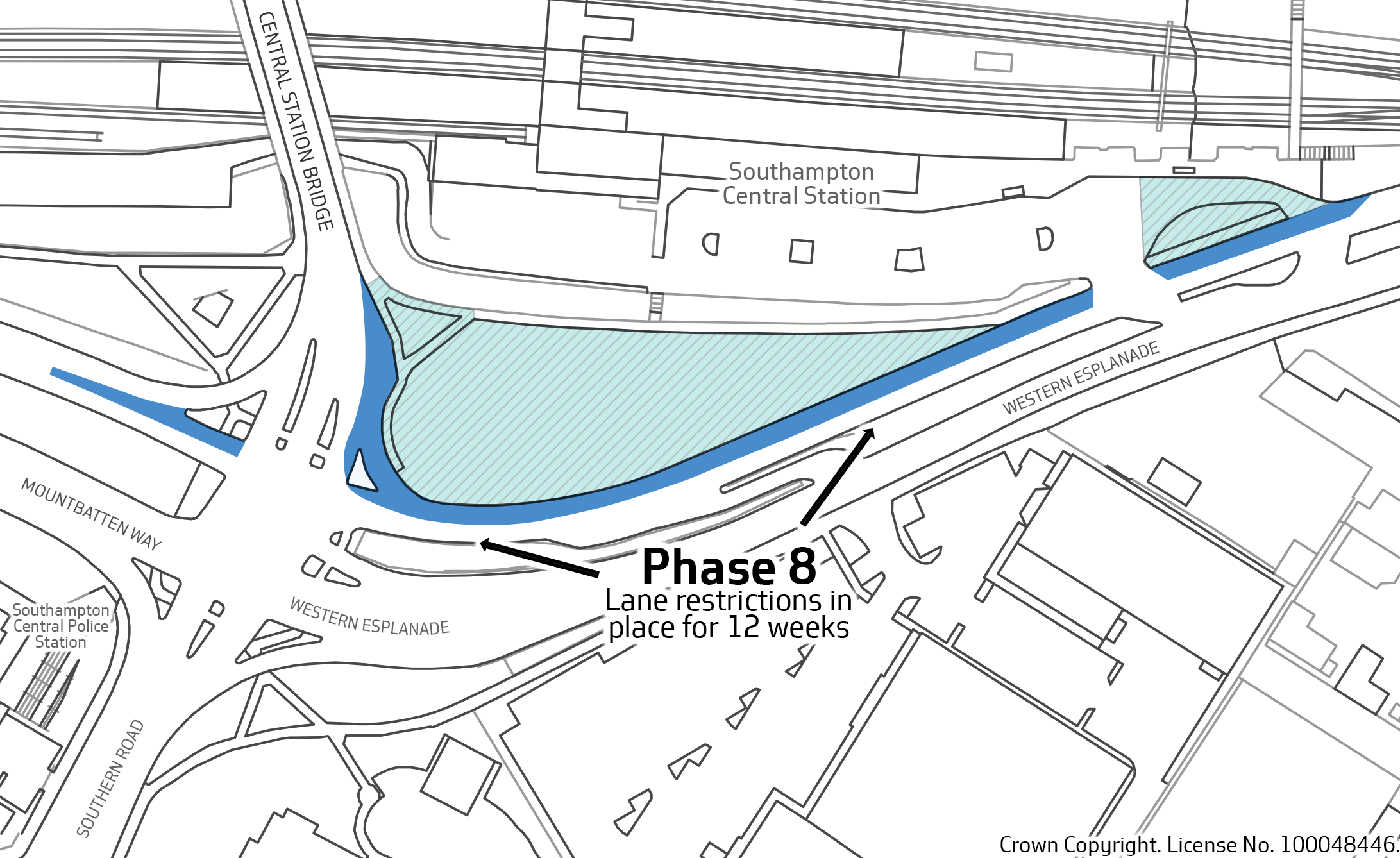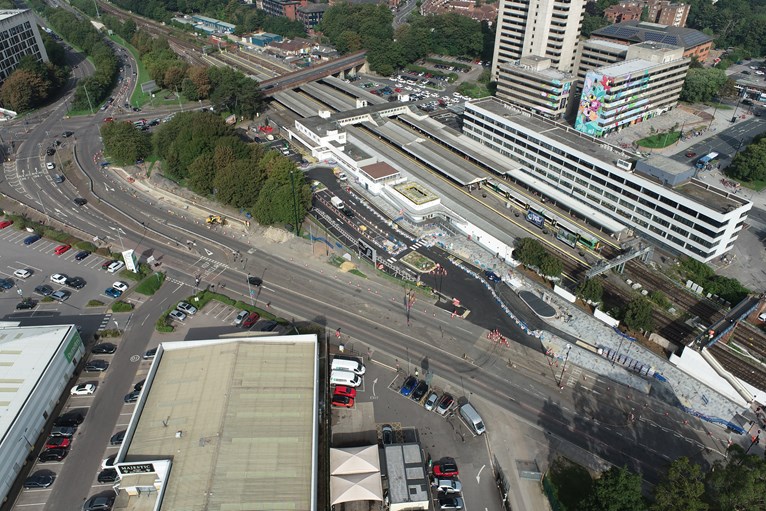 Spring/Summer 2023
Works in these phases included:
Widening of the southern station entrance
Improvements to the taxi rank layby
Station side site clearance of the footway
Installation of new ducting for lamp columns, ducting and feeder pillar for True
Station side high-quality public realm footway construction.
Winter/Spring 2023
Works in these phases included:
Site clearance of station side kerb line and island kerbs and lamp columns (by others)
Installation of new ducting for lamp columns
Install new Drainage
Construction of kerb lines and new central islands
Civils associated with installation of occupancy detectors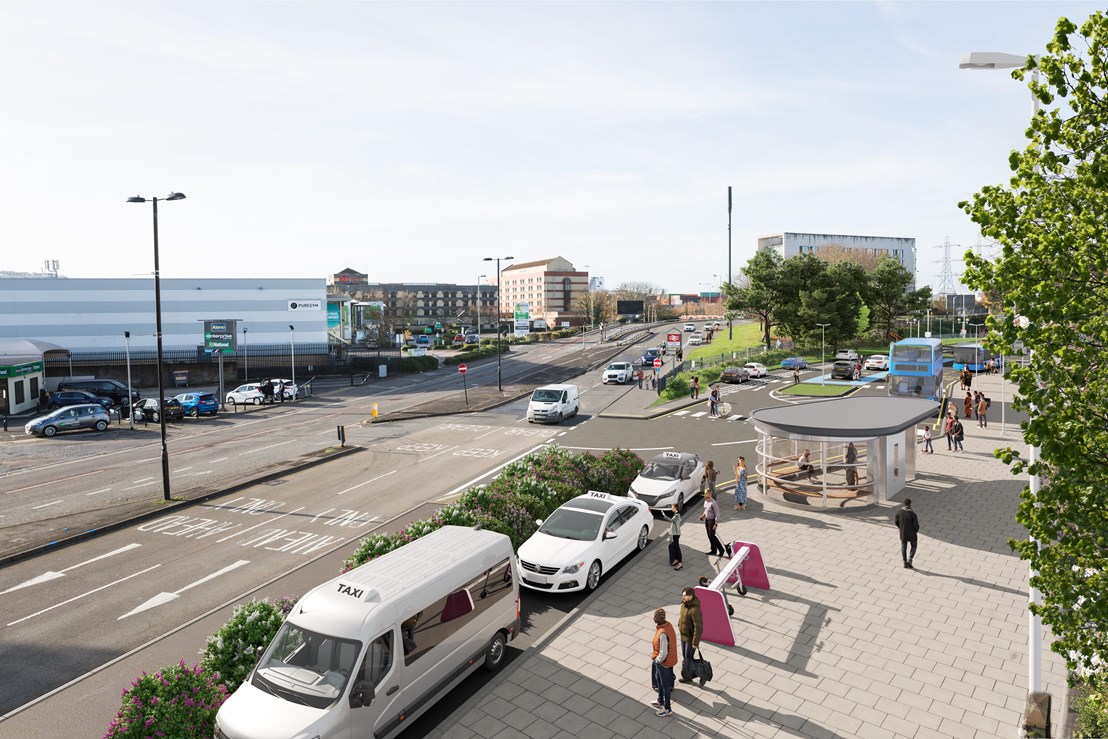 Please note, CGI is a representation of how the scheme may look and is subject to change.