Summary
Where: The Avenue and Bassett Avenue
What: Pedestrian and cyclist improvements to The Avenue
When: July 2021 to late September 2021
Why: To complete a safer, dedicated pedestrian and cycle route for the city's north-south corridor.
How: Proposed to be funded as part of

a Transforming Cities Fund

awarded in March 2020
Latest News
November 2021
Winn Road – Westwood Road: Work to replace a narrow tarmac footway with wider compacted gravel footway is near completion. The new path is wider than before allowing for the high use of people walking and cycling, and follows the desire line already in use which became a muddy track in winter months. The remaining section of tarmac path will shortly be removed and replaced with grass verge. The longer term proposal is to tarmac this path to reduce future maintenance. This forms part of the Lovers Walk planning application. If planning permission is given, a Section 38 application will follow in order to formalise work which is on Common land. The below images show the works during construction.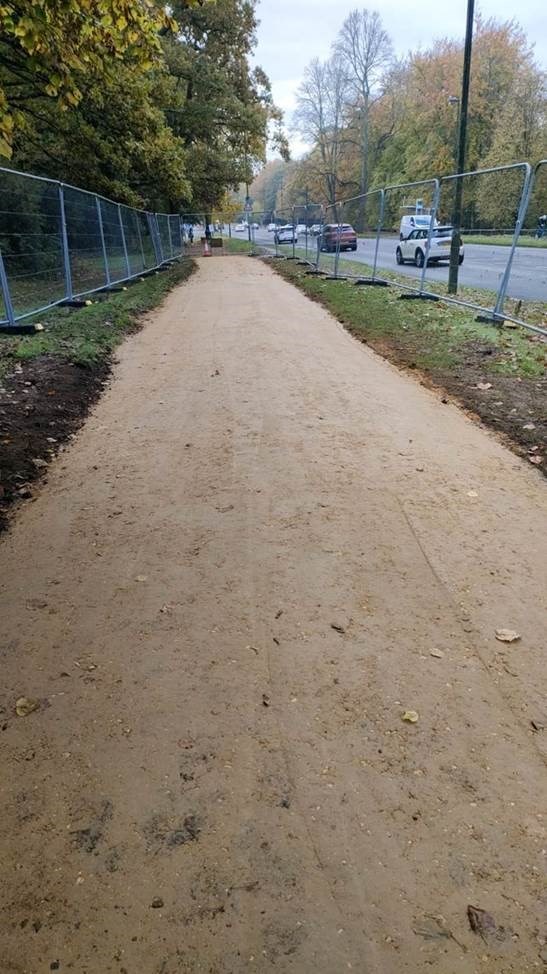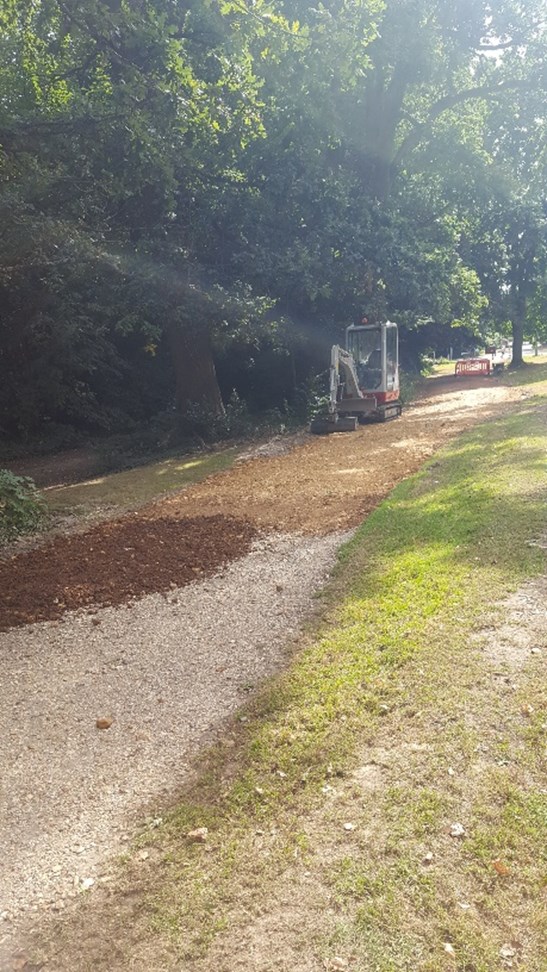 October 2021
The works have now been completed with the exception of the footpath between Winn Road and Westwood Road (see below map). We are delivering a new footpath using compacted gravel, with a planning application submitted to tarmac this path at a later date. These works will be ongoing until 25 November.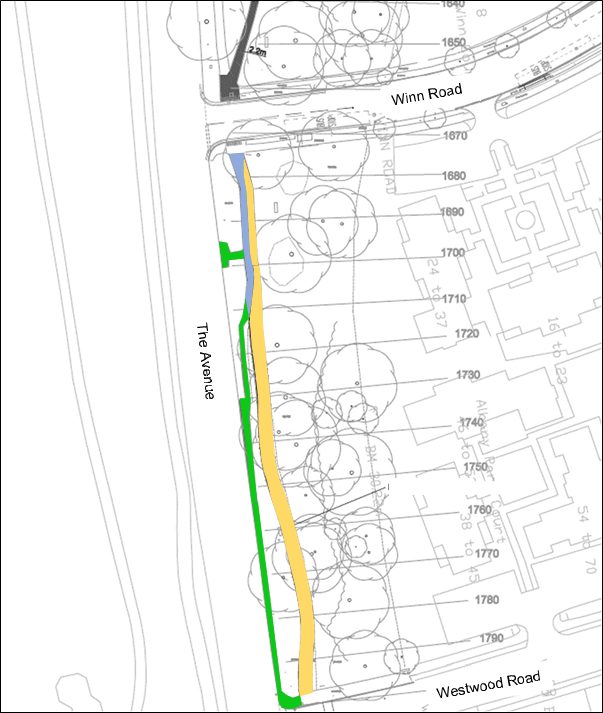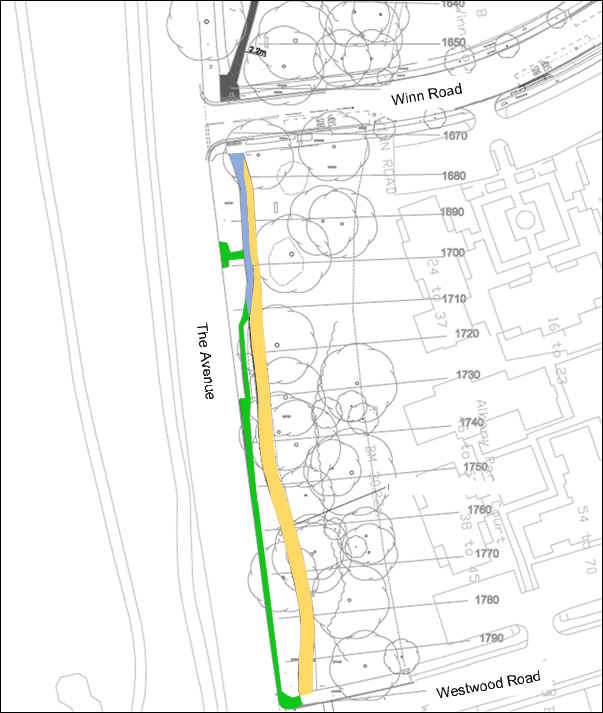 2 September 2021 - Scope of works increasing
The initial planned phases of work were completed on time with overnight work at Winn Road junction with The Avenue see images below. However The Avenue is set to undergo further improvements to enhance walking and cycling provision and support safer, more sustainable journeys in the local area. The plans include segregating the current cycle lanes along The Avenue between Winn Road and the subway underpass on The Common, linking into possible 'quietways' enabling cyclists to travel on parallel routes. For details of how this phase of the Avenue works has been consulted on, click here.

Additional works
These additional works are planned to start from Monday 6 September for approximately 4 weeks and will be delivered over several phases as follows:
Phase 1b: Monday 6 September for up to two weeks: This is to repair and replace the drain covers and install two new dropped crossings on The Avenue between Winn Road and the bus stops just north of Highfield Road. Work will be carried out under lane narrowing with two-way traffic maintained.
Phase 2b: Monday 20 September for up to two weeks: This is to install the cycle lane segregation for the cycle lane southbound between The Common underpass and Winn Road. In addition, the two bus stops north of Highfield Road are being relocated to just north from The Common underpass so as not to overlap with the cycle lanes. This will require lane narrowing and temporary traffic signals to allow vehicles access along The Avenue.
Phase 3b: Overnight from Monday 27 September for up to one week: This is to install the cycle lane segregation Northbound between The Common underpass and Winn Road. During this closure we will undertake other works including applying an anti-skid surfacing at the new crossing and coloured surfacing for parts of the cycle lanes. This work will require the overnight closure of The Avenue between Northlands Road and Burgess Road with a signed diversion via Hill Lane.
Highfield Road dropped crossings, was postponed from the original programme of work, following a temporary loss of crew due to covid in early August but will be completed during these phases but over several Saturdays. As before works will be completed with access maintained through give and take.
Map showing phasing and works area: (Lane restrictions will extend further)
Initial completed works
The works were undertaken from Monday 21 June for 10 weeks and were delivered over these phases:
Phase 1: 21 June for up to 7 weeks – Installation of a new toucan crossing on The Avenue, junction improvements at Winn Road and continuous crossings at The Cowherds entrances
These works saw the construction of a new toucan crossing between Winn Road and The Common. There were changes to the Winn Road junction mouth and installation of continuous footways across Winn Road junction and The Cowherds' access roads to give pedestrians and cyclists priority over vehicles. 
Phase 2: 21 June for up to 10 weeks – Tree management and street lighting improvements From Highfield Avenue to Winn Road
This was to cut back overhanging trees and to carry out street lighting upgrades. 
Phase 3: 9 August for up to 3 weeks – Westwood Road junction with The Avenue improvements
These works were to modify the junction mouth and install a continuous footway crossing to give pedestrians and cyclists priority over vehicles. 
Phase 4: 9 August for up to 1 week – Highfield Road at the junction with the Avenue.
This is to install a tactile dropped crossing for pedestrians crossing Highfield Road. These works were delayed due to covid impacting front line crew. 
Separate to this the remaining trial cycle lanes along The Avenue and Bassett Avenue are to be removed. Details about the cycle lane removal can be found here. 
We will be returning to apply an anti-skid surfacing to either side of the new Toucan Crossing on The Avenue in the Autumn; we will publicise this closer to the time.
Map showing phasing and works area: (Lane restrictions will extend further)