Summary
Where: SCN5 Eastern Quietway includes the area between Itchen Bridge roundabout and Miller's Pond
When: Survey to local residents July 2022
What: Traffic calming and safety measures, pedestrian and cycling improvements including zebra crossings, buildouts, dropped kerbs and junction improvements
Why: This route will form a section of Southampton Cycle Network (SCN) Route 5. It will also provide safer links to local schools and railway stations.
Latest News
September 2023: Cranbury Road/Station Road Junction 
The first scheme within Eastern Quietway will be progressing at the Cranbury Road/Station Road junction, with some minor works at the adjacent Porchester Road junction. We will be adding a new zebra crossing on Station Road to improve pedestrian access to and from Sholing Rail Station, as well as a new pedestrian island at the junction of Cranbury Road and Station Road. The vehicle exit from Cranbury Road to Station Road will change to left-turn only, which will improve safety and make it easier to cross Cranbury Road.
These works have now been completed and before and after photos can be seen on the Completed Improvements page.
Project Details
The proposed scheme will deliver a range of traffic calming and safety measures, pedestrian and cycling improvements such as zebra crossings and dropped kerbs. This is a designated route between Miller's Pond and the Itchen Bridge for people travelling by bike or on foot as an alternative to Portsmouth Road.
To view all of the proposed improvements, please see the map below. To download more detailed maps, please visit yourcityyoursay.southampton.gov.uk/eastern-quietway.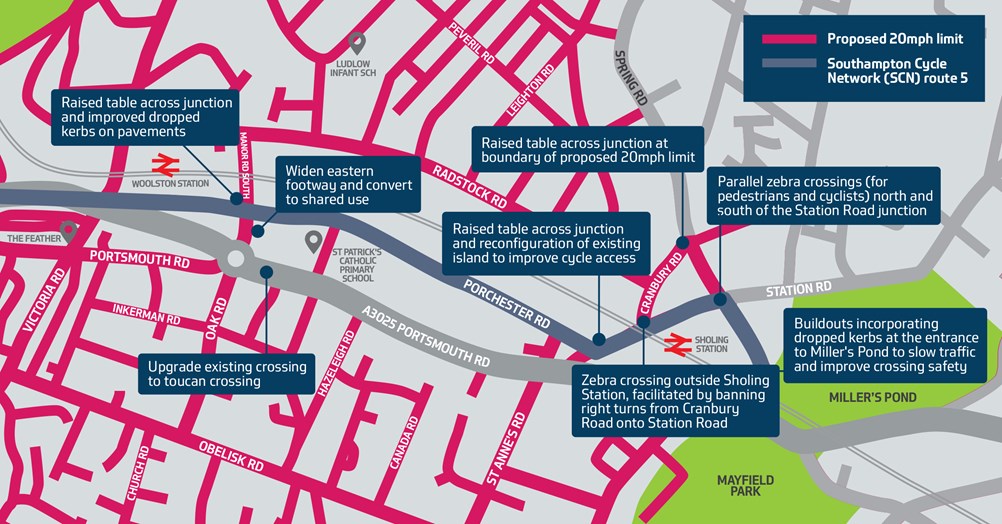 All of the measures featured in the consultation are now being progressed to detailed design stage. Feedback from the survey has been incorporated into the designs, and schemes will be further assessed for viability based on various factors including cost, utilities investigations and legal Traffic Regulation Order consultations.