Summary

Where: Northam Road
When: COMPLETE
What: Footway improvements, relocating street furniture, Bus 'Super stop', a continuous crossing at Kent Street
Why: To create a safer, more pleasant environment with improvements for pedestrians, cyclists and bus users
How: Funded as part of

a Transforming Cities Fund

awarded in March 2020
Latest News
Work is now completed along Northam Road. Phase 4 & 5 were completed in the week commencing 14 September, with the continuous crossing across Kent Street and the Northam Road overnight resurfacing being finished. 
Phases of Work
Phase 1: Northam Side Road and Princes Street
Monday 29 June for 1 and a half weeks
Relocation of street furniture and road signs, widening the dropped crossings to allow improved access for cyclists. 
Phase 2: Princes Street across Northam Precinct
Thursday 9 July for 2 and a half weeks
Widening the bus slip lane to improve bus access, raising the kerb for a new double-length bus stop and removing sections of the guard rail to improve passenger accessibility. On the shared footway, furniture and services relocated to allow bus lane widening. A new bus shelter will be installed at a later date.
Phase 3: Northam Precinct up to Kent Street
End of July for 5 and a half weeks
Removing paving slabs, widening the verges to cover tree roots, resurfacing the shared footway.
Phase 4: Kent Street to the end of the scheme
End of August for 3 weeks
Construction of continuous cycle/footways across Kent Street and the entrances to the petrol station to give pedestrians and cyclists priority over vehicle access. Installation of new signage on the shared footway at the Britannia Road junction.
Phase 5: Overnight resurfacing of Northam Road southbound
Late September for 2 nights
Resurfacing Northam Road southbound bus lane and some patches of lane 2.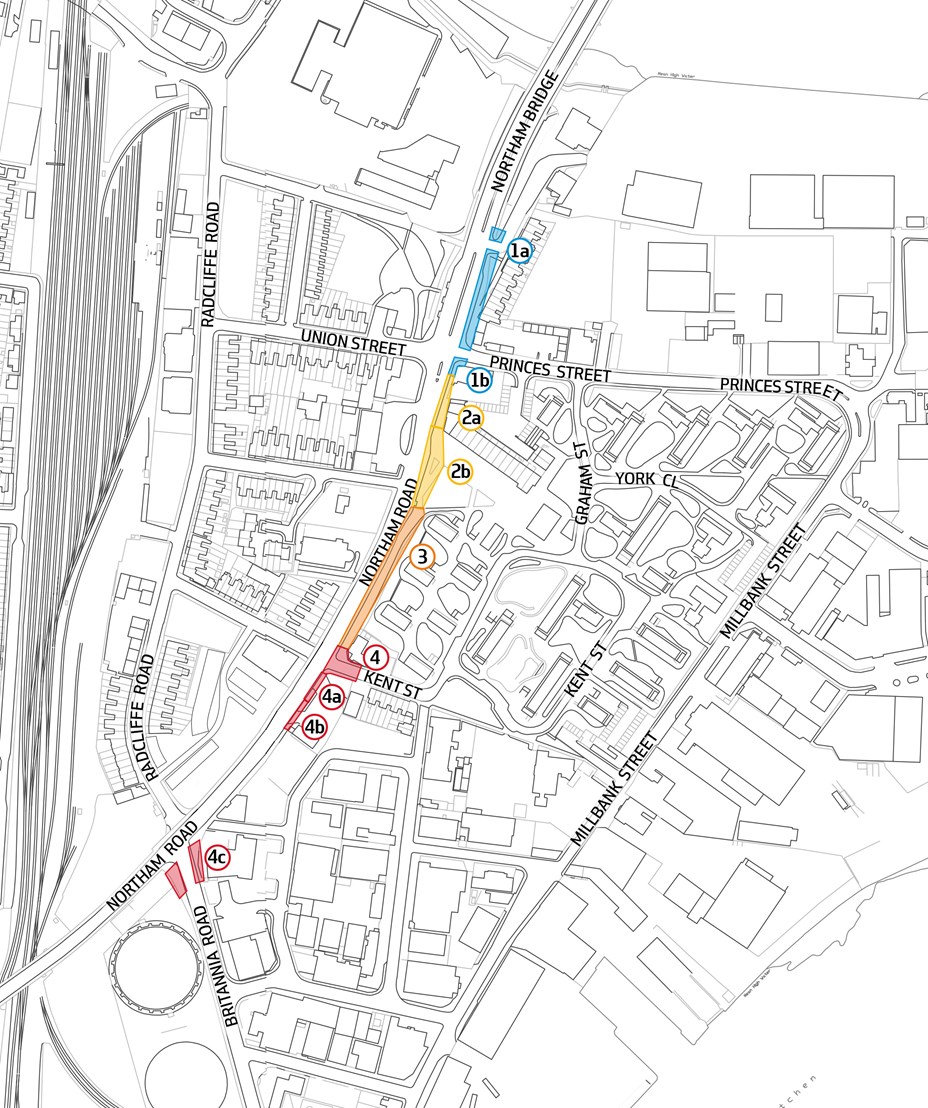 Crown copyright OS map license No. 100048446