Summary:
Where: St Denys Road (A3035)
What: Improved facilities for walking, cycling and bus travel, junction changes and signal upgrades
Why: To support sustainable travel and improve traffic flows at key junctions
How: Funded as part of the

 Transforming Cities Fund

awarded in March 2020
As part of our Transforming Cities programme on the Eastleigh to Southampton corridor, a number of changes are proposed to improve St Denys Road (A3035). These include improved facilities for walking, cycling and bus travel; junction changes; and upgrades to traffic signals. 
Latest News:
May 2023
We will shortly be undertaking works on Thomas Lewis Way to extend the dedicated left turn lane from Thomas Lewis Way onto St Denys Road. This represents Phase 4 of the planned junction improvements in the area and will aim to ease congestion for people travelling Southbound on Thomas Lewis Way.
The work is planned to start on Monday 12th June for approximately 5 weeks with works taking place between 7am and 5pm each weekday. These works will require some lane restrictions to be in place which are detailed below, however, the dedicated left-hand turn will be maintained.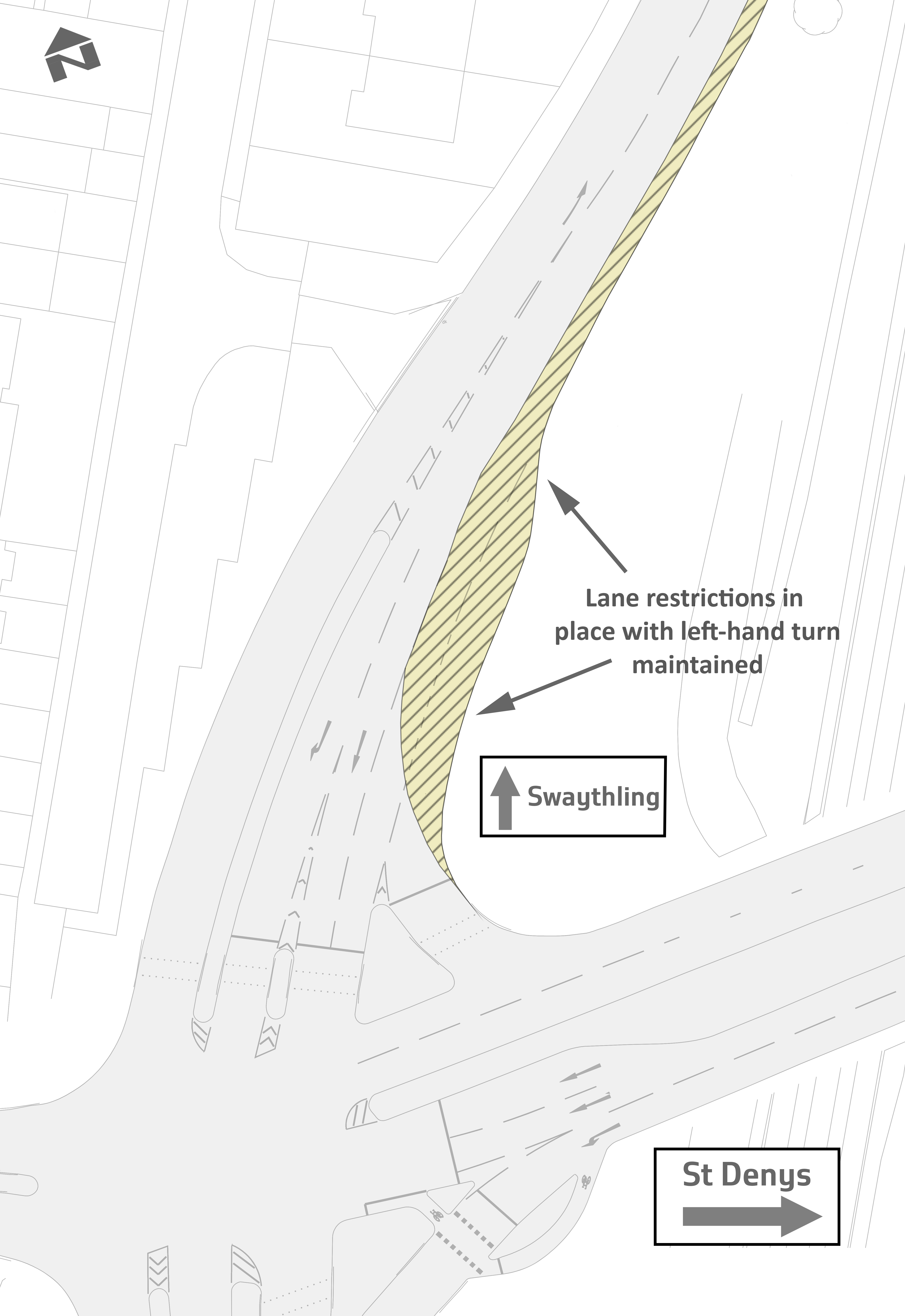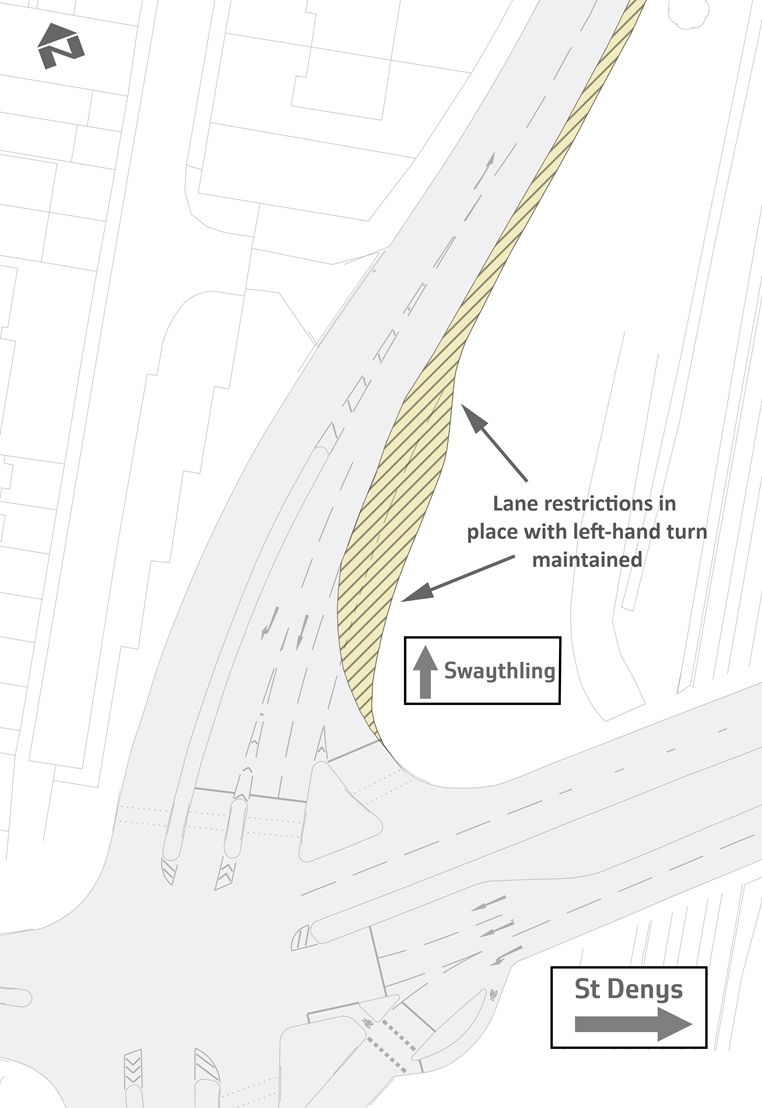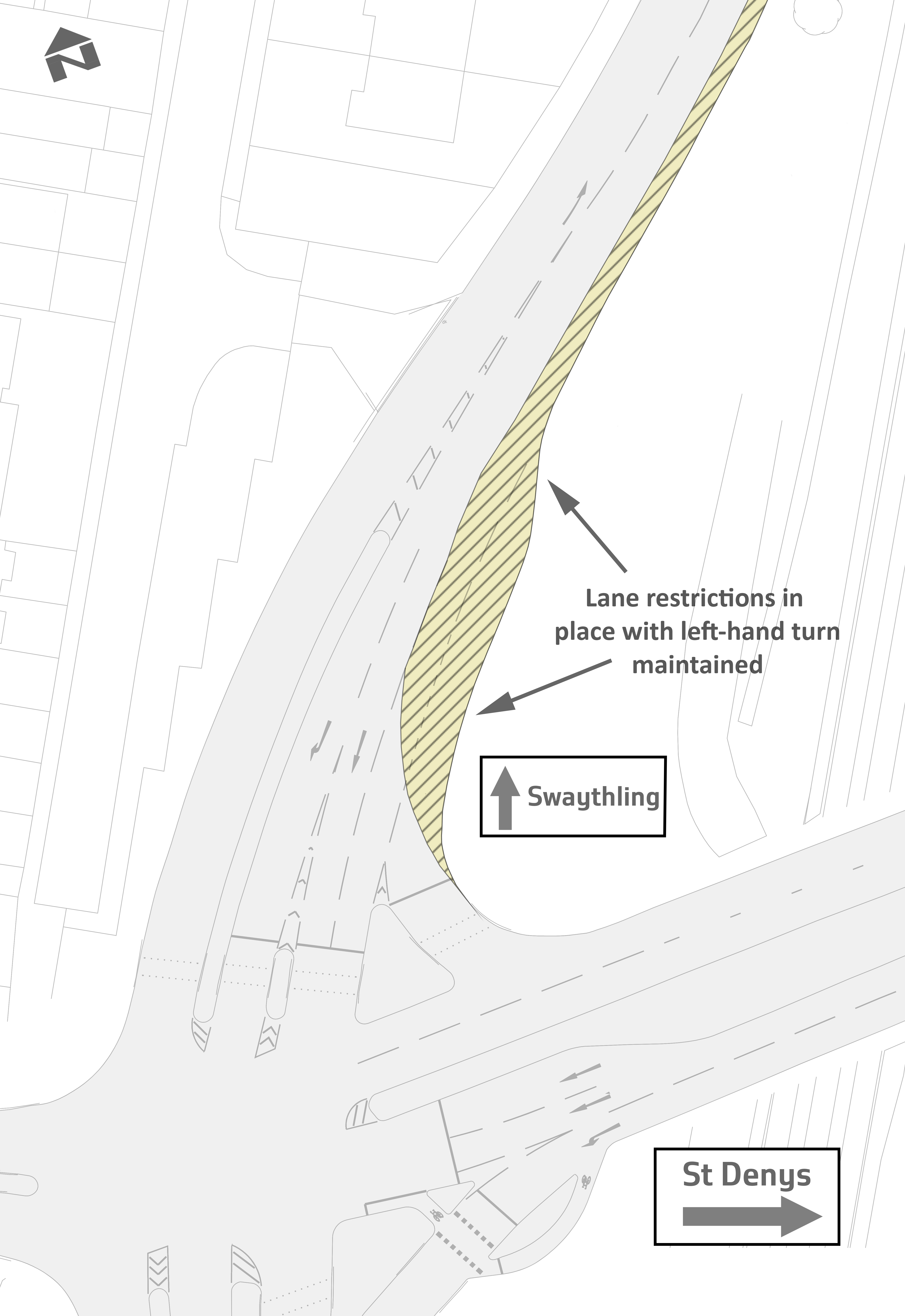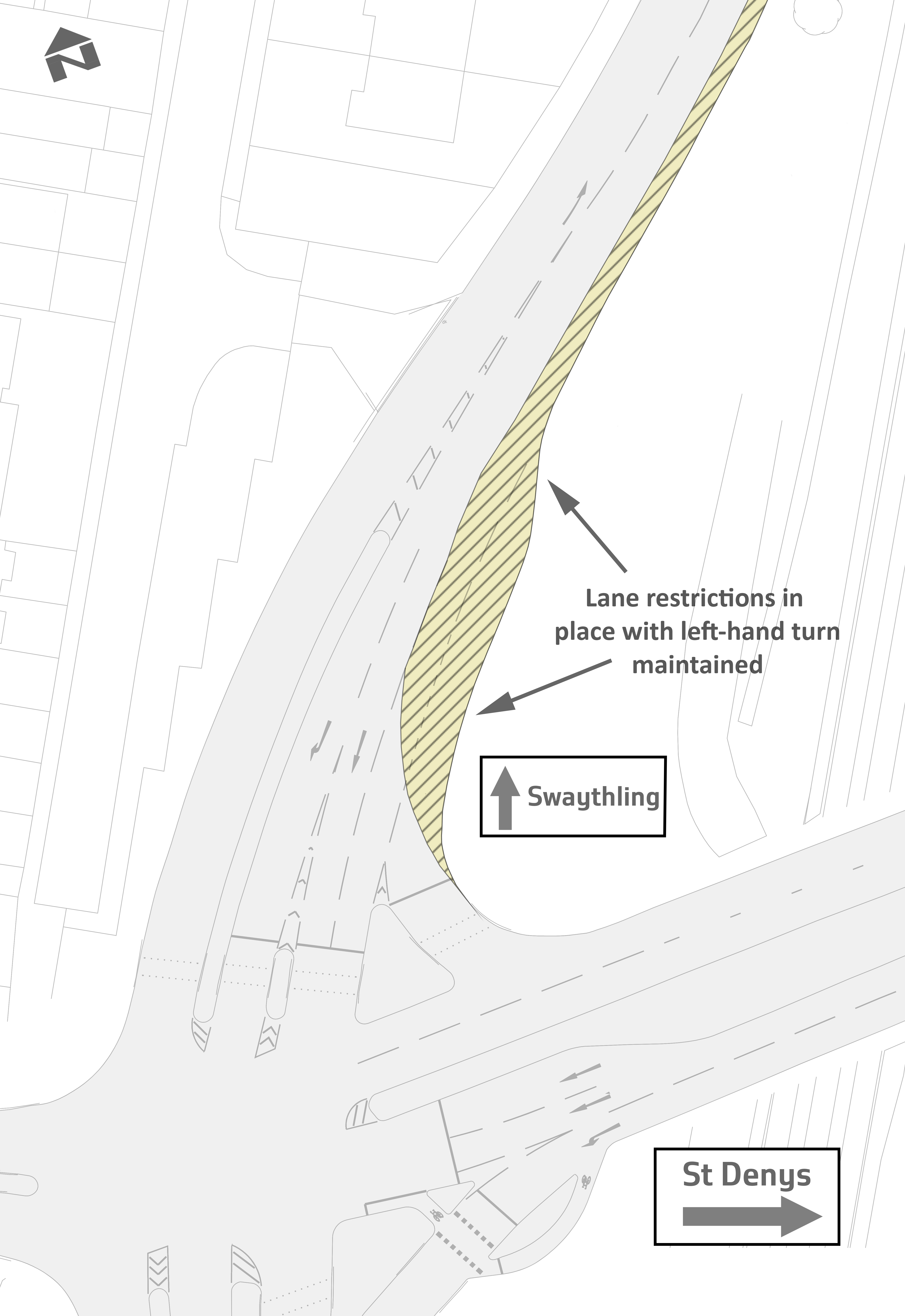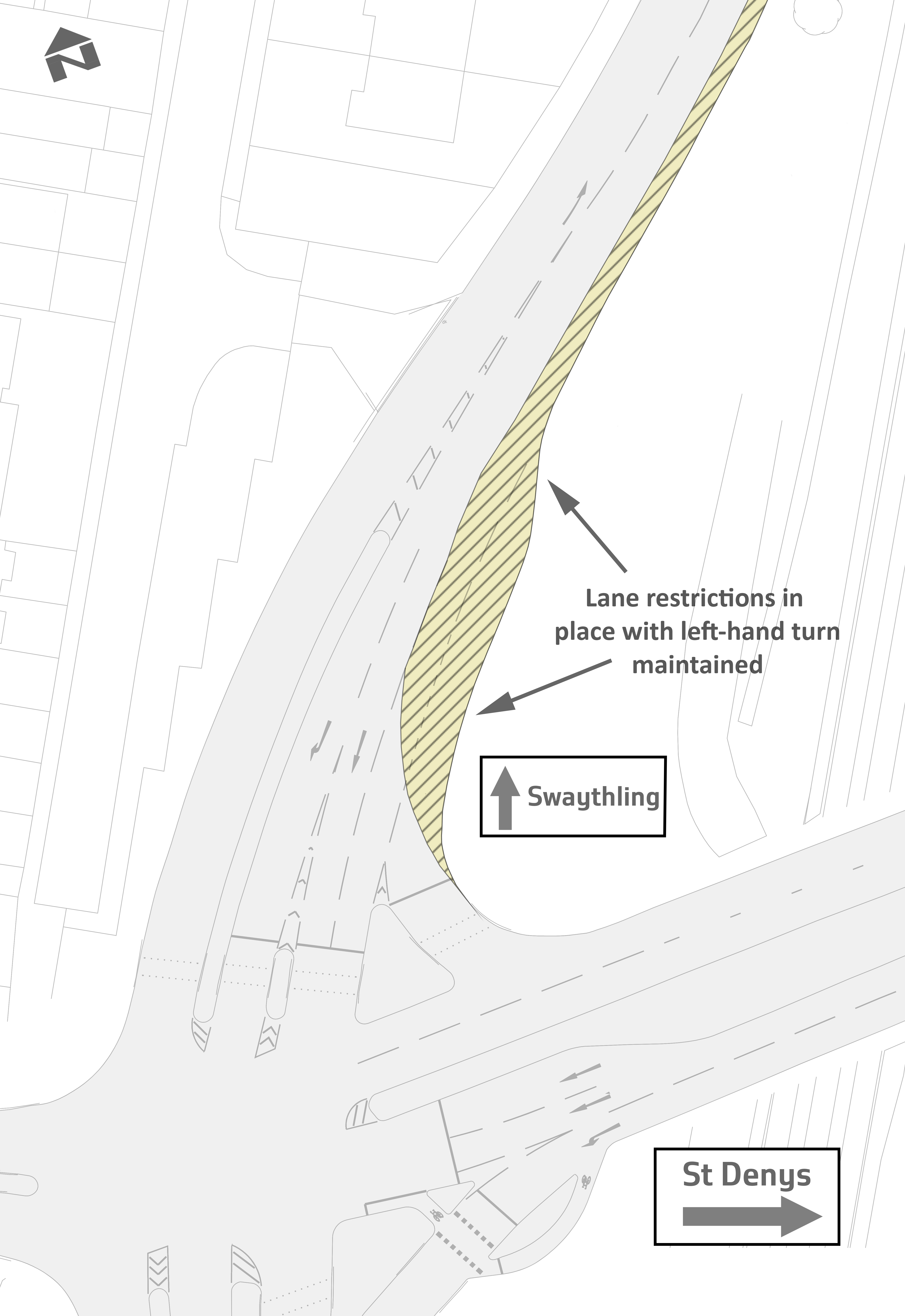 August 2022
The first improvements to St Denys Road (A3035) will be upgrades to the junction of A3035 St Denys Road / A335 Thomas Lewis Way. These will commence 22 August 2022 for approximately 15 weeks. For the duration of the works St Denys Road will be closed eastbound only between the A335 junction and Belmont Road. A local diversion will be in place. 
The junction improvements will include:
An extension to the dedicated left turning lane on Thomas Lewis Way, onto St Denys Road heading towards Bitterne Triangle, to reduce congestion
New intelligent traffic signals at the junction. These will provide smoother and more efficient traffic movements in the area
A new cycleway along St Denys Road, crossing the junction, and safer crossing points for pedestrians
The works will be completed in phases that will require lane restrictions and some overnight closures. We strongly advise checking https://myjourneysouthampton.com for up-to-date information on these works if you need to use this junction during the works period. 
Phase 1
The traffic management will be put out on the evening of Sunday 21 August for our works to start on Monday 22 August. To create a safe working area for our team we will be removing all eastbound access from Portswood onto the junction, however all westbound traffic from Thomas Lewis Way and St Denys will be able to pass through.
We will also be removing the dedicated left hand turning lane from St Denys onto Thomas Lewis Way.  Traffic, excluding HGVs, will be able to turn left (southbound) using the other lanes. Due to the tight turning circle here, HGV's will need to follow the signed diversion route.
Our work will require us to upgrade the ducting that runs under the road surface, therefore, to minimise disruption to traffic, we will be working overnight during the first week, from Monday 22 August for 5 nights, to undertake this element of the work.
These works will start on the northbound carriageway heading towards Swaythling. Once this is complete, the team will work on the eastbound carriageway towards St Denys and finally the westbound carriageway coming from St Denys.
Access for pedestrians and cyclists crossing the junction will be maintained.
Phase 2 and 3
During this second phase we will be working on the western approach from Portswood, this area will continue to be one way throughout this phase. Please note that there will be a change of traffic management in the area to place vehicles on the opposite carriageway, however the access restrictions will remain the same throughout. Pedestrian access will be maintained.
Once completed we will then progress to the third phase which will see our teams working more in the pedestrian areas of the junction, on the eastern side of St Denys Road near to Osborne Road North. These will include the addition of tactile paving to assist with pedestrians crossing the road.  At the same time, we will install a crossing point on the island opposite on the western arm of the road.
Once these phases of work are complete, the final part of these works will include resurfacing and relining the road to make it ready for reopening. These will be done overnight, and information will be sent to residents likely to be affected by these works nearer the time.
Map of traffic flow during Phases 1-3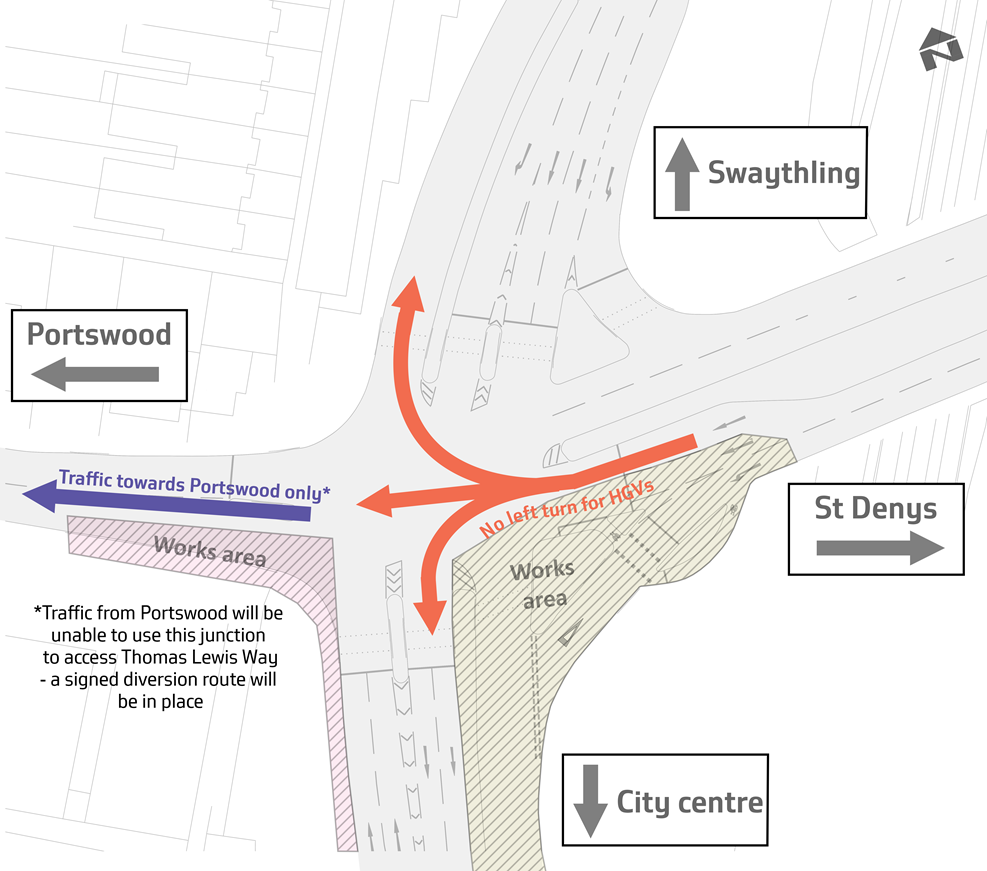 Phase 4 – Future planned works
A final phase is planned to extend the dedicated left hand turning lane from Thomas Lewis Way (southbound) into St Denys this will further reduce congestion for people travelling southbound. These works will take place separately to the the main junction improvements and impacted residents will informed of the dates and any traffic restrictions closer to the time.