Where: St Denys Road (A3035)
What: Improved facilities for walking, cycling and bus travel, junction changes and signal upgrades
Why: To support sustainable travel and improve traffic flows at key junctions
How: Funded as part of the

 Transforming Cities Fund

awarded in March 2020
As part of our Transforming Cities programme on the Eastleigh to Southampton corridor, a number of changes are proposed to improve St Denys Road (A3035). These include improved facilities for walking, cycling and bus travel; junction changes; and upgrades to traffic signals. 
The key elements of the overall proposal, as outlined the below map, are:
1) Replacement of traffic signals at the junction of St Denys Road with Belmont Road with new crossing points (including a zebra crossing); the bus stop will then be relocated to the western side of Belmont Road. As part of this implementation, Belmont Road between St Denys Road and Portswood Road would become one-way in the northbound direction. 
2) Provision of a westbound cycle lane on the St Denys Road approach to Portswood from the junction with Thomas Lewis Way. This will be westbound only due to insufficient width for an eastbound cycle lane.

3) Extension of the southbound (left turn) lane from Thomas Lewis Way onto St Denys Road and changes to signal stage order to reduce congestion. The pedestrian and cycle crossing on the southern arm would also be upgraded.

4) Implementation of signalised pedestrian crossings on all four approaches to the junction of St Denys Road and Priory Road to improve pedestrian crossing facilities in eastern St Denys.

5) Installation of protected cycle lanes on both sides of the St Denys Road carriageway between Adelaide Road and Riverside Park. To facilitate this, on-street parking on St Denys Road near Priory Road and Stanley Road would be removed, but parking would instead be provided on Stanley Road and also Priory Road.
We ran a survey in March 2022 to gather feedback on the proposals from local residents and commuters. 
To view the results click here.
Map of overall proposals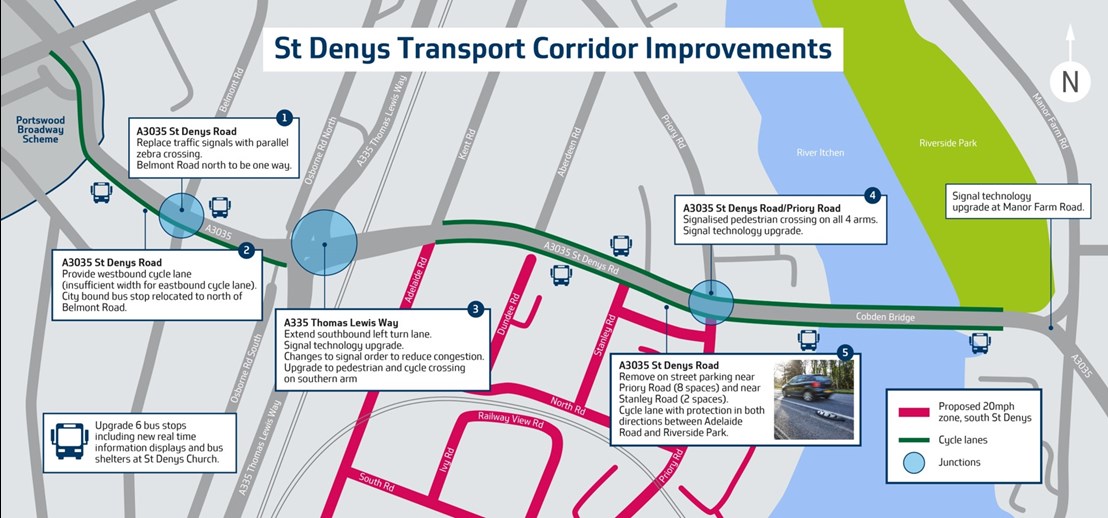 Map of proposed changes at St Denys Road / Belmont Road