Summary
Where:

 

Redbridge Road outbound, between Millbrook and Redbridge flyovers
When:

 

From Monday 11 November
What:

 

Resurfacing of Redbridge Road
Why: Improve the condition of the road and update the cycleway
Latest News
As part of Phase 3 - the resurfacing of the entrance to Old Redbridge Road and the cycleway - we will require the closure of the outbound slip road onto Redbridge Roundabout on Tuesday 26th and Thursday 28th November. The closure will be in place overnight from 8pm to 6am on both nights, however we will endeavour to complete the work as quickly as we can to minimise disruption.
The official diversion route will be via the Redbridge flyover and Rushington roundabout.
Lane restrictions on the outbound side will be in place on the Monday, Wednesday and Friday of that week with access to Redbridge Roundabout being maintained.
Please be advised that Highways England will also have an overnight southbound closure on the M271 including the slip road onto Redbridge Road from Monday 25th – Friday 29th November.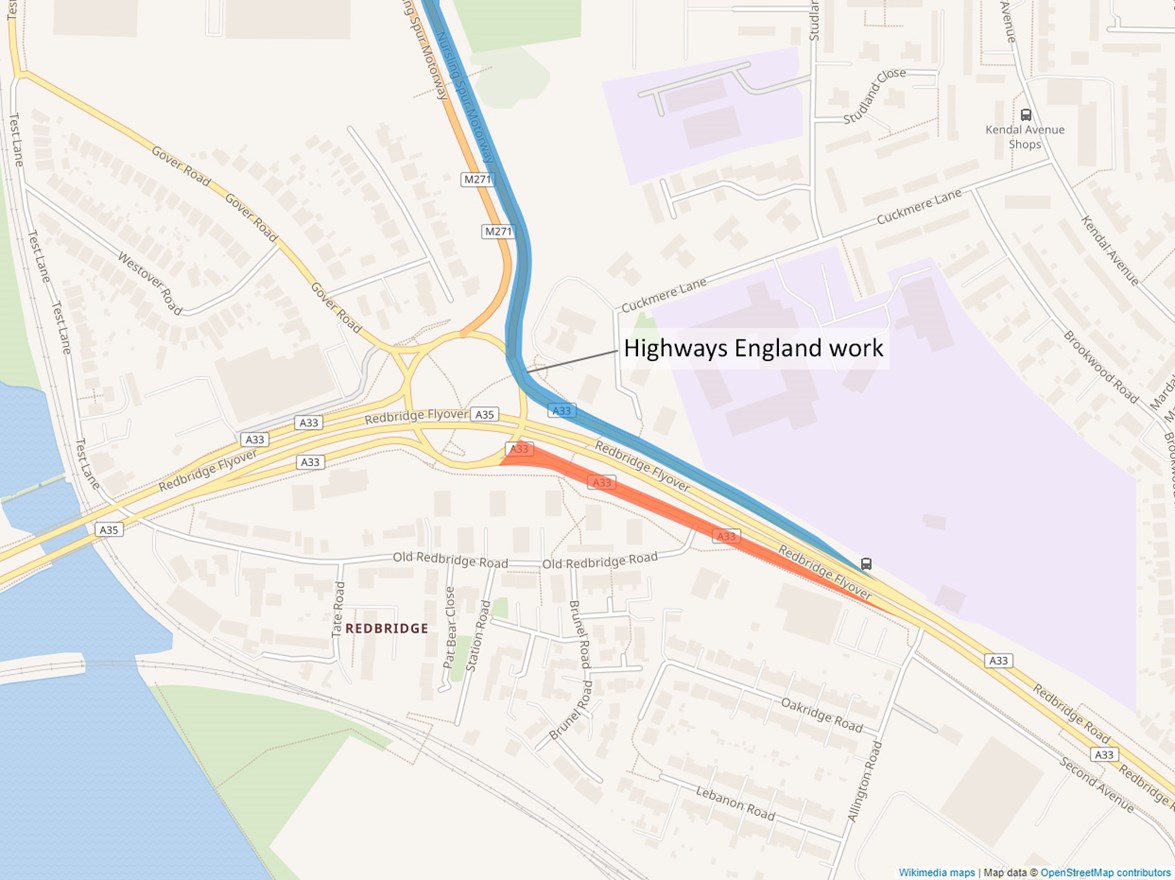 Project Details
Redbridge Road, between Millbrook flyover and Redbridge flyover, is being resurfaced on the outbound side. The work is planned to commence from Monday 11 November.
In order to carry out these works safely, we will be working overnight (between 8pm and 6am) scheduled as follows:
Phase 1
Monday 11 November - approximately 5 nights. To minimise disruption, some work will be conducted from 8pm until 10pm with lane closures in place. The road will then be closed outbound from 10pm until 6am each night.
On the Thursday 14th & Friday 15th November we will be resurfacing past Allington Road, meaning there will be restricted access to and from Allington Road. Access will be available via Second Avenue which will temporarily be 2-way with temporary traffic signals in place. As we resurface the Second Avenue junction and entrance to Porcelanosa, there will be delays whilst materials cool. We would advise limiting planned journeys after 10pm on these days.
Phase 2
Monday 18 November – approximately 5 nights. This will require lane closures on the outbound side whilst we carry out ironwork replacements.
Phase 3
Monday 25 November - approximately 5 nights. We will be resurfacing the Old Redbridge Road cycleway and carriageway. This will require lane closures on the outbound side, and the existing closure of Old Redbridge Road will be maintained for this work.
Signed diversion routes will be in place for Phase 1 and for access to Allington Road.