Summary
Where: Coxford Road, between Vine Road and Warren Avenue
When: Complete
What: Widening Coxford Road to improve hospital access and relieve pinch point
Phase 1: Revised dates: 1-3 July (8pm until 6am)
Diversion routes will cover all the main approach routes to the hospital and they will bring you in via Tremona Road or via the north end of Coxford Road. Hospital staff and ambulances normally using the Coxford Road entrance can enter via the Coxford Road exit (blue arrow). Taxis can reach the collection point at the front of the hospital in the normal way but will have to turn northbound when exiting onto Coxford Road (orange arrow).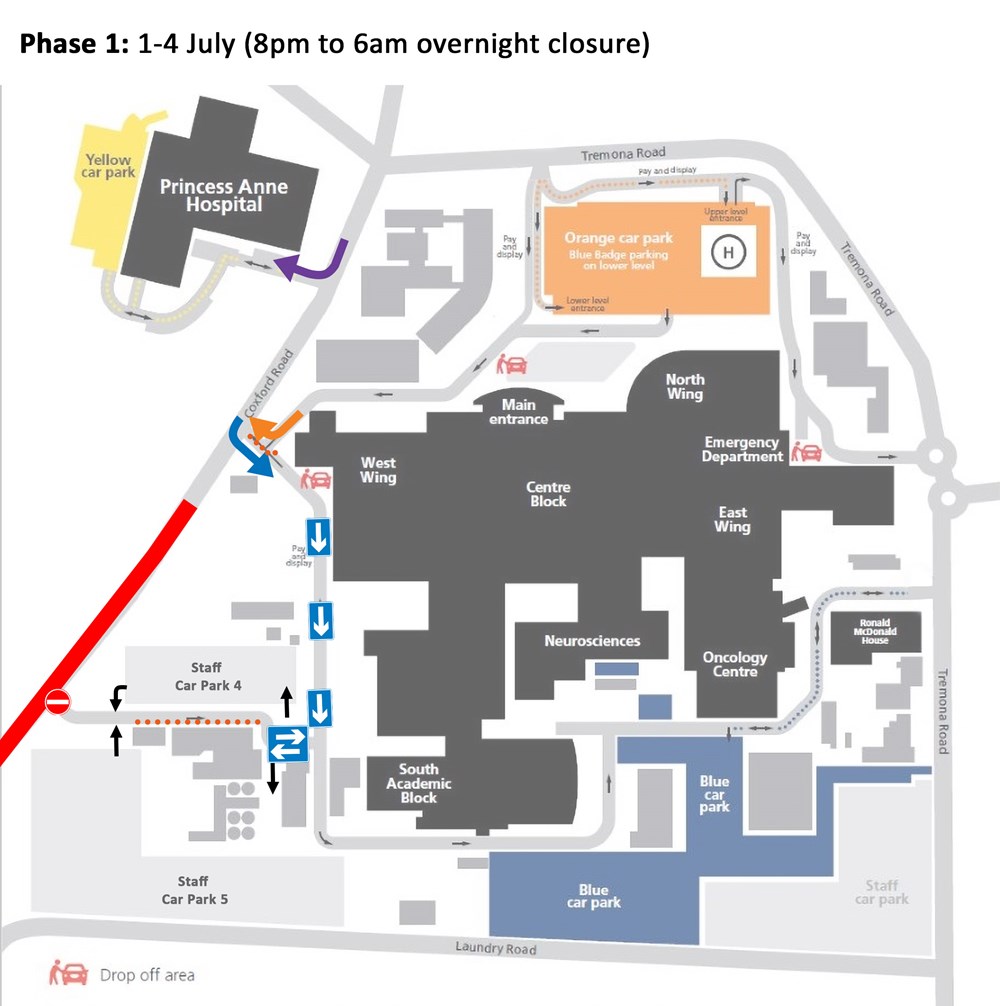 Phase 2: Revised date 4 July
As we are only replacing the very top layer of the road this can be completed in a single night, however this is the most weather dependant phase. Any delay will require an additional night closure. Staff, ambulances and taxi access will be via Warren Avenue and the Coxford Road entrance, following the orange arrows. Taxis can still collect from the Hospital front entrance but will exit onto Tremona Road. Visitors leaving the orange car park will also leave via Tremona Road.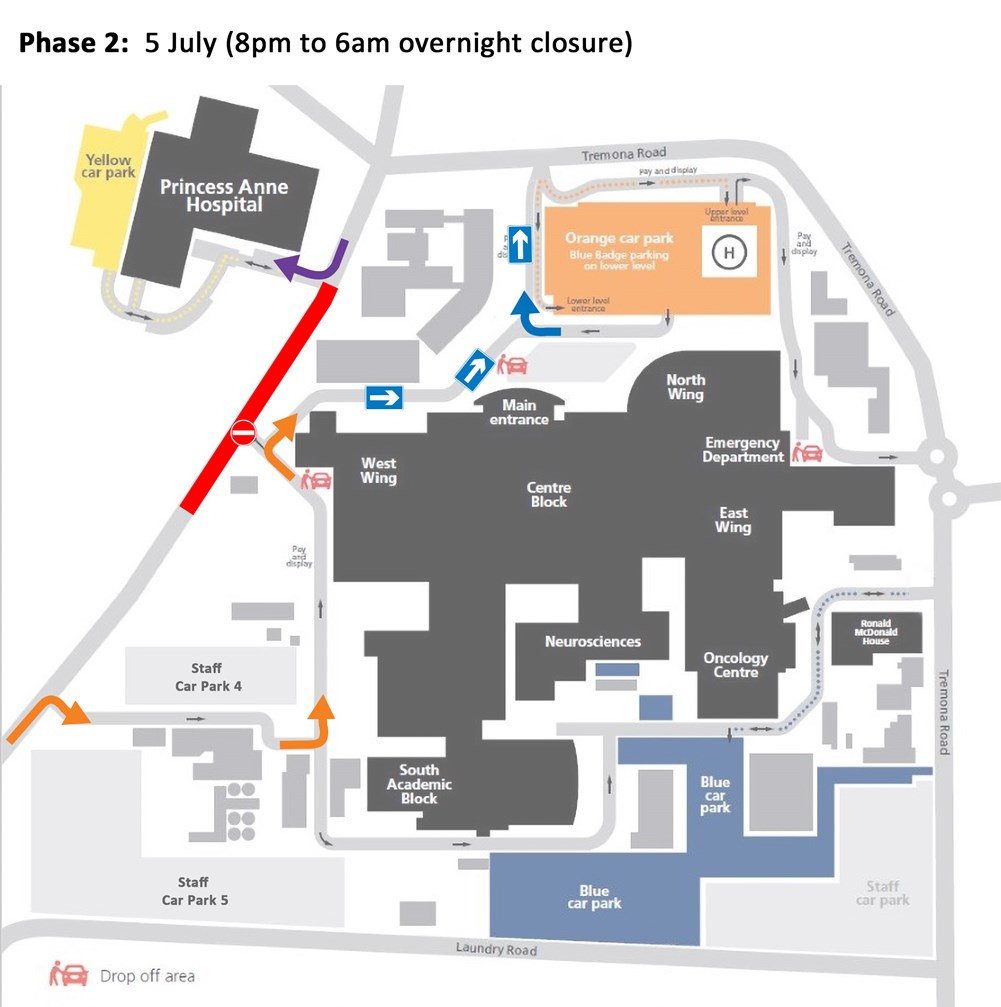 Phase 3: Revised date 5-12 July
This phase will take longer as we are also rebuilding several manholes to motorway standard at the junction of Tremona Road and Coxford Road which can only be done once the resurfacing is complete. The diversion for the General Hospital and Princess Anne overnight will be via Warren Avenue and the southern end of Coxford Road. Access to A&E will be via Dale Road or Warren Avenue and Tremona Road. There will be no diversion routes within the hospital and Taxis, staff and ambulances  can use their normal entrance and route through the hospital.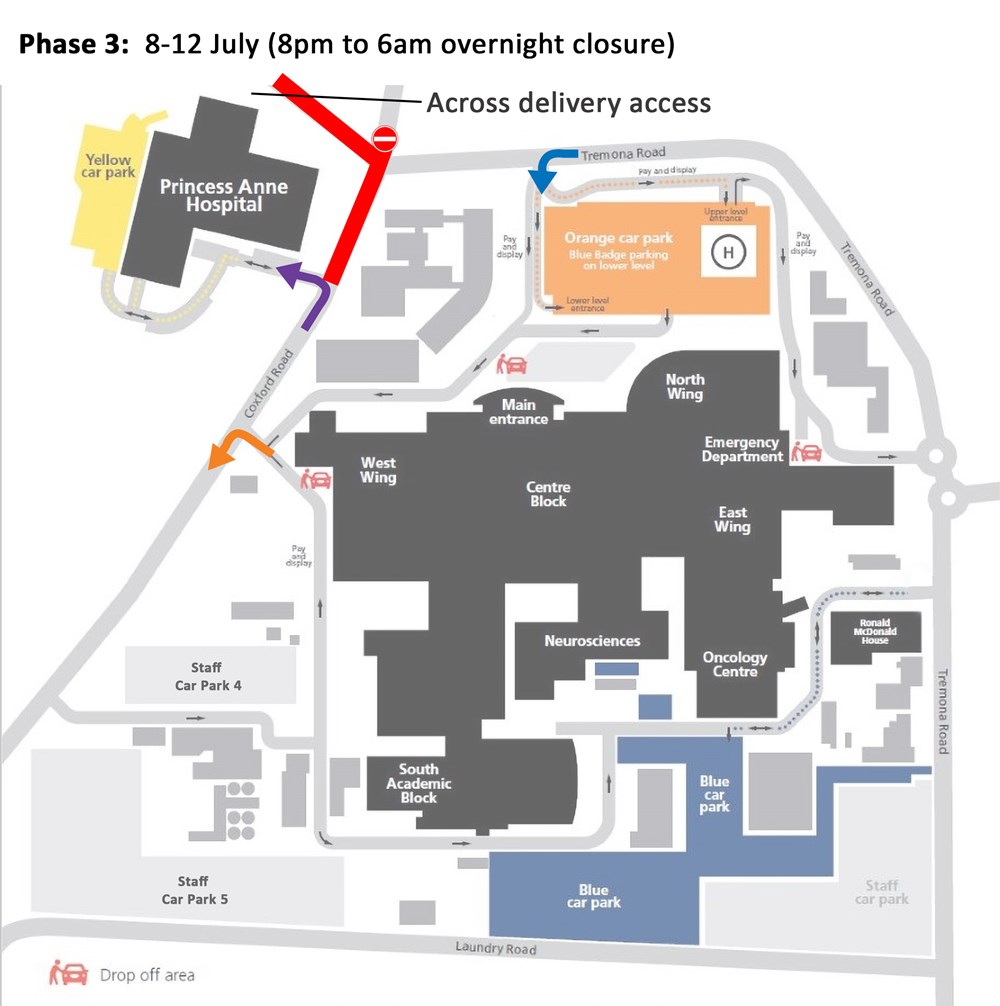 Project details
We are widening Coxford Road (between Vine Road and Warren Avenue) at the staff, deliveries and ambulance entrances to Southampton General Hospital. Work starts from 23 April for up to eleven weeks. In the last two weeks Coxford Road will then be resurfaced overnight from Warren Avenue up to and across the junction with Tremona Road. The works will require Coxford Road to be made one way for nine weeks and then to be closed overnight for resurfacing for two weeks.
The widening works involve the reconstruction of the existing parking layby to highway standards so that it can carry buses and heavy traffic. To retain parking for residents, a length of overgrown verge has been cleared and will have an interlocking structure inserted so that the grass area can support vehicles.
The widening is being funded by a developer contributions from the hospital after they completed their new multi-storey car park, the additional resurfacing is being funded from this year's road maintenance budget and will include the double roundabout on Warren Avenue and most of Springford Road.