Summary
Where:

 Hill Lane, between Burgess Road and Archers Road

When:

 June 2020

What:

 

Experimental cycle lanes in both directions along Hill Lane
Why:

 To facilitate safe social distancing
Latest News
Ahead of schedule, we have completed the work to remove the cycle lanes between Bellemoor Road and Burgess Road. The road is open and all traffic management will be removed on Thursday 11 February.
In addition to the planned works, we also refreshed the lining of the three junctions within our works area.
Details of works
In June 2020 we installed temporary pop-up cycle lanes in both directions along Hill Lane between Archers Road and Burgess Road. These were introduced on a trial basis to facilitate safe social distancing by providing a separate space for people cycling and an alternative route to The Common, which saw increased usage throughout the first national Coronavirus lockdown. The scheme has also provided valuable ongoing support for cycling, following a significant rise in active travel during this time.
We have continually and closely monitored these measures and the public feedback received while they have been in place. Our autumn review of the scheme found a fall in the number of people cycling in the area and reduced social distancing pressures in The Common on the approach to winter. Based on this and the input shared with us throughout this trial, we have taken the decision to reinstate parking on the eastern side of Hill Lane between Bellemoor Road and Burgess Road. This is set to include areas where drivers with blue badge permits will be able to park and load / unload.
In order to accommodate this, we will be removing the 700 metres of pop-up cycle lanes between Bellemoor Road and Burgess Road. People cycling north of Bellemoor Road can of course continue to use the off-road alternatives running alongside Hill Lane in The Common. A small section of cycle feeder lane will be kept at the approach to the Burgess Road junction for people cycling northbound, for cycle safety reasons.
We will be continuing to trial the 1.3km of cycle lanes between Bellemoor Road and Archers Road, which will remain in place under an Experimental Traffic Regulation Order. Please see below for details of how you can submit your feedback as part of this process.
Submitting feedback
To facilitate these changes the Experimental Traffic Regulation Order associated with this scheme will be modified. Experimental Orders allow for schemes to be trialled before a decision is taken on whether or not they are made permanent.
Any person may comment on or object to the Experimental Order being made permanent within six months of this modification (by 8 August 2021). Anyone comment or objection must be in writing stating the grounds on which it is made, quoting the Order title and sent to the Highways Legal Team at Southampton City Council, Civic Centre, Southampton, SO14 7LY or via email to Traffic.Orders.Legal@southampton.gov.uk.  Copies of the Orders, maps and statement of reasons for proposing can be emailed or posted on request.
Project details
Temporary cycle lanes have been installed in both directions between Burgess Road and Archers Road. On-street parking between Raymond Road and Burgess Road has been suspended to accommodate this change. This is providing a safer, more spacious environment for people walking and cycling along this popular route with important links to Southampton General Hospital, local schools and the city centre. Please read the FAQs for more details on this scheme and the one month review of the scheme that took place on 28th July 2020 and the three month review of the scheme that took place in October 2020.
When accessing the Common, vehicles can park down Cemetery Road.
Hill Lane before: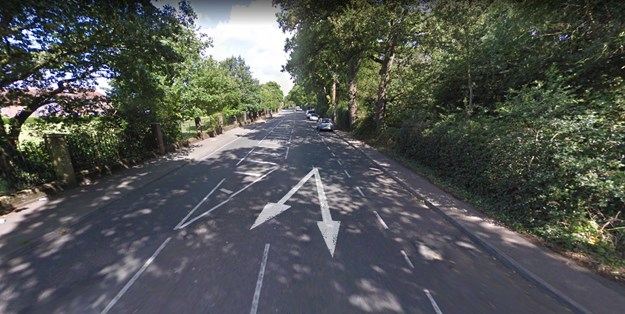 Hill Lane after installing cycle lanes: