The government published its National Bus Strategy for England 'Bus Back Better' in March 2021, requiring Local Authorities to work in partnership with bus operators to create plans for improving their local bus services and encouraging more people to use them. The strategy comes with the promise of £3 billion in funding across England to support this.

In response to the requirements of the National Bus Strategy, Southampton City Council will be pursuing an Enhanced Partnership with our local bus operators and stakeholders.  A Notice of Intent was agreed in June 2021 and we have now published our Bus Service Improvement Plan (BSIP) for Southampton, in collaboration with the City's bus operators, and other stakeholders.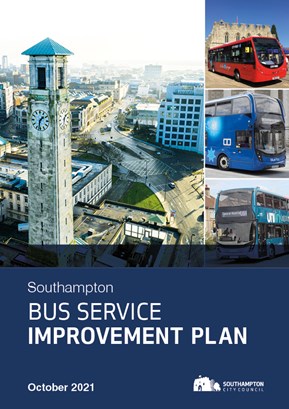 Bus Service Improvement Plan Survey
In drafting the plan, it was important for us to know what people think would improve local bus services and what would encourage them to use local buses more. We conducted a survey in August 2021 to hear from people who already use buses and from those who currently don't, as well as from public, private and voluntary organisations who have an interest in local bus services and making them work better.  Below is a summary of the survey results (click images to enlarge):  
 We are now working on the Enhanced Partnership with further public consultation to come soon.