What is an Active Travel Zone (ATZ)?
An ATZ is a residential area, bordered by main roads (the places where buses, lorries, non-local traffic should be), where "through" motor vehicle traffic is discouraged or removed. Strategic road closures (like bollards or planters) prevent through traffic and rat running. Every street is still accessible by vehicles.
Why does Southampton need Active Travel Zones?
Streets in many residential neighborhoods in Southampton are treated as short cuts by drivers avoiding main roads. This traffic often dominates, as vehicles take priority over all other road users and residents, and drivers using it as a shortcut may be more likely to speed. In some streets, traffic data and residents report speed and volumes are at unacceptably dangerous levels, making active travel scary, streets noisy and unattractive and making it hard for neighbours and children to socialize.  
Where is the funding coming from?
This funding comes from the Department of Transport's Transforming Cities Fund. In March 2020, Southampton City Council, in partnerships with Hampshire County Council, was awarded £57M to deliver an ambitious package of transport improvements. The full bid is available here.
As this is grant funding, it has to be used specifically for an Active Travel Zone and can't be used for other transport schemes or other council services.
What about emergency services?
As part of the engineering process, engineers and transport planners review designs to ensure the emergency services can still access all the properties.
Will I still be able to travel by car to my house?
Every residential property will still be accessible by car, by the emergency services, by delivery vehicles and refuse trucks, although some residents may have to take a slightly longer route.
How was St Denys chosen?
We worked with a data specialist to identify residential areas across the city that would benefit from an ATZ. This process looked at the layout of the streets and local amenities and whether the measures which could be added as part of an ATZ would help more residents walk and cycle. The process also looked at the likely benefit that an ATZ would have on congestion, safety, health and wellbeing.  
Why does St Denys need an Active Travel Zone?
Residents reported to us that several roads in St Denys have high levels of traffic and that their local streets feel too dangerous to walk and cycle, the environment feels noisy and the air feels polluted.  
We also carried out traffic surveys that found that there are high numbers of vehicles using some of the residential roads.
How did you decide which measures were proposed for St Denys? What consultation has there been with residents?
All St Denys residents were invited to complete the Your St Denys Your Say survey in December 2019, to identify what you like and don't like about your neighbourhood. We received nearly 1000 contributions and the key concerns were traffic, safety and air quality.
In February and March, we held four co-design workshops, which were attended by over 100 St Denys residents who worked with our engineers to develop ideas and find solutions to those key concerns. The feedback from the survey and suggestions from the workshops were then analyzed by our transport officers to identify the most popular suggestions. Our engineers also looked at which of those suggestions could be put in place, considering the budget, road widths, and other constraints. Detail on what was and wasn't taken forward can be found in these pages.
Where can I see the results of surveys and workshops?
When and where can I see the final designs?
All the proposals are currently undergoing full cost analysis and detailed design. When this process is completed the designs can be seen. Early illustrations of what the measures will look like are on this map.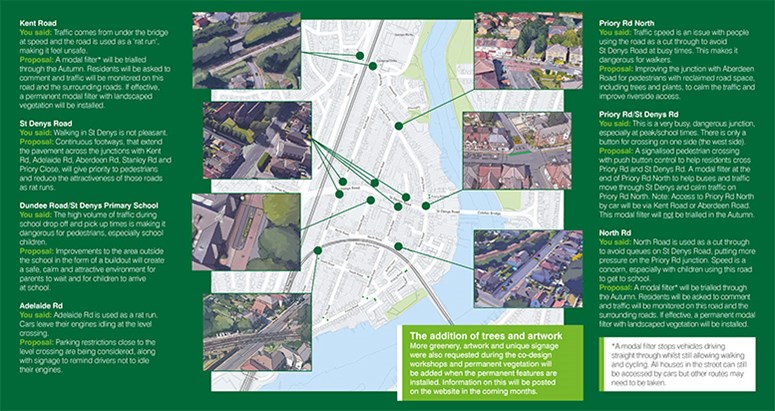 When will I see these measures built?
The temporary modal filters are currently planned to be installed in the early autumn (October) on Kent and North Road. They will be reviewed after 6 months.
We will install the other measures over the next 10 months, the first measures are currently planned to be installed in December. The exact timings for when and what will go in where will be dependent on a number of different factors including: the next phase of cost analysis, detailed design and formal consultation from residents. Dates will be added to the website when available and residents directly affected will be contacted by post.
Why are the modal filters temporary initially? What happens if they don't work or cause problems for surrounding roads?
The modal filters will be installed temporarily in autumn 2020 so that we can monitor whether they achieve their aim of creating safer, less polluted, calmer streets.
Once the filters are installed, formal consultation with residents will start and residents will have 6 months to formally provide feedback on whether they should remain in place.
During this period, staff will also monitor the traffic makeup (cars, vans, pedestrians and bikes) speed and volumes on Kent Road, North Road and the surrounding streets. Residents will be asked to complete surveys about their experiences living and using the streets as the changes are added.
Where can I leave my feedback about the St Denys Active Travel Zone proposals?
Please send your questions or feedback on the schemes to the Green City and Infrastructure team by 11th September 2020.
Email: ATZ.StDenys@southampton.gov.uk
Tel: 02380 833 926 (Mon-Thurs)
Post:
      St Denys ATZ, Green City and Infrastructure,
      Southampton City Council
      3rd Floor One Guildhall Square,
      Southampton, SO14 7FP