Latest news
The main work on Inner Avenue inbound is nearing completion, with surfacing and lining of the main road planned from 10 June (weather permitting). 
Overnight resurfacing Inner Avenue Inbound from 10 June
Overnight resurfacing of Inner Avenue inbound continues to be affected by the weather conditions this week, as a result we will be carrying out work tonight Friday 14 June and Monday 17 June overnight to complete the resurfacing and lining. This will require the closure of Inner Avenue inbound from Lodge Road to London Road (weather permitting). 
Diversion routes will be in place during the closure. Pedestrian access will be maintained throughout. Please bear with us, we will make every effort to minimise disruption and to complete the works as quickly as possible.
Coloured imprinted crossings at junctions
Work starts from Monday 17 June (weather permitting) with the laying of a coloured textured surface where pedestrians cross to the new bus stops and across the junctions of at Rockstone Place, Archers Road, Padwell Rd and Middle St. Each junction will be closed for approximately two hours off peak to undertake the work. Only one junction or one bus stop will be closed at a time. The coloured surface is there to help clarify that pedestrians have priority crossing the junctions over road vehicles.
Cycle lane delayed opening
The new cycle lanes are being kept closed until 1 July until the coloured imprinted surfaces have been laid across the junctions of Rockstone Place, Archers Road, Padwell Rd and Middle St.
Dorset Street cycle lane and proposed toucan crossing
The proposed new toucan crossing and the removal of the existing subway across Dorset Street has not yet been finalised but depending on the outcome of the consultation work on the crossing and the shared cycle way down to and across Lyon St and up to Bellevue Terrace is hoped to commence from September 2019. We will be writing to those residents directly affected by these works closer to the time.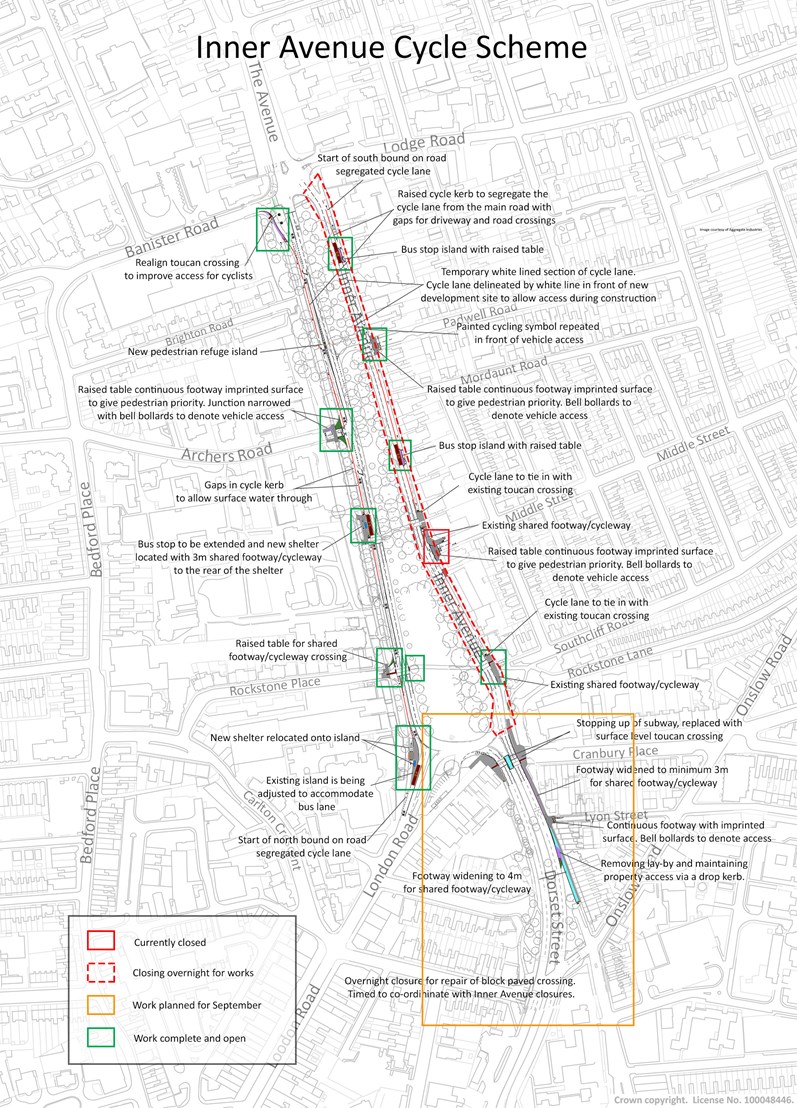 Project details
As part of our ten year cycling strategy to develop the Southampton Cycling Network (SCN), we will begin work this month on a £1.4m project to create new continuous, safe and segregated cycle paths along both sides of Inner Avenue.
These will be the first 'Copenhagen style' segregated cycle lanes in Southampton, where cyclists will be completely separated from traffic and pedestrians. This will be a key improvement as part of the SCN5 Northern Cycle Freeway with the new lanes extending from Lodge Road to Charlotte Place southbound and from London Road to Banister Road northbound (see link to map at the bottom of this release). The SCN5 Northern Cycle Freeway will go from the City Centre to Chandlers Ford when complete.
Works phases
Works are planned in several phases that started on 11 February at the junctions of London Road, Rockstone Place and Archers Road (please see map above). The whole programme of work is expected to take up to 20 weeks to complete, weather permitting.
The works will require changes to four bus stops and the inclusion of a proposed additional toucan crossing to replace the existing subway on Dorset Street.
There will be improvements to crossing points and continuous footways over the side roads onto Inner Avenue to provide safe crossings for pedestrians and cyclists.
During most of the construction Inner Avenue will have two lanes open but with the northbound bus lane temporarily closed. By the end of the construction the new segregated cycle lanes will sit on the left of the road southbound and the bus lane northbound.
Advance warning signs will go up ahead of each phase of work. When a bus stop is closed please check information at the stops to see which bus stop you will need to use in the interim. Some elements of the scheme are subject to additional consultation and notices will be posted on street where appropriate.
This £1.4 million scheme is funded through the Local Transport Plan and DEFRA's Joint Air Quality Unit Clean Air Zone funding. This is a significant step for the city in developing safe and direct facilities for people to cycle in and support more people to get around actively.