Latest news
Inner Avenue cycle freeway 
Inner Avenue cycle freeway was completed and opened in June 2019.
Dorset Street cycle lane and toucan crossing
Work on the widened cycle way from Bellevue Terrace to Cranbury Place ran into difficulty with the discovery of gas services just below the surface. This meant the releveling of the footway had to be postponed. Work is now continuing along Bellevue Terrace, but the initial section at the southern end will need to be revisited once a plan is agreed for the shallow gas services.
Meanwhile work on the subway stopping up is progressing. The subway is being initially filled with giant polystyrene cubes which will be set in place by pumping in a concrete foam. The result is a water tight space but with a fraction of the materials needed if the subway had been completely filled with concrete foam. Work on the Toucan crossing is also progressing. However due to the earlier delays to the programme this phase of work is likely to continue until the end of November.
New plans for College Place Car Park to provide a cycle link from the new Dorset Street Toucan Crossing to London Road are being finalised and work is expected to start once Dorset Street has completed. More details are expected to be available shortly.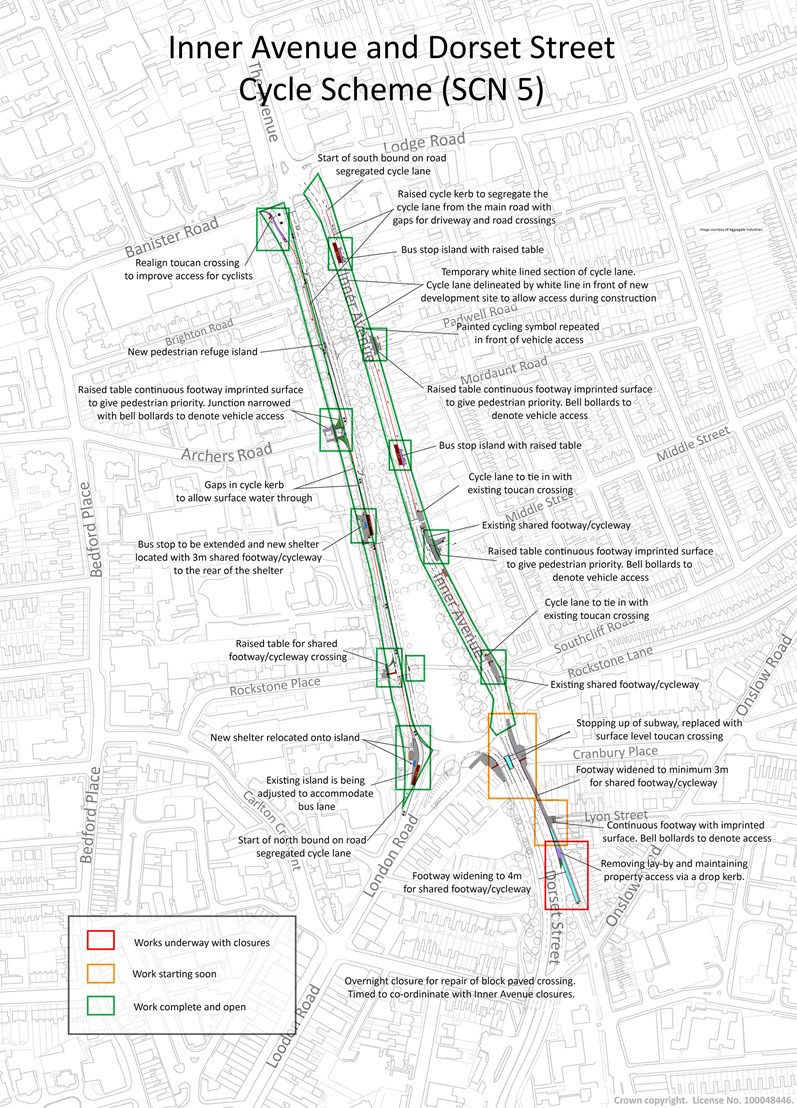 Project details
As part of our ten year cycling strategy to develop the Southampton Cycling Network (SCN), we will begin work this month on a £1.4m project to create new continuous, safe and segregated cycle paths along both sides of Inner Avenue.
These will be the first 'Copenhagen style' segregated cycle lanes in Southampton, where cyclists will be completely separated from traffic and pedestrians. This will be a key improvement as part of the SCN5 Northern Cycle Freeway with the new lanes extending from Lodge Road to Charlotte Place southbound and from London Road to Banister Road northbound (see link to map at the bottom of this release). The SCN5 Northern Cycle Freeway will go from the City Centre to Chandlers Ford when complete.
Dorset Street work phases
As part of the council's commitment to improving sustainable travel and developing Southampton's Cycle Network; the cycle route from Inner Avenue is being extended along Dorset Street from Cranbury Place to Bellevue Terrace by widening the footway for a shared footway-cycleway. These works will include the stopping up of the subway at the north end of Dorset Street which will be replaced with an above ground toucan crossing at the same location. Works are planned in two phases starting from Monday 23 September for approximately 8 weeks. (See Map)

Phase 1: Bellevue Terrace to Lyon St.
From 23 September for three weeks we will be widening the footway for shared use. From the beginning of works Dorset Street southbound lane one will be closed to create a working area and pedestrian access will only be maintained for residents. All other pedestrians will be diverted via the subway to the west side of Dorset Street and the crossings at Onslow Road. From 26 September access to the subway will be closed permanently and a temporary crossing over Dorset Street will be provided next to the subway until the new Toucan crossing is complete.
Bellevue Terrace: from 23 September for two weeks. Suspension of short stay parking for material and machinery storage. Closure of the footway with access for residents only.
Layby between Lyon St and Bellevue: closed permanently from 23 September. The layby is being removed as part of the footway widening but a dropped crossing will be provided in the finished scheme to maintain access for No12 Dorset Street.
Lyon Street junction with Dorset Street: closed from 30 September for up to two weeks. Work at this location will require the temporary closure of the exit from Lyon Street to construct an enhanced raised shared use crossing for pedestrians and cyclists. To maintain access Lyon Street will temporarily be made two way with the exit and entrance at Onslow Road.
Phase 2: Dorset Street subway closure and new toucan crossing
Works start from 7 October for up to 5 weeks. Work at this location is to in fill the subway and build a new surface level toucan crossing at the same location. The area where the subway access was, will be repaved as a shared use area on both sides.
Cranbury Place: from 7 October for up to 5 weeks. Suspension of short stay parking for material and machinery storage
This £1.4 million scheme is funded through the Local Transport Plan and DEFRA's Joint Air Quality Unit Clean Air Zone funding. This is a significant step for the city in developing safe and direct facilities for people to cycle in and support more people to get around actively.