Summary
Where: Inner Avenue & Dorset Street
When: Phase 2 - 23 September for 8 weeks
What: Creation of segregated cycle lanes
Why: Encourage active travel and make cycling and walking a safer, more attractive experience
How: This £1.4m scheme is funded by Government through DEFRA's Joint Air Quality Unit Clean Air Zone Funding, with additional funding from Southampton City Council's Local Transport Plan
Latest news
Inner Avenue cycle freeway was completed and opened in June 2019. Works on Dorset Street to fill in the underpass and create a new toucan crossing at the same location are nearing completion, with just the power supply to the new crossing and testing of the new signals to be undertaken in January. Work to widen the footway from Cranberry Place to Bellevue Terrace is complete except for a short section at the end of Bellevue Terrace where we discovered gas services too close to the surface to make any changes. We are working with British Gas Network to find a solution; we plan to return later this year.
Additional plans for College Place Car Park, to extend the cycleway from Dorset Street to London Road, are being finalised. We will write to those affected in the coming weeks, once a programme of work is agreed.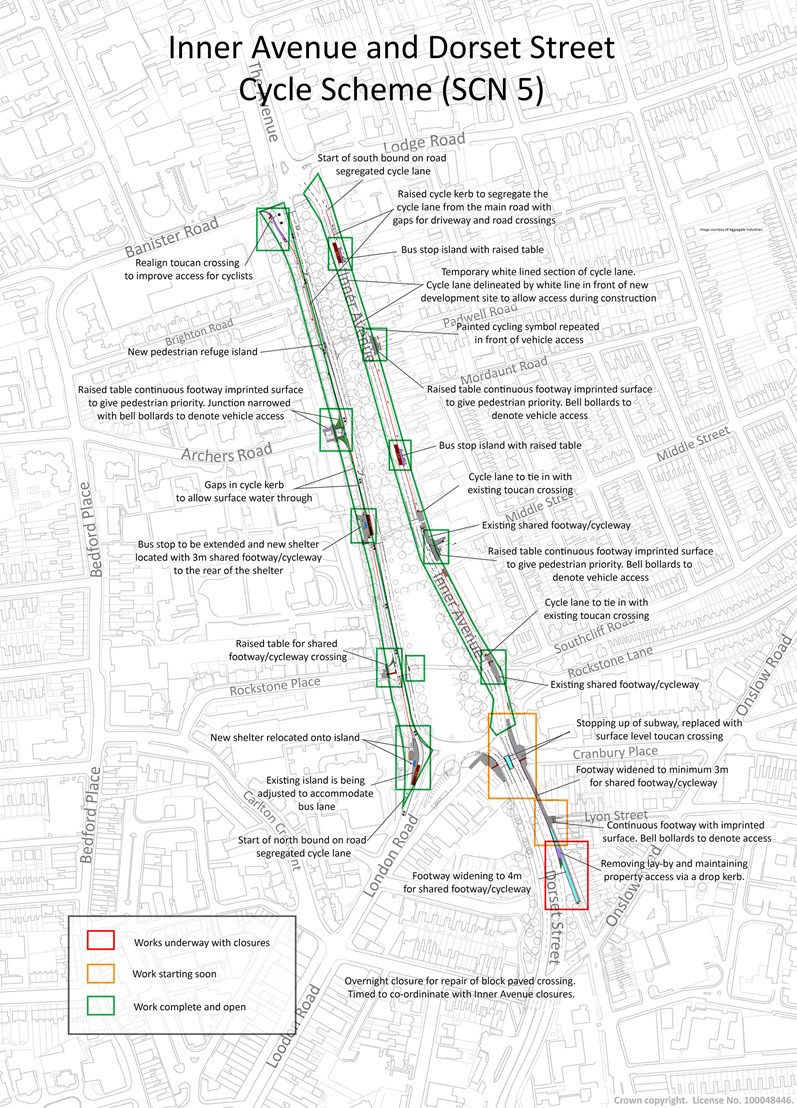 Project details
This scheme is part of our ten year cycling strategy to develop the Southampton Cycling Network (SCN) and create new continuous, safe and segregated cycle paths along both sides of Inner Avenue that continue along Dorset Street and link to London Road.
The Inner Avenue is the first location to get 'Copenhagen style' segregated cycle lanes in Southampton, completely separating cyclists from traffic and pedestrians. This is a significant improvement for the SCN5 route which forms the Northern Cycle Freeway with the new lanes extending from Lodge Road to Charlotte Place southbound and from London Road to Banister Road northbound. The SCN5 Northern Cycle Freeway will go from the City Centre to Chandlers Ford when complete.
The Local Transport Plan and DEFRA's Joint Air Quality Unit Clean Air Zone provided the £1.4m funding for this scheme. This scheme has been a significant step for the city in developing safe and direct facilities for people to cycle in and support more people to get around actively.