Summary
Where: Woolston and Itchen area
When: Summer 2021-Spring 2023
What: An Active Travel Zone
Why: To create a better environment for everyone by identifying and making some small changes to the streets and roads that will improve walking and cycling for short journeys.
How: Funded as part of

a Transforming Cities Fund

awarded in March 2020
Latest News
Below are the latest updates from the Woolston and Itchen Active Travel Zone project. You can also sign up for news updates via our Woolston and Itchen bulletin below.
Sign up to our Woolston and Itchen bulletin
August 2022
Designs for improving the Woolston and Itchen area for walking and cycling are now available.
We are keen to hear your views on the proposals and invite you to complete the public consultation questionnaire at:
yourcityyoursay.southampton.gov.uk/woolston
The survey is open until 14 September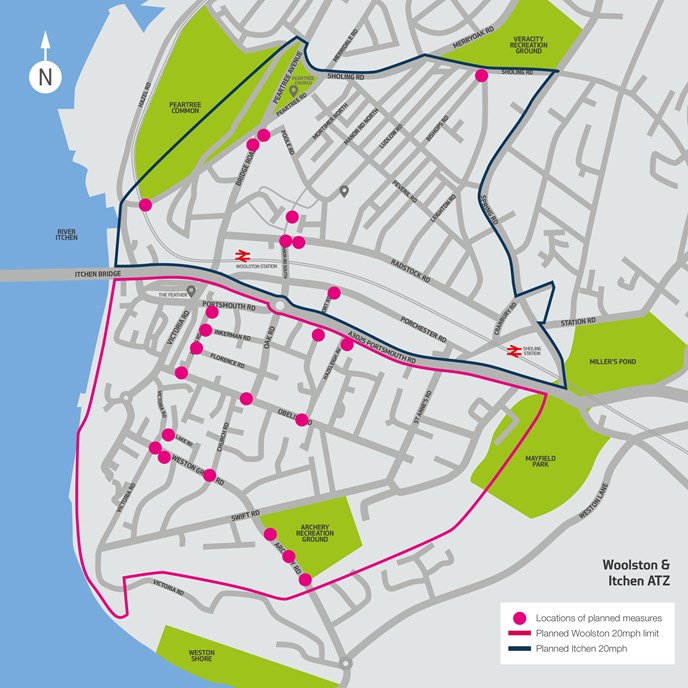 Following the sad announcement of the passing of Her Majesty the Queen Elizabeth, our event on Monday 12 September has been cancelled, as it falls in the period of national mourning. 
January 2022
Co-design workshops
We held eight co-design workshops between 8 and 19 January, for local residents to get together to discuss potential solutions to the issues affecting walking and cycling in their local area. Discussions focused on the 17 streets which had generated the most feedback during the perceptions survey. You can see a summary of the feedback from the survey, along with a summary for each street (grouped into four areas) via the links below. During the co-design workshops, some of which were held online and some in local venues, 110 local residents worked together in small groups. The ideas and suggestions we have received, will now be assessed by our designers regarding feasibility and we will be able to share the proposals for consultation with the local community in the summer. 
Feedback from the Perceptions Survey
Woolston and Itchen ATZ project overview
Summary of perceptions survey for NORTH WEST key locations (Bridge Road, Peartree Road and Peartree Avenue)
Summary of perceptions survey for NORTH EAST key locations (Bishops Road, Radstock Road, Manor Road South and Porchester Road)
Summary of perceptions survey for CENTRAL key locations (Portsmouth Road, John's Road, Inkerman Road, West Road and Obelisk Road)
Summary of perceptions survey for SOUTH key locations (Victoria Road, Vosper Road, Weston Grove Road, Swift Road and Archery Road)
December 2021
We have released dates for our co-design workshops in January 2022. These will provide an opportunity to discuss in more detail the issues that have been raised in the recent perceptions survey, and work with the local community to identify potential solutions to these.
November 2021
As you know, we've been busy analysing all of your feedback from our recent Woolston and Itchen Active Travel Zone survey and we now wanted to share some of the key headlines that we've pulled out from this.
In total, 640 respondents made 2,936 contributions. These comprised of 826 comments and 2,110 agreements. Of those that responded, 72% live in the area they commented on.
What you told us
Your comments covered everything from signage to cycling. The top five suggestions for Active Travel Zone improvements which received the most agreements were:
• Traffic calming
• Pedestrian crossings
• Parking restrictions
• One-way systems
• 20mph speed limits
You commented on numerous locations across both Woolston and Itchen. The top five locations for Active Travel Zone improvements which received the most agreements were:
• Obelisk Road
• John's Road
• John Thornycroft Road
• Peartree Avenue
• Weston Grove Road
You also shared lots of feedback with us about issues not directly related to the Active Travel Zone project. We've gone through those with the most agreements and pulled out more than 170 comments about a range of issues including resurfacing, street cleaning, vegetation maintenance, encouraging business and more. We've shared these with the relevant council departments for them to look into further.
If you have any further comments or questions about the area that you'd like to contact the council about, the following links may be useful:
• Report a road maintenance issue
• Report a street cleaning issue
• Report overhanging vegetation
What's next?
The above issues and locations offer just a brief snapshot of the priorities that we have now identified after having analysed your feedback. As previously mentioned, we'll be running a series of co-design workshops where we'll be working with you to look in more detail at the most important issues and develop potential solutions to these. We are looking to hold these in January (postponed from the end of this year) and will be in touch at a later date to confirm dates and how to book your place.
In the meantime, keep an eye out for future updates and encourage any of your friends, family and colleagues in the area to subscribe for the latest news here.
August 2021
Our recent perception survey received 2,936 contributions. We are in the process of analysing all the feedback with the view to hosting workshops later this Autumn to decide on the design solutions people would like to see. We then need to investigate the feasibility of these and come back with a proposal. The plan then is to implement the changes in the first half of 2022 - see below for more details.
Project details
What is an Active Travel Zone?
Active Travel Zones are neighbourhoods that encourage active travel through a range of measures which calm or discourage traffic and instead prioritise people walking and cycling. 
Local businesses, schools and people living and working in the area are instrumental to the process of developing an Active Travel Zone. With this in mind, we'll be working closely with the community in Woolston, Itchen and surrounding neighbourhoods to develop a range of schemes to shape the area so it is easier to walk and cycle, particularly for local journeys. 
We recently ran a survey inviting residents and businesses in the Woolston and Itchen area to share their perceptions of the local area and help us identify improvements that will reduce traffic; create more attractive, liveable streets; and enable people to get around more easily, safely and sustainably in their neighbourhood. 
This survey ran for a period of six weeks and received 2,936 contributions, including 826 comments and 2,110 agreements.
What next?
Analysis of the perceptions survey is now underway and will help us to identify the key concerns and locations to be addressed in the local area. We will then hold co-design workshops later this year, where residents will work together with us to develop solutions to the challenges highlighted in the survey. 
We will use the findings from these workshops to create detailed designs for the local area which we will then consult on and deliver. Please refer to the graphic at the bottom of this page, which outlines the timelines we expect to work to for each stage of the project. 
Other plans in and around your area
As well as gathering views on Woolston, Itchen and surrounding neighbourhoods, we will also be seeking your feedback on other emerging proposals in your area. These include proposals for a Local Mobility Hub in Woolston - you can find out more here.
We will treat these other projects as individual schemes and will engage on these separately from the Woolston / Itchen Active Travel Zone. 

___