What are the aims of these proposals? 
We want to create a more attractive and safer District Centre. The proposals include significant bus priority upgrades, improved facilities for cycling, walking and e-scooting and reducing the amount of through traffic on Portswood Broadway. This will result in a greener, more pleasant environment for everyone living, working, studying and spending time in Portswood.   
Why was Portswood Broadway chosen?  
Southampton City Council is working hard to roll out a programme of District Centre improvement projects across the city. Portswood Broadway is part of this programme. With all its shops and cafes, this area has a high amount of footfall and reducing through traffic at this point will have a considerable benefit for users of the Broadway. It will allow us to improve public space, increase the use of sustainable travel to and within the area, improve air quality and increase road safety.  
Where is the funding coming from?  
This funding for this project comes from the Department for Transport's Transforming Cities Fund. In March 2020, Southampton City Council, in partnership with Hampshire County Council, was awarded £57M to deliver an ambitious package of transport improvements. Full details of the bid can be found HERE and an overview of the schemes HERE. 
Will I still be able to drive to the area to come shopping? 
Yes, you will. Access will be maintained to the Sainsbury's Car Park to the north of the proposed work and to the South you will still be able to access Westridge Road Car Park. We will be improving access, lighting and safety in the Westridge Road Car Park as part of these proposals. A review of on-street loading bays will also be carried out as part of the project.  
Can we add more green space along the Broadway?
We are proposing additional green space, along with more benches and seating. The introduction of bee-friendly bus stops will also help improve biodiversity. The aim is to make this a more pleasant space to shop, enjoy and meet people.   
What do these plans do for people with disabilities?  
The proposals include additional and continuous footways, allowing better access for people walking or wheeling. We will also be providing disabled parking bays next to St Denys Road for people who need to drive.  
Won't restricting the traffic along the Broadway push traffic into other areas?  
We are currently upgrading and increasing capacity along Thomas Lewis Way (A335). There will be over £1 million of investment to reduce pinch points, ensure traffic signals operate more efficiently and improve driver information with electronic message signs. This will allow the through traffic to shift to this route without causing additional delays.   
Along with these measures we are also proposing a new Active Travel Zone (ATZ) in the Highfield area, to prevent rat running and diverted traffic along these streets. We have also proposed changes to Belmont Road to address concerns in that area. To find out more about the Highfield ATZ click HERE. 
What are you doing to help people who choose to cycle?  
People who choose to cycle will still be allowed to cycle along the Broadway, as they currently do. It is our hope that, by providing more protected spaces, more people will take up this sustainable alternative to the motor car. We will also be providing additional protected spaces at junctions, advanced stop lines and are considering a secure cycle parking facility as part of the proposed transport hub. 
How will deliveries for local businesses work?  
Loading and deliveries are important, and we will continue to engage with local businesses to ensure their needs are met. Following this consultation, should we decide to proceed to a detailed design phase, loading and delivery needs will be incorporated into any final designs.  
Can we spend this money on something else?  
No, the money was awarded from the Department for Transport for this area only.  
How can I find out more about the Portswood Corridor Scheme?  
We are running two public open days on the corner of Portswood Road and St Denys Road (next to Trago Lounge) on:  
4 November 2022, 1.30pm – 4.30pm 

 

5 November 2022, 10am – 1pm 

 
You can also email us at portswoodcorridor@southampton.gov.uk with any questions.  
What consultation will there be with residents?  
The public consultation questionnaire for the Portswood corridor - including Highfield ATZ - is available online until Friday 11 November 2022.   
In addition to this, two public consultation events are happening on 4 and 5 November 2022, on the corner of Portswood Road and St Denys Road next to Trago Lounge.   
Once the survey has closed, we will review and analyse all feedback from the consultation questionnaire and events. If we decide to proceed with the proposals, we will then enter a more detailed design phase for the scheme. The public and local stakeholders will again be consulted on the plans. 
What is a local travel hub?
A local travel hub is a series of travel options located close to one another that are designed for user convenience and to encourage more sustainable travel choices.
Options for local travel hubs in Southampton are currently being investigated. Options could include cycle parking, cycle hire, a bike maintenance hub, electric vehicle charging points, electric vehicle hire, disabled parking, public green space and a micro freight hub to support local deliveries. E-scooter hire is also an option as part of local trials.
What engagement has there been to develop these proposals?
The Transforming Cities programme has been shaped by a number of council policies, such as the council's local transport plan, Connected Southampton 2040, and the Cycling Strategy 2017-2027. These policies have been developed in consultation with residents, businesses and people working or visiting the city.
More recently, we conducted a survey of local residents to understand how people travel in and around the area which has helped to inform some of our early designs. We presented our findings in early December and started to show some of our developing ideas in January.
More details on the aspirations for the area are set out in the Transforming Cities Fund bid, which is available on the TCF page on our website.
The pavements on many of the roads in the area require repairs. Would this be included in the project?
Transforming Cities Fund money has been allocated to make improvements to transport infrastructure in the local area and cannot be used specifically for maintenance issues such as road resurfacing.
Have you identified sites for "parklets" that would traffic calm and improve residential amenity?
We will be reviewing improvements to the main Portswood corridor and the adjacent residential roads on a case by case basis and through further consultation. These may include "parklets", 20mph zones, widening of footways and improved crossing facilities
What is the legal position regarding the use of e-scooters with regard to using roads, cycle lanes and pavements?
Only hire E-scooters are legal to use. They will need to be used on the road or cycle lanes.
E-scooter hire trials are currently in place in Southampton.
What is the link to sign up for the newsletter?
What does "25% through traffic" mean and where does that data come from?
In the consultation documents, we state that 25% of traffic in the area is through traffic along Portswood Road. Through traffic means vehicles that are travelling through the whole area as outlined in Fig 1. They only use the Broadway to pass through to another area, without stopping.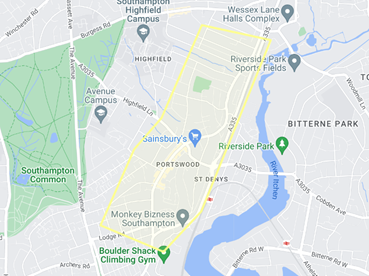 Since this initial assessment, we have refined the data to cover a more localised section of Portswood Road. Using the area outlined in fig 2 below, we have found that, at times, up to 50% of all traffic passing through the area does not stop at all.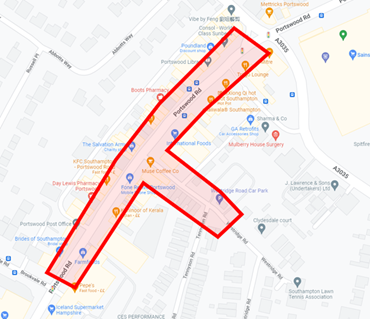 What data and data modelling are the proposals based on?
Our modelling is based on data collected during extensive traffic surveys undertaken in 2018. It therefore represents pre-pandemic flows, which are higher than current traffic flows. We have used the data to predict future travel patterns and calculate how the transport system is likely to perform.
First we assessed the performance of Thomas Lewis Way, to identify which junctions along this road needed improving. More detailed modelling followed for the Thomas Lewis Way / St Denys Road junction. We also considered the impact a bus gate on Portswood Broadway would have on Thomas Lewis Way. The modelling demonstrated that the majority of current Portswood Road traffic would instead use Thomas Lewis Way. Journey time changes and other modelling results are summarised here.
As a result of the modelling, a number of junctions within the Transforming Cities Fund (TCF) Thomas Lewis Way scheme are being upgraded, and the latest signal technology has been implemented at the Thomas Lewis Way / St Denys Road junction. Work to upgrade the Thomas Lewis Way / Mayfield junction is starting in November 2022, with further improvements following in 2023. Over £1m is being spent on these upgrades, to provide greater capacity along Thomas Lewis Way, attract more journeys to this road and relieve Portswood Road of traffic. This will allow the Portswood Corridor to become public transport and active travel focused.