SCHEME BACKGROUND: You've suggested a Mass Transit System - what type of system is envisaged?
The Connecting Southampton Transport Strategy 2040 sets out a plan to create a Mass Transit System. This is a high-quality system of public transport, which combines rail with rapid bus, mass rapid transit, local bus, Park & Ride, demand-responsive transport and ferry that has easy interchange and smartcard ticketing. 
To support the creation of a Mass Transit System, consideration will be given to measures that will make bus travel more attractive and improve  the reliability of journey times along Portswood Road.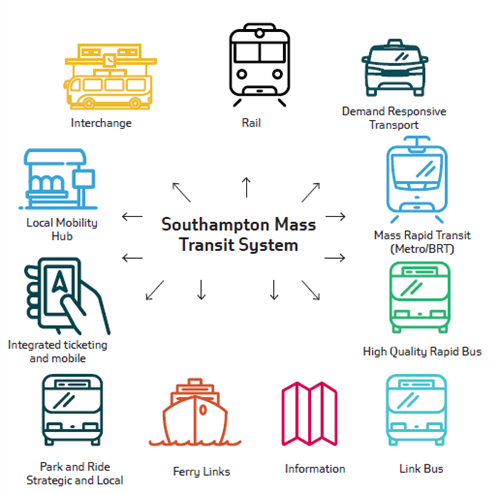 SCHEME BACKGROUND: What is a local mobility hub?
A local mobility hub is a series of mobility options located close to one another that are designed for user convenience and to encourage more sustainable travel choices.
Options for local mobility hubs in Southampton are currently being investigated. Options could include cycle parking, cycle hire, a bike maintenance hub, electric vehicle charging points, electric vehicle hire, disabled parking, public green space and a micro freight hub to support local deliveries. E-scooter hire is also an option as part of local trials.
SCHEME DEVELOPMENT: Have you assessed the impact on disabled people?
An assessment of all schemes will be undertaken and additional mitigation measures, such as disabled parking, will be consider as part of the scheme. We will also be working with local disability groups and societies to get their feedback and ensure that schemes are accessible and inclusive to all.
SCHEME DEVELOPMENT: What engagement has there been to develop these proposals?
The Transforming Cities programme has been shaped by a number of council policies, such as the council's local transport plan, Connected Southampton 2040, and the Cycling Strategy 2017-2027. These policies have been developed in consultation with residents, businesses and people working or visiting the city.
More recently, we conducted a survey of local residents to understand how people travel in and around the area which has helped to inform some of our early designs. We presented our findings in early December and started to show some of our developing ideas in January.
More details on the aspirations for the area are set out in the Transforming Cities Fund bid, which is available on the TCF page on our website.
PROPOSALS: Are there any plans to include trees for air quality and visual improvement?
Measures will include the installation of trees and other planting along Portswood Road to create a more attractive area for people visiting the Portswood and Swaythling district centre.
More information on aspirations to create a greener and more attractive city are set out in the Green City Charter.
PROPOSALS: The pavements on many of the roads in the area require repairs. Would this be included in the project?
Transforming Cities Fund money has been allocated to make improvements to transport infrastructure in the local area and cannot be used specifically for maintenance issues such as road resurfacing.
TRAFFIC: If Portswood is to be more pedestrian friendly, where is the traffic going to go?
Measures to improve the efficiency of Thomas Lewis Way, and linking routes such as St Denys Road, are also being considered as part of this project. Improvements could include upgrades to existing traffic signalised junctions, including St Deny's Road, and better real-time information.
TRAFFIC: Are there any plans to put in a yellow box at the Belmont Rd/St Denys road cross roads?
Consideration is being given to the improvements on St Denys Road, so this is something that we can review.
TRAFFIC: Have you identified sites for "parklets" that would traffic calm and improve residential amenity?
We will be reviewing improvements to the main Portswood corridor and the adjacent residential roads on a case by case basis and through further consultation. These may include "parklets", 20mph zones, widening of footways and improved crossing facilities
TRAFFIC: Would a 20mph speed limit extend to residential roads to prevent rat runs?
It is part of the investigation to look at the impact on side roads and we will work with the community to install any measures. A 20mph will be one of the things that we will consider as part of works to extend into residential roads. Any 20mph zone will be developed in consultation with residents and will be subject to a Traffic Regulation Order.
TRAFFIC: Can we have planters / traffic slowing measures where there are rat runs?
It is part of the feasibility study to look at the impact on side roads and we will work with the community to develop any measures.
E-SCOOTERS: What is the legal position regarding the use of e-scooters with regard to using roads, cycle lanes and pavements?
Only hire E-scooters are legal to use. They will need to be used on the road or cycle lanes.
E-scooter hire trials are coming to Southampton in the near future and we will be making announcements with regard to how to use them in the next few months.
ELECTRIC VEHICLES: How many more local electric charging points to be installed
We will be expanding the number provided of electric charging points in Portswood area but we cannot say an exact number at this stage. We can confirm however that Westridge Road car park has been identified as a possible site for new charging points.
ELECTRIC VEHICLES: Are you considering on street electric vehicle charging?
We currently do not have plans to install charging points in residential streets, however we have identified Westridge Road car park as one location where we could install new charging points.
ELECTRIC VEHICLES: Have you assessed the likely demand for e-car hire?
This will be assessed as part of our investigations into the demand for a car share scheme in the area.
PARKING: Does the project have a clear strategy on student parking?
In 2019 there was consultation on expanding the existing Residents Parking Zone (RPZ) in Portswood and the results of this were sent to residents. We constantly review the need for RPZs to manage the demands of residents, businesses and visitors.
ENGAGEMENT & CONSULTATION: What plans are there for further conversations and engagement with the community?
We are planning a third stage of engagement with local people in Spring 2021.
ENGAGEMENT & CONSULTATION: What is the link to sign up for the newsletter?
OTHER: There are current student developments being constructed along the corridor - in addition to 3 existing - in what ways will they improve the corridor, for example by providing bike lanes, mobility hubs and so on?
We are working with these developments to ensure that they promote alternative travel options and they have provided additional funding toward the TCF programme for this purpose. As part of this, we are looking into trials for E-scooters and bike hire.
OTHER: Will Southampton have the equivalent of the London Oyster Card?
The Solent Go travelcard is available across the south Hampshire area, including Southampton for bus and ferry travel. For more information, please visit www.solentgo.co.uk.
OTHER: Where can I learn more about what is happening in St Denys?
We are currently working to turn St Denys into an Active Travel Zone. You can learn more about the scheme, including the community consultation undertaken to date on the project webpage.