Summary
Where: St Denys
When: November 2020 for 12 months
What: An Active Travel Zone
Why: To create a greener, safer and healthier environment for everyone by identifying and making some small changes to the streets and roads that will improve walking and cycling for short journeys.
How: Funded as part of

a Transforming Cities Fund

awarded in March 2020
The Active Travel Zone project in St Denys has taken shape through collaboration with the residents of the neighbourhood. Southampton City Council has been working with the St Denys community over the past year to address concerns relating to air quality, levels of traffic, and safety for walking and cycling in the area that were raised in the Your St Denys Your Say survey in late 2019.
Latest News
April Update
Work at Adelaide Road junction is ahead of schedule, so we are switching to Kent Road junction from Thursday 15 April for two weeks. During the work at Adelaide Road junction, we needed to relocate a drain as we dug down we hit a steel rail which turned out to be the original tram lines that ran along St Denys Road. An interesting find but one we had to work around with some fancy pipe work, pictured. Work at the other continuous crossing along St Denys Road is now complete, so just Kent Road to go. Click on any of the images to enlarge.
These works are planned to begin from 11 January and continue over a 14 week period. Full details including a map showing the phasing can be seen on a separate page. These phases have been carefully planned so that resident access is always maintained. We will update with progress here.
January update
We have coordinated and programmed work between January and April to modify the junction mouths for five of the roads joining St Denys Road which form the second phase of the scheme. We are also coordinating with Gas Distribution Company SGN who are replacing a gas main along St Denys Road and Adelaide Road. Within this period we also plan to begin the trial closure of Priory Road North junction with St Denys Road but only after completing works at Kent Road junction.
November Update
Trial modal filters on Kent Road and North Road in St Denys were installed in the week beginning 16th November and will be in place while we seek feedback from the community.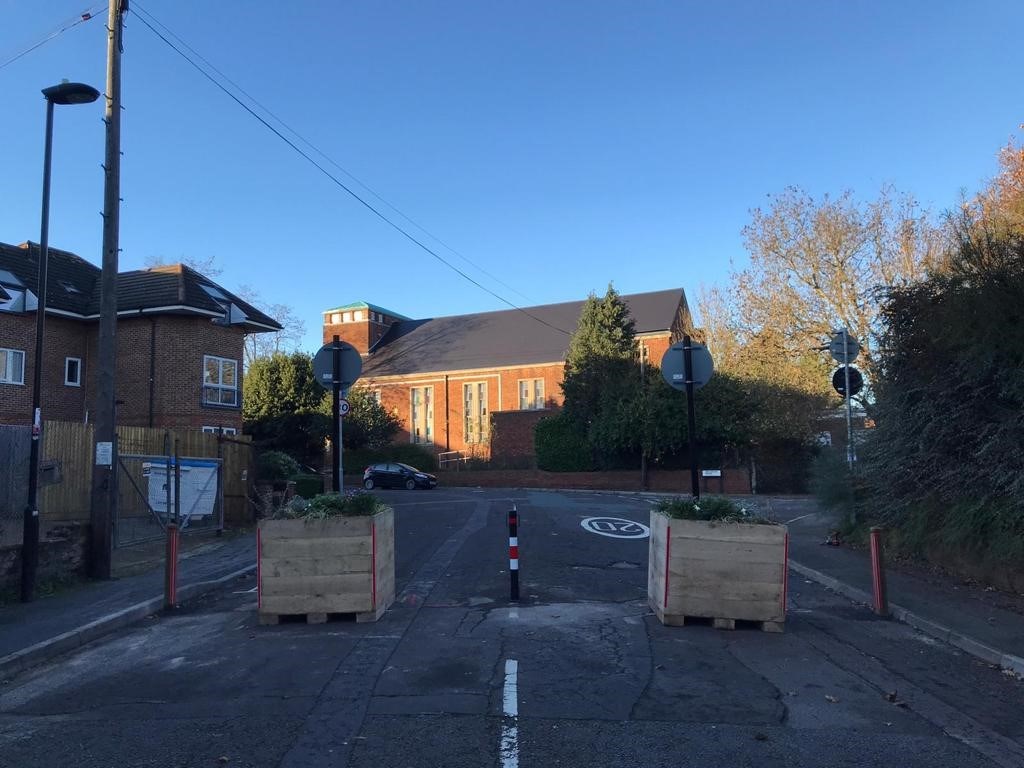 An overview of all the proposed measures resulting from the co-design workshops in Feb/March 2020 is outlined in the map below. They were presented to residents for their comments and questions and we have responded to over 65 submissions, via email and face-to-face meetings.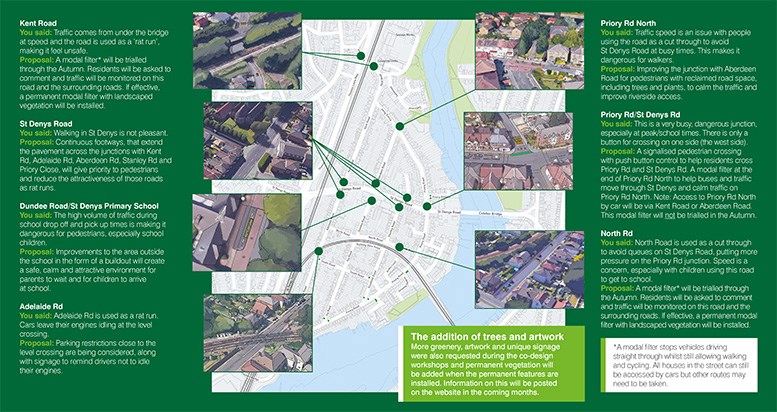 You can download a copy of the map here.
The majority of people who we engaged with supported the proposed measures and we have made some amendments in response to feedback expressing concerns with specific elements of the scheme as follows:
1. The North Road modal filter will be designed as a trial, so that it can be easily modified if early observations indicate alterations are required. Following feedback received from residents, we still consider the best location for this modal filter is on North Road, between Stanley Road and Priory Road. If the trial is successful, we will aim to make the scheme permanent after six months.
2. The existing banned right turn restriction onto St Denys Road from Stanley Road will be removed in conjunction with the North Road modal filter
3. The Priory Road North modal filter will be designed as a trial, so that it can be easily modified if early observations indicate alterations are required. If the trial is successful, we will aim to make the scheme permanent after six months.
4. We will adopt a phased implementation of the modal filters to allow Kent Road to be reviewed and monitored prior to the trial of the Priory Road North filter.
5. An independent road safety audit will assess concerns with the Priory Road/Aberdeen Road junction proposal
6. We will review existing 'Keep Clear' markings at junctions on St Denys Road, with a view to installing them at all junctions along the corridor.
7. The double yellow lines next to the railway level crossing will be put on hold. Once the priority measures are designed and costs confirmed, the lining and other options will be re-considered for Adelaide Road.
During the consultation, we also received several comments regarding the following measures which were not included in the proposals:
Traffic calming in the vicinity of the railway bridge on Priory Road South.
Traffic calming on Adelaide Road.
Improving pavement surfaces throughout St Denys.
Once we have designed and confirmed costs for the priority schemes, we will investigate if there is any capacity to add additional improvements such as these to the programme.
Next steps
The indicative timescales for the next phases of the programme are below.

Residents who live in the vicinity of each scheme will receive correspondence detailing how they can officially comment on the scheme through the legal traffic regulation order process. Offically recorded comments about the trial can be made throughout the trial period while the experimental changes are in place. Trial must be in place for a minimum of six months before a decision can be made about whether they are to become permanent and whether any other changes need to be made in the area to improve the scheme. 
Modal Filters - Experimental Trials
Modal filters, a feature used to limit through journeys by motor-traffic, will be implemented on Kent Road, North Road and Priory Road North.
The consultation period for Kent Road and North Road will run from November 2020 to May 2021.
The consultation period for Priory Road North will run from January 2021 to July 2021.
During the 6-month consultation period, monitoring will take place to establish the impact on St Denys of each modal filter.
Have your say:
Comments about the trial modal filters during the initial 6 month consultation period should be directed to Traffic.Orders.Legal@southampton.gov.uk
The permanent schemes will require consultation with residents before they can be implemented, so if you live in the vicinity of one of these, you will be contacted by letter with details of how and when to comment.
Background
In December 2019, all St Denys residents were invited to tell us what they would like to change about their neighbourhood in a survey and nearly 1000 contributions were received. Residents' key concerns were identified as traffic, safety and air quality.
In February 2020, residents were invited to work with engineers and council staff in four co-design workshops, to develop ideas and design solutions to address their concerns. Our engineers reviewed the most popular and most feasible suggestions, which have been forward to the detailed design stage. You can read about each proposal on the map above or download a copy.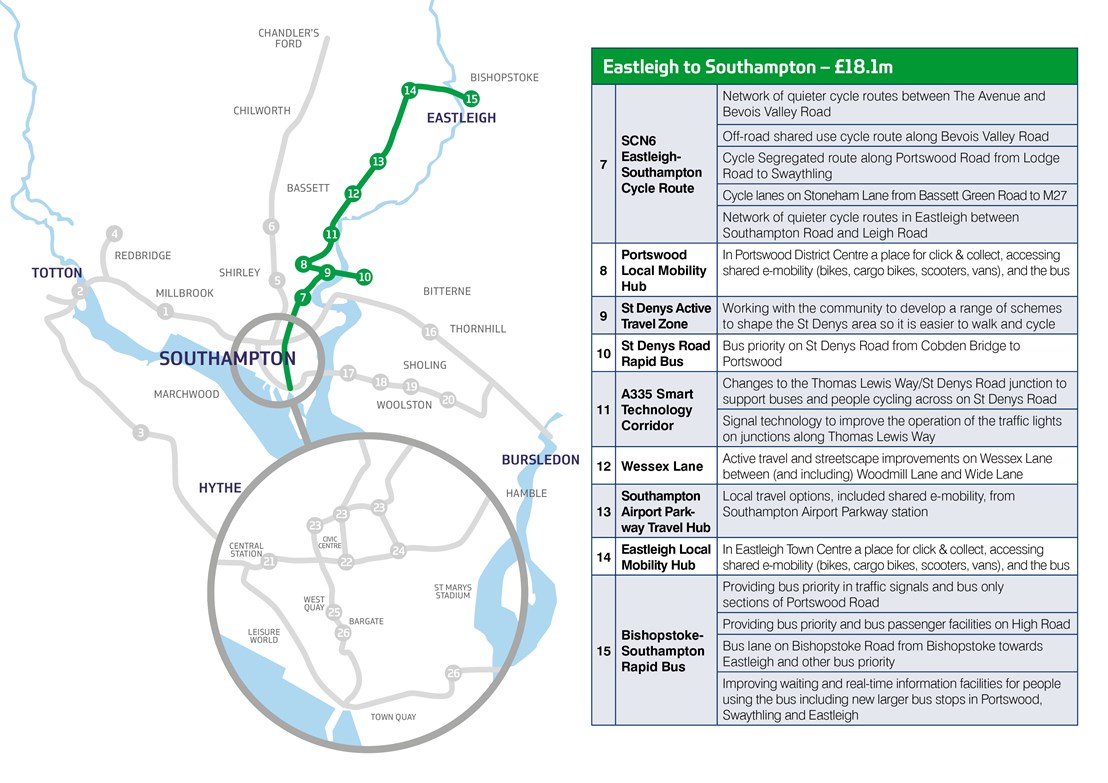 The St Denys Active Travel Zone is funded by money from the government's Transforming Cities Fund.
You will find answers to common questions on our St Denys FAQs page.
You can see the contributions to the Your St Denys Your Say survey on Commonplace here and a summary of the results of the 'Co-designing St Denys' workshops can be viewed here.
General comments or questions about the St Denys ATZ project, not related to the specific measures, can be forwarded to:
Email: ATZ.StDenys@southampton.gov.uk
Post:
      St Denys ATZ, Green City and Infrastructure,
      Southampton City Council
      3rd Floor One Guildhall Square,
      Southampton, SO14 7FP
We will soon be engaging with residents in the Portswood and Swaythling area to discuss ideas for schemes that could be introduced to improve transport and travel in the local area. If you would like to sign up for updates you can do so by clicking here and entering your email address. In the meantime, you can learn more about what's happening here.